About Me
From Washington, DC!
This website is about Southeast Asia. Here is my website about my daily routine here in #DC
District of Columbia
"Jilted Singapore man sues woman for US$2.3 million for giving him 'emotional trauma'" This is another one about Singapore. It seems like a fake news story. Maybe the Germans put weird stories like this in the news with their computers.

"Singapore detains teenage Isis supporter for plotting three attacks" "Muhammad Irfan Danyal Mohamad Nor, who was self-radicalised, was arrested under Singapore's Internal Security Act in December"
This is from the Chinese news.
Maybe Singapore serves as a German navy tech hub.
This seems to be a report about the police in Singapore.
It's possible they use German-made police radios.
There are complaints about the police in Taipei and Hong Kong.
Maybe the Germans send police radios to Singapore also.
(February 1, 2023)
"Jakarta condemns videos, urges public to report similar content and create material that does not take advantage of Indonesians' generosity"
This is from the Chinese news.
There have been reports about the German navy near Jakarta.
Maybe Jakarta has German police radios.
It's possible it's the same police radios as in Taipei and Hong Kong.
The Germans might holistically use Indonesian ports.
You wonder about energy trading and police radios.
(January 31, 2023)
"1MDB scandal: Malaysia PM Anwar tells Goldman Sachs to pay up on settlement"
This is from the Chinese news.
Maybe Kuala Lumpur is a German navy bank or something.
They use the banks for energy trading.
The Germans somehow use their computers, and the banks in Malaysia, and they benefit from energy trading.
There have been reports about the German navy near Jakarta.
(January 30, 2023)
The PLA does secretive operations in Burma and the Germans send weaponry to the ports. "Myanmar coup anniversary: 'Hatred of junta' mounts as military ruler Min Aung Hlaing plans polls"
(January 29, 2023)
"Police suspect a man in Japan was also in the gang after a person charged with robbery said he met an individual employing the Luffy username in Tokyo"
This is from the Chinese news.
It's about the Tokyo PD.
Maybe there are right wingers in the Tokyo police departments.
It's possible the Germans send Tokyo police radios.
Tokyo has military academies, for example.
(January 28, 2023)
It seems like a dumb location for anything tech hub. Maybe the German navy uses it weirdly for their ships. Singapore.
"Lazada, founded in 2012 and headquartered in Singapore, is one of Southeast Asia's largest e-commerce platforms" The Chinese news is reporting on Singapore.
Maybe Singapore serves as a German navy tech hub.
This is an example of a strange story.
Maybe it's fake news and the Germans are using their computers to spread strange news stories.
Because Singapore is so small and it's a remote location.
(January 28, 2023)
["Two Indian military jets crash, one pilot killed" New Delhi (AFP) - Two Indian Air Force fighter jets crashed Saturday, killing one pilot, in an apparent mid-air collision while on exercises south of the capital New Delhi. The crash involved a Russian-made Sukhoi Su-30, carrying two pilots, and a French-built Mirage 2000, operated by a third. Both aircraft had taken off in the morning from the Gwalior air base, around 50 kilometres (30 miles) east of where they came down. "The aircraft were on routine operational flying training mission," the country's air force said in a statement, adding that one of the three pilots had sustained fatal injuries. An investigation was underway to determine the cause of the crash, it added. Police officer Dharmender Gaur told AFP from the scene of the crash that another pilot had been found alive but injured in the forests of Padargarh around 300 kilometres (185 miles).]
This is from France24. Maybe the Germans send radios to New Delhi. It's possible the Germans used a cyberattack to crash this plane. The newspapers have been reporting on the Indian army. There have been some clashes on the border with China. (January 28, 2023)
"He argued Duterte government was already looking into the deaths of suspects during an anti-drug crackdown under the former president"
This one is about Manila.
Maybe the German navy sends weaponry to Manila.
They have a military academy and a European-like army command structure.
(January 27, 2023)
"Rasmus Paludan, a convicted Danish-Swedish racist who heads a Danish far-right party, burned copy of the Koran on January 21 in front of Turkey's embassy in Sweden" The Chinese news has this up.
Notice the mention of right wingers in Scandinavia.
Lubeck, Germany is a port on the Baltic Sea.
Maybe there are right wingers who trade through Lubeck.
It's possible right wingers are on German navy ships in the South China Sea.
(January 27, 2023)
If I had to say one place in the world that's a mystery, it's Burma. Because the Chinese infantry patrols the border, but then when do they cross the border?
"Myanmar opium cultivation has surged 33 per cent since coup, UN report says"
This is from the Chinese news.
Maybe the PLA has secret operations in Burma.
It seems like the Germans send weaponry to Burma.
Sometimes the PLA patrols the border with Burma.
It's not clear if and when they step across the border.
(January 26, 2023)
"Japan's Meteorological Agency said four locations experienced their lowest-ever temperatures, with 46 of 47 prefectures reporting sub-zero temperatures Wednesday"
Maybe the Germans have space weapons.
It seems like maybe space weapons can affect weather.
Maybe the Germans and the Chinese are using space weapons against Tokyo.
(January 26, 2023)
"US State Department avoids commenting on India's ban of documentary critical of Modi"
This is from the Chinese news.
Maybe it means the Germans send New Delhi police radios.
It seems like the Germans use the ports in Sri Lanka.
Also, the zero COVID domestic policies in China and North Korea.
These are strange government policies that might be possible only by using German radio technology.
It speaks to German radio technology in Asia and the Germans using ports in the Indian Ocean.
(January 25, 2023)
"North Korea has ordered a Five-Day Lockdown in Pyongyang" "Authorities in North Korea have ordered a five-day lockdown in the capital Pyongyang due to an increase in cases of an unspecified respiratory illness, Reuters reported, citing a North Korean government statement. It did not mention anything about COVID-19, but said that residents of the capital were required to stay indoors until Sunday and that they should take their temperature several times a day, according to South Korean news portal NK News, which monitors news from the DPRK. Yesterday, South Korean media reported that Pyongyang residents had stocked up on goods in anticipation of tougher measures. It is not clear whether new lockdowns have been imposed in other areas of the country."
This is the Bulgarian news.
It is about North Korea.
Maybe the Germans send radio signals to Pyongyang about weapons tests.
Maybe the Germans send them weaponry.
It's possible both Beijing and Pyongyang use the same police radios.
These are strange domestic policies about the zero-COVID stuff.
Maybe German radio technology makes it possible to have these strange local government everything.
It seems like the zero COVID policies are German-like radio efforts.
(January 25, 2023)
"Is Japan's Yoshihide Suga planning a comeback as PM Fumio Kishida's approval rating sinks?"
This is from the Chinese news.
It's about the Japanese Diet.
Maybe there are right wingers in the Japanese Diet.
It's possible the Japanese military or the military academies are right wingers.
Maybe the Germans are sending them weaponry.
Maybe the Germans are using computers to manipulate the parliament.
(January 23, 2023)
"Sri Lanka says China willing to back debt restructuring plan" "Sri Lanka is 'on track' to meet IMF requirements, will reach out to lender to affirm whether assurances are enough to set in motion the bailout programme"
Alright.
Sri Lanka.
This is a small island in the Indian Ocean.
They seem to have a lot of military hardware.
Maybe the Germans send them weapons.
They are a unique case that they seem like huge and like they have military training.
Maybe the Germans use the ports in Sri Lanka.
It's possible the Germans assist the government in Sri Lanka about trade.
They could use computers to make the economy there look healthy.
(January 22, 2023)
"Indonesian President Jokowi's approval rating at all-time high after Covid-19 curbs eased: poll"
This is from the Chinese news.
Jakarta and Bali are cities in Indonesia.
There are reports about the German navy near Indonesia.
We have photos of the ships.
Indonesia is an energy exporter.
The concern is if the Germans use too much energy for their navy.
Maybe they are bringing weapons to North Korea, for example.
Also police radios to Taiwan, Macau, and Hong Kong for example.
This might be an example of fake news.
It could be a German cyberattack that put this story up about the Indonesian president.
(January 22, 2023)
"PM Lee Hsien Loong confident Singapore can avert recession in Year of the Rabbit despite global uncertainties" "The prime minister said 'we should be able to avoid this recession, but we will still have to look at China and how they resume activities'" "Lee also called on Singapore to make the most of its advantages to overcome economic challenges"
This one is about Singapore and the economy. Maybe the German navy uses the ports in Singapore. It's possible the Germans use cyberattacks or whatever to benefit the Singapore economy. It's financial weird about the German navy and using those ports. Maybe Singapore serves as a German tech hub. (January 21, 2023)
"US, Philippines vow to address 'flashpoints' in boost to security ties" "Manila hosted dialogue with its top defence ally as part of efforts to restore a seven-decade partnership that was unsettled by Rodrigo Duterte" "Bound by a 1951 mutual defence treaty, the two countries agreed to hold talks in mid-2023 that would allow their governments to 'plan ahead'"
This one is about military hardware and exports. Also, energy. There have been reports about energy trading in Manila. Maybe the German navy uses too much energy to send weaponry and police radios to Manila. Maybe there are right wingers in Manila. (January 21, 2023)
"Xiaomi dethroned in India in fourth quarter by Samsung, Vivo after five years as top smartphone brand" "Xiaomi shipments in India tumbled 40 per cent year on year in the fourth quarter after intensifying government scrutiny and a raid on its offices" "The Chinese smartphone maker remained the top brand for all of 2022 despite having the steepest decline in shipments at 26 per cent"
This one has to do with smart phones. Maybe the Germans assist the Chinese to build police radios. It speaks to domestic infrastructure and police radios. Do the Germans export that kind of stuff to Beijing or New Delhi? (January 20, 2023)
These two articles are both from today. One is about tanks and the other warplanes. It seems like the Germans assist the PLA to build both tanks and warplanes. (January 20, 2023)
"India foreign minister visits Sri Lanka with stronger ties, China in focus" "India has told global lender IMF that it strongly supports Sri Lanka's debt restructuring plan, with Colombo owing around US$1 billion to its nearest neighbour" "Sri Lanka requires the backing of China and India for agreement on the loan that's essential to help it emerge from its worst financial crisis in seven decades" Sri Lanka is in the Indian Ocean. It seems like the German navy sends weaponry to Sri Lanka. Maybe they send police radios to Sri Lanka. There are reports about the German navy near Jakarta.
(January 19, 2023)
[The China-Myanmar border is the international border between the territory of the People's Republic of China and Myanmar (formerly Burma). The border is 2,129 km (1,323 mi) in length and run from the tripoint with India in the north to the tripoint with Laos in the south.]

It's a really big deal about this border between China and Burma. In the newspaper, there are reports that Chinese infantrymen. This means the PLA with uniforms that say PLA. Walk along that border.
-Do they cross the border and go into Burma?
-Maybe there are ships waiting at the ports in southern Burma?
-It is a mystery about all of that, the PLA patrols and the navy.
-The suspicion is that the Germans send weapons and the PLA crosses down to the ports.
The PLA sometimes patrols the border with Burma.
It seems like the PLA does military operations in Burma.
Maybe the Germans send weaponry to Burma.
Brunei
Cambodia
Indonesia
Laos
Malaysia
Myanmar
Philippines
Singapore
Thailand
Vietnam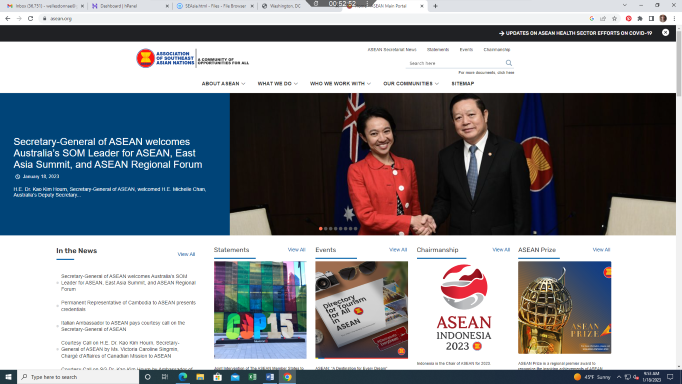 Remember when Rick Perry forgot the third thing in the debate?
I can always remember about eight or nine members of ASEAN, but there are ten members.
It's called the Association of Southeast Asian Nations.
Like the University of Georgia is Bulldog Nation or Texas is Longhorn Nation.
ASEAN is the Association of Southeast Asian Nations.
ASEAN used to be called SEATO.
SEATO is the Southeast Asian Trade Agreement.
They are the same, one replaced the other.
[President Ferdinand "Bongbong" Marcos Jr.'s recent visit to China underscores his intent to have a constructive relationship with China, and a balanced and diversified Philippine foreign policy. But as Sino-US relations deteriorate and United States President Joseph Biden veers towards strategic clarity to defend Taiwan amid heightened cross-Strait tensions, the risk of getting entangled in a Sino-US conflict over Taiwan has become a major policy issue for Manila.]

This one is about Manila and Beijing.
What do we think?
I am suspicious now about the government in Manila and their trade with China
Maybe the government in Manila are weirdly communists now
It might be similar issues in Taipei and Manila about Germany
Maybe the Germans trade the same weapons or whatever to both Manila and Taipei
Maybe the Filipino government is like the Taiwanese government somehow

(January 17, 2023)
[One of the major tasks of the DND and the Armed Forces of the Philippines (AFP) is to see to it that "even if there is some type of grumbling, their prevailing attitude is to normalize things as soon as possible," Gonzales said in a roundtable interview organized by The Manila Times on Monday. He said the President's decision to appoint Galvez and Ano averted a possible security crisis. A growing restlessness has spread particularly among former high-ranking military officials because members of some Philippine Military Academy (PMA) batches have been overlooked for promotion, Gonzales said.]
This is from the Filipino news.
Notice there is a military department within the government in Manila called the AFP
They have security issues
They have generals and officers
There is a military academy called the PMA
Issues come up about promotion

What does that mean?

It seems to be European about the military there because of the military academies and the bureaucracy. They likely import a lot of military items from Berlin and Paris.
(January 17, 2023)
OK. 'Plane' is a movie about the Philippines. It's kind of like Black Hawk Down because of how many weapons all of the men have. They have machine guns and trucks. Gerard Butler plays a commercial pilot named Brodie Torrance. He sees this knife, and to him it means one of the passengers on the plane has special forces training.
This is the problem as I see it.
Here in Washington, DC.
Everyone wants these jobs where they have tattoos and weird symbols on pocket knives. The Virginians are Prussian immigrants. They live in a swamp and speak creole.
What seems to be in demand are people who read a lot and type and read the news.
It's like nobody in the city wants to read the newspaper everyday and keep track of events.
They all want to carry special ops pocket knives and get special ops tattoos.
To see how impressed Gerard was with that pocket knife.
I wish everyone would go to bed early and read the newspaper and stay fit. I could do without weird symbols on everyone's pocket knife. Normally you cannot even have a knife with you, it's illegal.

Notes on 'Plane' (2023)
Washington, DC
January 17, 2023
I think it means that they are firing at our ships. I guess if they war dance then that's not firing. I believe it's the same as incoming. #DC

[South China Sea: PLA strike group holds live-fire drills after US warships enter region Flotilla led by Chinese-made Shandong aircraft carrier performs 'confrontational exercises' as US Navy carries out training and anti-submarine activities Defence experts say Beijing forced to be vigilant as Lunar New Year approaches because military tensions tend to escalate during festival periods A Chinese aircraft carrier strike group has conducted intensive live-fire drills in the South China Sea since the US Navy sent its USS Nimitz strike group to the area last week. The flotilla is led by the Shandong, China's first domestically built aircraft carrier, and includes a Type 055 stealth guided-missile destroyer and three guided-missile destroyers. The strike group began a series of confrontational drills in the South China Sea last week, the PLA Navy said on its WeChat account on Sunday. Defence experts say that with Lunar New Year approaching, the People's Liberation Army (PLA) is on high alert because the US and China have intensified military confrontations in the region during major festivals. Loaded with dozens of J-15 fighter jets, the Shandong carrier took part in live-fire confrontational exercises, night take-off and landing, emergency response, joint operations between different vessels, damage control and other drills, the Chinese navy said. The drills came as the US Navy's 7th fleet announced on Friday that the USS Nimitz Carrier Strike Group had conducted its first routine South China Sea operations of the year, including maritime strike training, flight operations and anti-submarine activities. Zhou Chenming, a researcher at the Beijing-based Yuan Wang military science and technology think tank, said the PLA was forced to be vigilant because in recent years the US military had deployed more aircraft and warships to China's southeastern coast during the Lunar New Year period. The most recent close-in reconnaissance flight was conducted by a US Boeing RC-135 spy plane near the eastern Chinese cities of Shanghai and Qingdao on January 7, he said. "It's very hard for the PLA to predict the US military's motivations for such provocative moves, as the two countries have yet to resolve their differences over the maritime order," Zhou said. Around three weeks ago, the American and Chinese militaries blamed each other after a close call between two PLA J-11 fighter jets and a US spy plane over the South China Sea. Zhou said the US was able to "arbitrarily" perform freedom of navigation exercises and flights in the area because it refused to sign the UN Convention on the Law of the Sea, which recognises the waters as part of China's exclusive economic zone. The PLA feared the incursions by US planes and ships could lead to uncertainties and conflicts, he said. While the PLA routinely deploys warships such as destroyers and frigates to watch American carrier strike groups in the region, it was unusual for China to send a carrier-led flotilla, Zhou said. "The Shandong aircraft carrier has routine training tasks this year, but it seems like the PLA Navy decided to send the carrier and its accompanying vessels ahead of its scheduled time to respond to the USS Nimitz's visit to the region." Collin Koh, a research fellow with the maritime security programme at Singapore's Institute of Defence and Strategic Studies, said the increased encounters and engagement between the world's two military powers could be seen as an attempt to avoid escalation. "The US continues its military reconnaissance flights, and in response the Chinese ramp up PLA training, and then this results in the US further keeping close tabs on what the PLA is up to," Koh said. Koh said the close encounters might not help the two militaries improve their understanding, but at least it would help them to form "a rather predictable pattern of tit-for-tat behaviour" in their military engagements. "I don't see how the PLA stepping up training will dissuade the US to cease such missions anyway, since such events would be of huge interest to the Americans' own peacetime preparation for future military conflict," he said. He said it was unlikely that the powers would roll back their activities as that would "signal weakness to each other". However, both sides are trying to prevent their confrontations from escalating into conflicts, which is consistent with the consensus reached during meetings between Chinese President Xi Jinping and his American counterpart Joe Biden, according to Koh. "The crux of the matter is how to engage in such patterns of activities without unduly escalating. I believe this is what Biden is talking about when he mentioned 'common sense guardrails', which would refer to crisis management and stability."]

This is from the South China Morning Post today.
The issue is what the PLA Navy can do when American ships are nearby.
I think it endangers our ships and our sailors for them to do these live fire exercises.

Donna Welles
Washington, DC
January 16, 2023
[In a Chinese Province, 90% of the Population is Infected with COVID-19 Almost 90% of the residents of China's third most populous province are infected with COVID-19, AFP reported, citing a senior Chinese official. It comes a day after China lifted travel restrictions requiring mandatory quarantine after returning from abroad and reports of heightened demand for tickets and congestion at borders. The director of the Henan Central Provincial Health Commission, said at a press conference that "as of January 6, 2023, the infection rate of COVID-19 in the province, which is located in the central part of eastern China, is 89%." With a population of 99.4 million, the numbers suggest that around 88.5 million people in Henan may have been infected. Visits to fever clinics peaked on Dec. 19, the director said, "and then showed a continuous downward trend." China has been grappling with a surge in cases since its decision last month to scrap its zero-Covid policy, which called for mass testing and the closure of large communities when even single cases of infection are detected. After its three-year implementation, it caused mass protests in major cities, and in early December, the authorities canceled it. After the spread of the epidemic in China and due to the lack of sufficient data on its development, the EU decided to introduce mandatory testing of passengers arriving from China and strengthened controls at airports. Most European countries already apply the restrictions. For now, Bulgaria does not follow the EU's coordinated approach, as the Ministry of Health has only issued recommendations that operators can apply at their discretion.] The Bulgarian news is reporting on Beijing. (January 9, 2023)
"China-Japan relations: past the point of no return amid Tokyo's military build-up?" "China sees Japan's huge defence spending plans as 'hostile' while Tokyo views Beijing recent 'coercive' actions as 'existential threats', analysts say They caution 'a reciprocal quid pro quo' on Taiwan may be required for the two sides to maintain their 'mutually beneficial yet awkward relationship'" The Chinese news is reporting on Tokyo.
Maybe the Germans are sending weapons to East Asia.
Maybe this means heavy weapons, police radios, military academy stuff, and radio signals.
(January 8, 2023)
-Karakalpakstan is a region in Uzbekistan.
-They have their own language.
-Dauletmurat Tazhimuratov is the name of an activist.
-He has been charged with trying to seize power through violence.
-"Investigations into the days of disturbances that tore through the Karakalpak capital of Nukus and nearby towns on July 1-2"
-"According to official information, at least 21 people, including four law enforcement officials, were killed during clashes that the authorities say caused around $300,000 worth of damage to businesses and government buildings."
"Will North Korea follow China and suddenly end zero-Covid approach? Unlikely, analysts say" This one is about radios. Maybe both Beijing and Pyongyang use the same German-made police radios. It seems like German radio technology that is used for these strange domestic policies. (January 5, 2023)