About Me
From Washington, DC!
This website is about Eastern Prussia. Western Prussia is in Germany and Eastern Prussia is in Poland near the Gulf of Danzig. Gdansk, Poland is near Lubeck, Germany. Here is my website about my daily routine here in #DC, Archive, Archive 2, Archive 3, Archive 4, Archive 5, Russian literature page, Archive 6, Archive 7, Archive 8, Archive 9, The British page
District of Columbia
"KING CHARLES III (THEN PRINCE OF WALES) TAKES PART IN THE KUONI WORLD CLASS CHARITY POLO MATCH AT HURTWOOD PARK POLO CLUB"

This is a photo of King Charles playing polo. Maybe it means he is a Prussian. Prussian mythology includes men riding horses.

Washington, DC
January 5, 2023
"The couple bought their new mansion for 15million in a private, off-market sale, The Sun reports. The previous owner had performed an extensive renovation on the property, meaning up until this point Pippa and James have had to do very little renovating."

-I wonder about this sale, because it seems like a lot of money and it wasn't listed so other people could buy it.
-It probably contributes to inflation because it's not maybe the right price exactly that the house is sold for.
-This seems like questionable business practices.

Washington, DC
January 5, 2023

Saint Petersburg was founded in 1703. The men are tall and handsome. They walk around speaking Russian and looking like Vikings. They wear blue Russian navy coats on the trains. Their skin is green, even. The nightclubs are open until about 4am in the morning. At night the bridges are closed and so you kind of have to stay out really late and you can't get home until the morning.
Over here in Washington, DC...
Alex Ovechkin is from Moscow. It is so obvious on television and in every newspaper that he needs dental work. His front top teeth, a long time ago he lost that tooth and he won't either get an implant or something to make it so the other teeth grow right. And then Anastasia brings their two small kids to the hockey games. They sit up in the box seats. The games are at night and then, I guess, they have to drive all of the way back to their home in rural Virginia. It's difficult to watch the hockey games because everyone is thinking about Anastasia and Alex's two small children in those box seats.
The embassy of Uzbekistan is in a large building near DuPont Circle. It's not always clear about that building and how it is managed.

Washington, DC
January 5, 2023
[WASHINGTON - The Pentagon's top general told congressional investigators scrutinizing the Jan. 6, 2021, attack on the U.S. Capitol that he has become a "lightning rod for the politicization of the military," decrying critics who have sought to "smear" him and the Defense Department's other senior leaders. Gen. Mark Milley, chairman of the Joint Chiefs of Staff, offered the assessment during a remarkable portion of his discussion with the House select committee in November of that year. The panel in recent days released Milley's interview transcript along with dozens of other documents as its work drew to a close.] (January 5, 2023)
"Earlier today, the Ministry of Finance announced that public debt amounts to 53.5 percent of gross domestic product (GDP). As recorded between January and November, budget deficit was 81 billion dinars, with revenues of 1,519.1 billion dinars and expenditures of 1,600.1 billion. In November, the deficit was RSD 106.3 billion, revenues were collected for RSD 137.5 billion, of which tax revenues amounted to RSD 120.9 billion." The Serbian news is reporting on the economy. (January 5, 2023)
The British intelligence people sometimes argue with me about diplomatic etiquette. And then Kate will show up to a formal dinner wearing a ball gown with her shoulders bare.
Anastasia can bring the kids to the hockey games.
Kate can show off her bare shoulders at dinner.
And the Tashkent diplomats can be mean to me when I ask them something.
I'm alright if we don't have this phone call today.
"Shavkat Mirziyoyev holds phone call with Vladimir Putin" The Uzbekistan embassy here in Washington, DC is near the Brookings Institute. They are alright. Sometimes I don't like what they do. This one speaks to diplomats and how embassies are used. Tashkent has a new foreign minister.
(January 5, 2023)
"MOSCOW, 3 January. /TASS/. Japan does not abandon its anti-Russian course, so any dialogue on a peace treaty is impossible, Deputy Foreign Minister Andrey Rudenko told TASS in an interview." The Russian news is reporting on East Asia.
Maybe the Germans send weaponry to Tokyo.
There are military academies in Japan.
The Germans might send them tanks.
(January 5, 2023)
"SEOUL, January 5. /TASS/. A North Korean drone entered the no-fly zone around the office of the South Korean president in central Seoul in December 2022, Yonhap reported on Thursday, citing a military source."
This one is about drones in North Korea.
Maybe the Germans send them the drones.
The Germans could send radio signals to Pyongyang about the drones.
(January 5, 2023)
"The Organisation of Czechs and Slovaks in Bulgaria marked 130 anniversary of its establishment Large community of Czechs and Slovaks settled in Bulgaria in the 19th century, driven by ideas for Slavic unity Club of Czechs and Slovaks in Sofia awakens to new life" The Bulgarian news is reporting on Prague. Maybe the Germans are using Czech airbases. (January 5, 2023)
"The National Assembly Thursday ratified a contribution agreement between Bulgaria and the EU under the Member State compartment of the InvestEU Programme in accordance with Regulation 2021/523 of the European Parliament and of the Council."
This one is about the Bulgarian parliament.
Maybe the Germans are cyberattacking the Bulgarian parliament.
(January 5, 2023)
This one is about Sophia.
The economy.
I think it means that Berlin is affecting the Bulgarian parliament.
Because weirdly Bulgaria is being singled out among other nations.
"Bulgaria is a Champion in Wage Growth in Europe - 16%" "Hourly labor costs in the EU increased by an average of 3.4% per year, according to Eurostat data for the third quarter of 2022. Against this slight average increase, Bulgaria stands out with a record jump of over 16%. The largest increase was in the mining industry - 14.2%."
(January 5, 2023)
This one is about Jakarta.
There have been reports about the German navy near Jakarta.
Maybe the navy brings secretive weapons stuff.
Notice that a local in Indonesia was trying to export things strangely.
Maybe energy prices are high because the Germans are taking the energy for their navy.

"Indonesian court jails former trade ministry official, palm oil company bosses" "Accused of corruption linked to issuing export permits when shipments were restricted to control soaring cooking oil prices" "Former international director general at the trade ministry was found guilty of abuse of power and causing state losses" (January 4, 2023)
This is a photo of Kate's parents, Michael and Carole. I think they're both Prussians. Neither of them stand up straight. Kate never stands up straight.
"Writing in the Daily Mail, Richard Eden reveals that the Princess of Wales's sister and her investment banker husband are planning to dig up the walled garden at their Berkshire home. They hope to replace it with a large 82 ft x 19 ft swimming pool, which Eden dubs 'more than twice the size of a typical private pool' and which rivals that of two nearby leisure centres in the county. The lawn alongside the pool will also be dug up, with plans to replace it with an AstroTurf tennis court, 'to enable safe playing conditions all year round', while the potting shed for the current kitchen garden will be transformed into changing rooms." [...]
"Eden previously revealed that the couple had purchased the 32-room Georgian property and its 150 acres for 15 million in July last year, having sold their five-floor Chelsea home (reportedly complete with six en-suites, a gym, an underground cinema and staff room) for 22.5 million. The main house at their Berkshire property, which underwent an extensive multi-million-pound restoration at the hands of a previous owner, is Grade II-listed, as is the walled garden, set in an Area of Outstanding Natural Beauty near ancient woodland. This means the pair need to secure planning permission before they can push ahead with the project."

-Here, if James is an investment banker then he seems to have a lot of free time for home renovations. Maybe he just takes the money from his investment bank and uses that for the home renovations.
-Second, I wonder if he's like rowdy and belligerent because what if people don't want to give him the planning permission he needs?

Notes on James Matthews
Washington, DC
January 4, 2023
The Germans are using Croatian ports for their navy maybe. Zagreb is reporting price increases. That might mean there is inflation throughout Croatia. The news reports mention the Euro as a currency. Maybe the Germans think they can send their navy where Euro is used. Albania, Croatia, and Bosnia all have strategic ports on the Mediterranean Sea. Maybe the Germans send their navy to all three countries and they use those ports. Today, anyway, there are reports in the Serbian news about prices in Croatia.
The Syrian desert seems to be used for German military testing. The Russians have reported chemical munitions in Syria. Also, there are reports about Israeli airstrikes near Damascus. The Turkish army crosses the border into northern Syria presumably because of the PKK. These are counterterrorism or security operations. The complaint is that Ankara holistically ignores the border with Syria.
Similarly, there are reports about the Turkish border with Bulgaria. Maybe the Germans send border fence items to both Ankara and Sophia. The Germans might employ labor unions to police this border. It has been suggested that the Turks don't enforce their side of the border with Bulgaria. Both the Turkish border with Syria and the Turkish border with Bulgarian are in the news. It seems likely that the Germans do provide the borders with fence items.
The Bulgarian parliament is in the news. It's possible that the German security services are cyberattacking the Bulgarian parliament. There are strange reports because it is as though the parliament cannot find a majority. The BSP behaves strangely sometimes. Maybe the Germans have the means to influence the Bulgarian legislature.

Washington, DC
January 4, 2023
Pippa was 38 when Rose was born, James was 46.
This is me talking about James Matthews. 1-4-23
"Philippa Charlotte Matthews (ne Middleton; born 6 September 1983)"
Pippa was 38 years old when she had her third kid.
I don't like that Kate and William have so many kids. It's overwhelming that Kate wears these dresses and you can see her shoulders. I would like the two of them to stay home with their kids. I wish they didn't send their kids to boarding school or whatever.
[Massive price increases make Croats furious - "Early warnings were there..." The Prime Minister of Croatia, Mr. Andrej Plenkovic responded to numerous complaints. Complaints were made by the citizens due to price increases made by certain merchants disguised by the introduction of the Euro. In today's meeting with the relevant ministers, he announced a prompt reaction and inspections. Plenkovic pointed out that the introduction of the Euro is not the reason for the increase in the prices of goods and services. EVRO HR is the official government website of the government, with all relevant information related to consumer protection, stating that the consumer must not be in a less favorable financial position than he would have been if the Euro had not been introduced, Index.hr reports.] The Serbian news is reporting on Zagreb. (January 4, 2023)
"WASHINGTON, January 4. /TASS/. The United States believes that relations with Syria should not be upgraded and improved at the moment, Spokesman of the Department of State Ned Price said at the briefing, answering a question about the US position in respect of plans for trilateral communications of Turkey, Syria and Russia." The Russian news is reporting on Damascus. (January 4, 2023)
"Before the National Assembly's first sitting of the year, MPs from GERB party stated, in interviews with different TV channels, that they were prepared to support a government formed by Democratic Bulgaria." The Bulgarian news is reporting on the parliament. (January 4, 2023)
["Bulgarian, Turkish Authorities Exchange Info on Investigation into Killing of Bulgarian Border Policeman" "Bulgarian Border Police officer Petar Bachvarov, who was killed on November 7, 2022, while patrolling the Bulgarian-Turkish border, was shot by a Turkish national attempting to steal livestock. This is the main version on which the Bulgarian and Turkish investigators are working, prosecutor Doychin Doychev, administrative head of the Yambol District Prosecution Office (Southeastern Bulgaria), told the media on Tuesday. He took part in a joint coordination meeting with representatives of the Turkish authorities, held at the Kapitan Andreevo border control checkpoint so that the two sides could exchange information on the investigation. Doychev also said that Bachvarov was killed with a 12-gauge hunting shotgun loaded with pellets for hunting big game. The work on the pretrial proceedings is close to being finished, he added. The meeting was also attended by the observing prosecutor, Interior Ministry Chief Secretary Petar Todorov, the National Police Director, Chief Commissioner Atanas Ilkov, and the Border Police Director, Chief Commissioner Rositsa Dimitrova. The Border Police officer, Sergeant Petar Bachvarov, was shot dead while patrolling the border with Turkiye, near the village of Golyam Dervent. A Turkish national was detained for the killing. The autopsy showed that the police officer was shot with hunting shotgun pellets, which eliminates the possibility of a shootout between Bulgarian and Turkish border police, the head of the National Investigation Service, Borislav Sarafov, explained back in November 2022.] The Bulgarian news is reporting on the border with Turkey. (January 4, 2023)
[Macron prepares "Made in Europe" Strategy against US Policies French President Emmanuel Macron has said he is pushing for a "Made in Europe" economic strategy to counter US policies. During a joint press conference ahead of his meeting with Swedish Prime Minister Ulf Kristersson in Paris, Macron said their discussion would focus on Europe's economic situation. "My view, as you know, is that we need a 'Made in Europe' strategy to give our own response to the changes in the world, as well as to the voluntarist policy of the US, which is perfectly legitimate," he said. He called for the need to protect the "fabric" of the European industrial network -- to create jobs, increase its competitiveness, as well as the production of clean energy.] The Bulgarian news is reporting on Paris. (January 4, 2023)
[Michael Matthews, age 22, of London, England, lost his life on May 13, 1999, while descending to Camp 4 from the summit of Mt. Everest. Mike was wearing a red Northface Himalayan down suit. There as black trim on the shoulders and knees, and he would have been wearing a Russian oxygen system with perhaps a "UK" or American bottle (UK or American bottle is about twice as large as the orange Russian bottles) and was a grey-blue color. His boots were black One-Sport boots with yellow trim. His ice axe was a silver color and was made of metal. We have reason to believe that Mike was approximately 200-300 meters above the balcony when he lost his life. Mike's picture with what he was wearing that day is here. Mike was the youngest climber to ever reach the Summit of Everest from the UK. As you can see clearly, Babu's "stuff" is in the background. There is no doubt Mike reached the Summit. The above is part of what we published per the requests of the family and expedition with the hope that other climbers would see Mike's body on Everest in later years. Despite the requests and investigations, Mike's body has never been found. Mike's father, David Matthews, has threatened and considered taking legal action against the guiding company, OTT Expeditions, after the Everest Expedition. He has made his feelings pretty widely known. The movie about Mike's death is due to be played tonight on TV in the UK. It has been reported the family is now considering filing suit against four of the guides on the OTT expedition that year, one of which went home early on the expedition due to illness. The family and the family's lawyers have been in contact with EverestNews.com since the accident. The family seems to believe the guides let Mike down that day on Everest. EverestNews.com released the News on May 15th 1999 with a statement from the OTT Expedition and the Matthews' family. Daily News: 5/15/99 Report 12:35 PM EST Everest Takes another life: The following release has been made by the Matthews family and OTT Expeditions to EverestNews.com. "Michael Matthews, aged 22, was lost presumed dead whilst descending from the summit of Mount Everest on the afternoon of 13th May 1999. Although he never held it as an ambition he was the youngest Briton to reach the summit of Everest. He was a keen mountaineer who had successfully climbed Mount Aconcagua in Argentina in January of this year and whose previous climbing experience included the Swiss Alps, the Pyrenees and Kilimanjaro in Kenya. He wanted to follow Everest with an attempt on Mount Vincent. Michael was educated at Uppingham School. He worked as an equity options trader in the City of London. He leaves behind his parents, David and Jane, his two brothers, James (23) and Spencer (10) and his married sister, Nina Mackie, all of whom are quite inconsolable over the loss of Michael Robert Matthews (4th March 1977- 13th May 1999.) Michael had been climbing with OTT Expeditions. The family wish to thank members of the Team for their courage and determination shown on the descent in Atrocious weather conditions."]
This is saying that James has two brothers and a sister. One of his brothers died in a climbing accident. James' dad once got into a racecar accident and a different driver died. Maybe they are Prussians because they are into these kinds of recreational activities. (January 3, 2023)
The Virginians want their covert operations jobs to be, no reading or writing, in the building day and night, and aim the loudspeaker at the civilian agents who write the reports. The whole time they are working in coordination with the Pentagon. (January 3, 2023)
The surveillance teams themselves don't read or write. I guess they aim the police radios at the civilian agents who write reports, so other people will read the reports.
Why don't the surveillance teams themselves read or write during their shifts?
Why do they think they're supposed to aim Pentagon police radios at the civilian agents?
Why are they relaying police radios back to Virginia?
"Helicopter crash in Australia kills 4" "At least four people were killed after two helicopters collided midair..." The Washington Post is reporting on Canberra. Maybe a German submarine near Australia cyberattacked and that's why these two helicopters collided. There have been reports about the German navy near Jakarta. (January 3, 2023)
[Vucic offered a job to Nikola Nedeljkovic: You can make a choice VIDEO Serbian President Aleksandar Vucic received Nikola Nedeljkovic, who was released after spending six months in prison in Pristina. Vucic received Nedeljkovic in the Secretary General Building. "They wanted to break a young man just because he was a Serb, we tried to help with those who never wanted to talk. It's important that you remained calm". "We learned what family you come from, when I saw your family hugging you yesterday, I was overjoyed, my heart was in place", the president points out. "Thank you once again for being so courageous and calm, making your people proud", Vucic concluded. Nikola thanked Serbia, the President and the people for showing support to him. "I don't hate anyone, I only love and respect my country," Nikola said.] The Serbian news is reporting on President Vucic. (January 3, 2023)
I think he is new at his job.
This is a test about Russian studies.
Kind of, Moscow and Tokyo maybe never signed a peace treaty after WWII.
Maybe they did.
That is hard to know.
There are a lot of reasons.
One reason is that Stalin didn't want to get involved in that theater.
It is a legitimate source of pride of the American navy about the Victory over Japan.

Russia to block military threats coming from Japan - MFA Deputy Foreign Minister of the Russian Federation Andrey Rudenko called Japan's course to abandon the country's peaceful development a serious challenge for the security of Russia and the Asia-Pacific region MOSCOW, January 3. /TASS/. Moscow considers Tokyo's policy of abandoning peaceful development as a serious challenge to the security of Russia and the Asia-Pacific Region in general and warns that if this practice continues, it will be left with no choice other than to take adequate counter-measures in order to block military threats, Deputy Foreign Minister Andrey Rudenko told TASS in an interview.

Washington, DC
January 3, 2023
Tel Aviv is a port on the Mediterranean Sea.
Ankara is the capital of Turkey.
Do we want Ankara and Moscow always coordinating about everything?
We suspect the Turks are allied with right wingers in Germany.
I worry about too much cooperation between Ankara and Moscow.
Maybe Ankara is assisting Tel Aviv with its operations in Syria?

The Russian news is reporting on Damascus and Ankara:

[Damascus demands UNSC stop Israel's aggression against Syria - Foreign Ministry The corresponding appeal to the international organization was published by the Syrian Foreign Ministry BEIRUT, January 3. /TASS/. The UN Security Council must react to Israeli air raids on Syria and prevent their recurrence in the future, the Syrian Foreign Ministry said in an appeal to the international community on Monday. In a message to the UN Security Council, released by the SANA news agency, the Syrian Foreign Ministry demanded bringing Israel to justice for a new aggressive sortie against Syria."]

[Turkey's NATO membership no hindrance to cooperation with Russia - presidential spokesman According to Ibrahim Kalin, Ankara's priority is to ensure "belts of peace, stability and prosperity" in its region and beyond ANKARA, January 3. /TASS/. NATO membership and allied relations with the US do not prevent Turkey from maintaining constructive relations with Russia, Turkish presidential spokesman Ibrahim Kalin has said. "Turkey's participation in NATO and its allied relations with the United States do not prevent good relations with Russia. Our priority is to ensure peace, stability and prosperity in our region and beyond. With this in mind and staying committed to the traditional foreign policy, we simultaneously are expanding the horizons of foreign policy through new approaches," he said in an interview with Kriter magazine.]

Washington, DC
January 3, 2023
Within Prussian culture are tanks. Prussians think mythologically, their people are tank drivers.
This one is about tanks. And tank specialists.
Maybe the Germans built the tanks. Maybe the Germans train the tank specialists. It's a whole month.
This article is some kind of red flag that maybe the Germans are around.
"Shooting Exercises Start Jan. 4 at Batmish Firing Range in Southeast Bulgaria" "The centre for training tanks specialists here announced the first dates of this year's planned shooting exercises at the Batmish firing range near Sliven, the local Municipality reported on Tuesday. The exercises will start on January 4 (Wednesday) and will be held throughout the month of January. Sliven Municipality's security and crisis management directorate warns local residents to take notice of the warning signs and not enter the prohibited zones." The Bulgarian news is reporting on the army.
(January 3, 2023)
Yesterday at the yoga studio a woman from Australia was really nice to me. She helped me with my yoga photos.
I can't anymore have a laptop. When I moved to DC, I had a huge laptop and then I got a smaller one. I have trauma in my mind from carrying it around so much.
Kind of a British army joke.
I think sometimes I am out and I see a British man, he is handsome, he is at a restaurant or something and he is working on a laptop.
Can't he do that at home?
The Bulgarian news is reporting on a mine. Maybe the Germans made it. Also, maybe the Germans use Bulgarian ports for their navy.
"The Bulgarian Military Destroyed a Mine found on the Beach in Obzor" "Military personnel from the Naval Forces (VMS) destroyed today, January 3, an unexploded ordnance found on the beach in the town of Obzor, Burgas Region. At 10:50 p.m. last night, the Maritime Operations Center of the Navy received a request from the regional governor of Burgas for the assistance of Navy specialists in identifying and possibly destroying an object resembling a mine found on the beach. A formation for reconnaissance, transportation and destruction of unexploded ordnance from the Naval Base - Varna, led by Captain III rank Ilia Stoychev, inspected the discovered object, which was classified as an old heavily corroded anti-landing mine. The mine was destroyed on site, with the area cordoned off, with strict observance of safety measures."
(January 3, 2023)
-It seems like if he goes on ski trips, then he isn't a responsible person at the hedge fund. This is saying he manages a billion dollars. But then he leaves to go on a ski trip.
-There were four kids in the house when he was growing up. Maybe they didn't all go to college.

"James grew up with his parents, Spencer, brother Michael, and sister Nina. The family spent some time living at Caunton Manor, an 18th century home near Grantham, which has 30 acres of grounds and an indoor swimming pool that can be turned into a dance floor. When at school, he became a successful motor-racing driver, winning the British and European Forumula Renault Championship for Manor Motorsport in 1994 at age 18. When he left school, he decided to stick to the world of finance, and joined Spear Leeds & Kellogg where he trained as a trader. He then went on to join London finance house Nordic Options as a senior trader. Based in Mayfair, the Telegraph reported that the company takes charge of 1.1 billion worth of investments. When he's not making money, James is a keen sportsman. Along with Pippa, he loves to ski..."

Washington, DC
January 2, 2023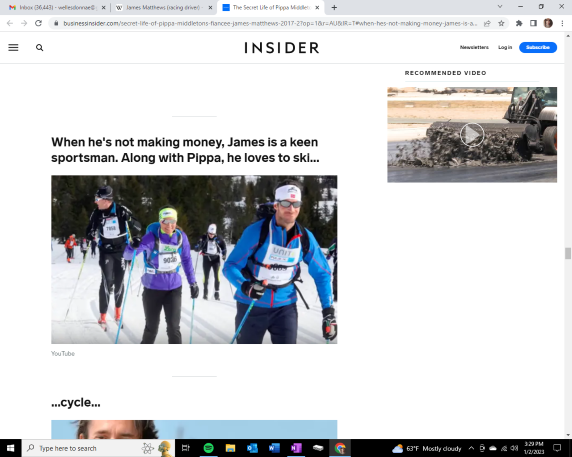 This is me talking about the Turkish border with Bulgaria. 1-2-23
"MOSCOW, January 1. /TASS/. The hryvnia is completely out of circulation in the new regions of Russia as of January 1, 2023, and the ruble will be the only currency used in these territories. Last year, authorities had already begun to pay all social payments and salaries to state employees in rubles. Nevertheless, until the end of the year, a dual-currency system was used in the regions - the Ukrainian hryvnia and the Russian ruble were both in use. From January 1, it will no longer be possible to pay with the hryvnia, and citizens who still hold the Ukrainian currency can exchange it at bank branches." The Russian news is reporting about bank notes. (January 2, 2023)
It's faulty border fence items and so it's maybe German-made stuff.
The desert
The ports
And then German-made hardware
German radio signals

The Syrian desert
Israeli ports
German-made warplanes
Berlin sends radio signals to IDF warplanes
The Syrian desert is near Damascus. Raqqa, Syria is near Iraq. It seems like there are military research facilities in that desert. Maybe the Germans trade through Israeli ports. Maybe the Germans are sending radio signals to Israeli warplanes about these airstrikes.

"Two Syrian servicemen died as a result of Israel's air strike - SANA" "According to the agency, two more people were injured" "MOSCOW,January 2. /TASS/. Two Syrian servicemen died on Monday as a result of an air strike from Israel against the Damascus airport, SANA news agency said, citing sources. Two more individuals were wounded, according to them. The Damascus airport suspended operations, the news agency said." The Russian news is reporting on the IDF. (January 2, 2023)
Maybe the illegal migrants come because of faulty German-made border fence items.
"A total of 15,605 third-country nationals were detained in Bulgaria in January - November 2022, including 2,206 apprehended at the entrance of the state border and 2,293 at the exit without registration, according to the latest data of the Interior Ministry of Interior on the migration situation in the country released on Saturday. The migrants found to be illegally staying in the interior of the country by November 30 numbered 11,106, with the majority being citizens from Afghanistan - 49.9% and Syria - 36.1%. A 1.6-fold increase was recorded compared to the total number of detainees in the same period of 2021 (9,574). The latest monthly statistics of the Ministry for November show that 1,178 migrants were detained, including 170 upon entrance at the state border, 224 upon exit without registration, while 784 were found in illegal sojourn in the interior of the country. The number is 30.2% less compared to the previous month of October (1,687 individuals). As of November 30, the number of people accommodated in the refugee centres of the State Agency for Refugees was 2,534, which is 67% of their capacity. These are mainly Syrians (2,102) and Afghans (172). The Migration Directorate of the Ministry is currently housing 673 people, which which is 63.5% of its capacity. Citizens of Syria - 256, Afghanistan - 207 and Morocco - 124." The Bulgarian news is reporting on illegal migration. (January 2, 2023)
This one is about Vienna, Austria. Austria is sometimes included in maps of the Balkans. Sometimes it isn't.
I wonder about German exports and border fence items. Maybe it is German labor unions that operate some of the border fence technology.
The Bulgarians sometimes are investigated, maybe they let people in illegally, for example.
["Bulgaria's President and Austria's Chancellor: Guarding the EU's External Borders is Key to tackling Illegal Migration" "Protecting the external borders of the European Union is a common commitment of all member states and is key to tackling illegal migration." This was the general position of President Rumen Radev and the Federal Chancellor of the Republic of Austria Karl Nehammer, who talked today in Vienna, reports the press service of the Bulgarian presidency. At the invitation of Karl Nehammer, the Bulgarian president is the only state leader invited to this year's edition of the traditional New Year's concert of the Vienna Philharmonic in the Golden Hall of the Musikverein. The two leaders highlighted during the warm-up the good cooperation between Bulgaria and Austria and discussed the European migration and asylum policy before the European Council on February 9 and 10. Rumen Radev stressed that the protection of the external European borders requires even closer cooperation between European countries, as well as targeted technical and financial support from the EU. The President also reminded that Bulgaria has made substantial investments in the improvement of the protection of its borders and this has been confirmed by all the missions of the European Union. For his part, the Federal Chancellor of Austria - Karl Nehammer expressed his appreciation for the invitation accepted by the Bulgarian head of state to visit Vienna to continue the bilateral dialogue and highlighted Austria's desire to strengthen cooperation with our country in the protection of the EU's external borders to deal with illegal migration. In his words, Europe cannot afford tens of thousands of unregistered migrants to cross the territory of EU member states. The high number of illegal migrants also represents a serious problem for the security of the entire European Union, for which more support is needed for the countries guarding the external borders of the Union and exposed to migratory pressure, including Bulgaria. Chancellor Karl Nehammer is scheduled to visit Bulgaria on January 23, where he will familiarize himself with the measures taken by our country to protect the borders of the EU. Nehammer stressed that Bulgaria has made a lot of efforts to strengthen the protection of the external European borders to counter the increased migratory pressure, and our country should also receive greater financial support from the EU to improve the border fence, as well as to increase the presence of Frontex. During his visit to Austria, the head of state Rumen Radev also spoke with the federal president Alexander Van der Bellen and held a meeting with the minister of foreign affairs of India Subrahmanyam Jaishankar, the press release of the Bulgarian presidency also states.] The Bulgarian news is reporting on Vienna. (January 2, 2023)
The surveillance teams are inappropriate with the women civilian agents. They watch them in their apartments with the police radios. Maybe they have formed a weird fraternity because they are Prussians. The surveillance teams don't read or write during their shifts. They say they are providing security, but they sit and stare at the women even while they are asleep. Maybe they are a policemen group, but they resemble the Duke lacrosse team or the Yale Skulls.
"The Duke lacrosse case was a widely reported 2006 criminal case in Durham, North Carolina, United States in which three members of the Duke University men's lacrosse team..."
"Deep within the hallowed walls of Ivy League's most prominent campus exists a secret society where power and elite are bred."
The surveillance teams are Prussian defense contractors. It's not really clear why they watch women sleep with the police radios.
(January 1, 2023)
-This title that James has, not everyone would agree on what it means or that he has this title. Some people would agree. Not everyone. If you asked one hundred British people, not all one hundred would agree that he legitimately has exactly that title.
-It seems like right wingerism about the hunting lodge and the hunting parties.

"Middleton of the Glen! How Pippa will get a title to rival sister Kate after engagement PIPPA Middleton will finally get an aristocratic title to rival older sister Kate following her engagement to the fabulously wealthy son of a Scottish Laird, Express.co.uk can reveal. The 32-year-old sister of the Duchess of Cambridge will one day become Lady Glen Affric and have access to a sprawling 10,000-acre Scottish estate after marrying nobleman James Matthews. Mr Matthews, a super-rich hedge fund manager, is the son of David Matthews, the Laird of Glen Affric, who owns an historic castle 15 miles from world-famous Loch Ness in the Scottish highlands. He will inherit the title upon his father's death, until which time Pippa will be able to use the courtesy title of Mrs Matthews of Glen Affric the younger, bestowed upon her as the heir's wife. She will be able to use the title anywhere in the Commonwealth, such as Australia or Canada, but it is thought she is unlikely to do so given the recent down to earth portrayal of Mr Matthews as the grandson of a coal miner. David Matthews, a former mechanic, is thought to have acquired the hereditary title, which is largely ceremonial, when be bought the magnificent Glen Affric estate in 2008. The aristocratic connection was unearthed by Australian art historian Michael Reed, who said the Matthews family "keep to themselves" but that "they know how to play the royal game". He said: "You've certainly got this Matthews family who own this huge baronial castle." The aristocratic title has a long and rich history and even comes with its own red and green tartan, which Mr Matthews could opt to wear at what will be a star-studded wedding. Sprawling Glen Affric Lodge also has its very own royal connection with the Queen's grandmother, Mary, having stayed at the estate in the late 19th century. And Mr Mathews, who is chief executive of London-based Eden Rock Capital Management Group, went to Eton College like Pippa's brother-in-laws William and Harry. Miss Middleton and Mr Matthews, 40, announced their engagement yesterday following a whirlwind romance of less than a year. And Mr Matthews is already strongly involved in the family business, with Glen Affric Lodge being used to host hunting parties whilst the family live in London. Visits to the estate cost 11,880 for a three night stay for up to eight people or 17,880 for a party of 16. It has also been used for television work, most notably when David Beckham stayed there whilst filming an advert for Haig Club whisky back in 2014. As first son and heir Mr Matthews is listed as the "solitary managing director" of Beaufort Glen Affric Ltd - a title he has held since 2007. Documents lodged with Companies House list the company's assets as the 10,000 acre "sporting estate" which hosts tourist parties for "hunting, trapping and related services". His younger brother, Spencer Matthews, is a notorious socialite who shot to fame as a suave ladies man on the television show Made in Chelsea. Miss Middleton and Mr Matthews are expected to get married next year in what will be the most highly anticipated society wedding since her sister, Kate, wed Prince William in 2011. Announcing their engagement the happy couple said: "Miss Pippa Middleton and Mr James Matthews are delighted to announce they became engaged on Sunday 17th July and plan to marry next year."

Washington, DC
January 1, 2023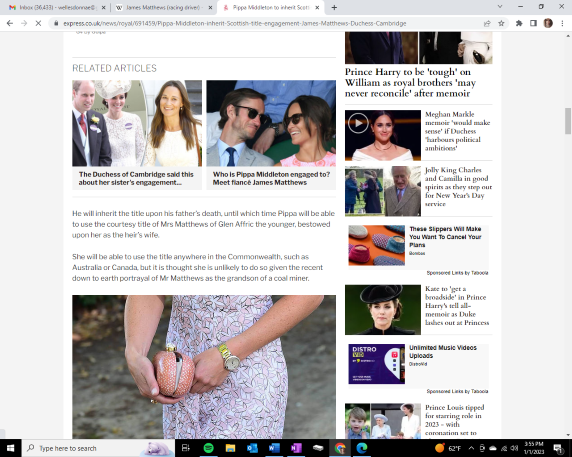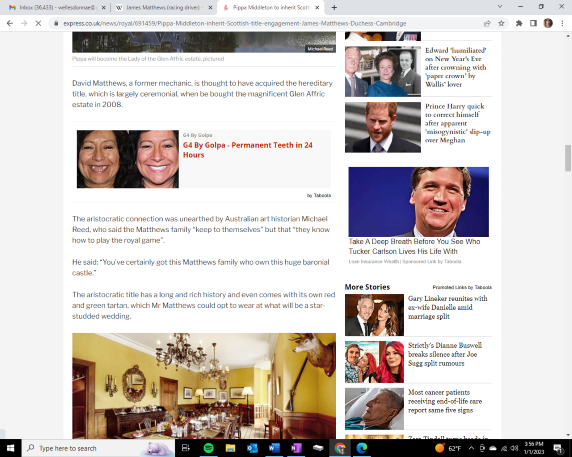 "Pippa and James purchased the stunning country home earlier this year, choosing to leave behind their swanky London residence, very similarly to the relocation that Princess Kate, Prince William and their three children, Prince George, Princess Charlotte and Prince Louis, have made."
This is saying that both Pippa and Kate, spend most of their time in rural areas now. (January 1, 2023)
It seems like Kate and Pippa dress like Prussian women. Notice both of them, you can see their breasts. It's as though Prussian women, they wear clothes to announce themselves as women.
These are photographs of Kate Middleton. I wish she would cover her shoulders when she goes out. Isn't it cold there? I think it is bad hygiene. I wish she wouldn't dress like this when she and William go out. Can she wear a jacket or a shall over these dresses? Kate is about to turn 41 years old. She has three kids. (January 1, 2023)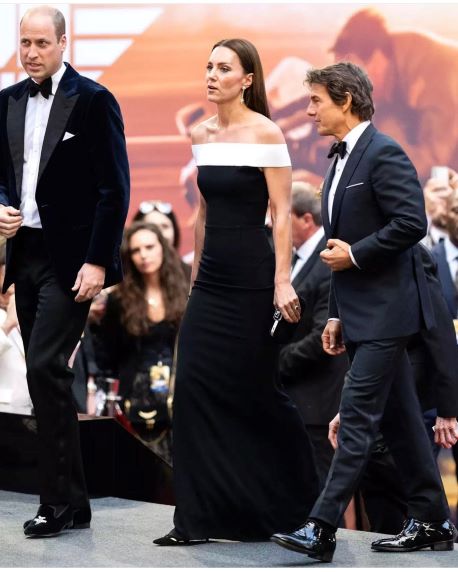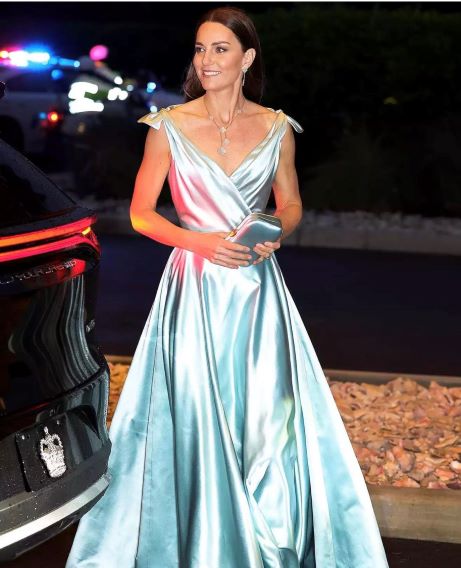 Born: August 4, 1981 (age 41 years), Canoga Park, Los Angeles, CA
Born: June 4, 2021 (age 1 year), Santa Barbara Cottage Hospital Emergency, Santa Barbara, CA
Today Meghan Markle is 41 years old, and her daughter is 1 year old.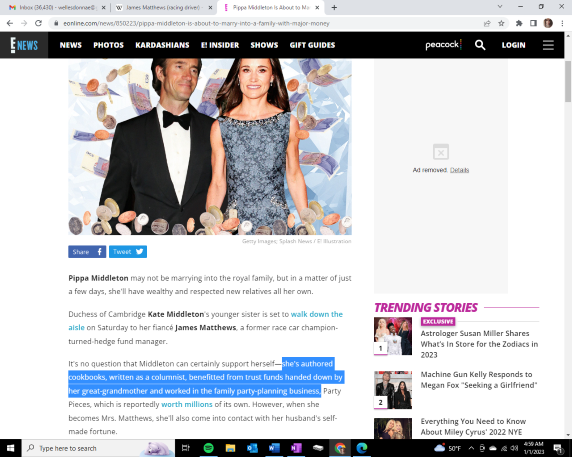 -Pippa hasn't worked much. This says she wrote cookbooks and she worked in event planning. That doesn't make much money, usually. So, it's not as though Pippa has money that she herself has earned.
-James' dad owned a car dealership, and then he bought other businesses.
-Kind of James owns maybe a dozen businesses. They are all kinds of businesses. Like, he'll own a few hotels and this kind of business, and that kind of business.

[Pippa Middleton Is About to Marry Into a Family With Major Money Spoiler alert: her future husband is quite successful Pippa Middleton may not be marrying into the royal family, but in a matter of just a few days, she'll have wealthy and respected new relatives all her own. Duchess of Cambridge Kate Middleton's younger sister is set to walk down the aisle on Saturday to her fiance James Matthews, a former race car champion-turned-hedge fund manager. It's no question that Middleton can certainly support herself-she's authored cookbooks, written as a columnist, benefitted from trust funds handed down by her great-grandmother and worked in the family party-planning business, Party Pieces, which is reportedly worth millions of its own. However, when she becomes Mrs. Matthews, she'll also come into contact with her husband's self-made fortune. After achieving a level of success in the racing world, Matthews entered the finance world as a trader in 1995 and soon assumed major status as co-founder of Eden Rock Capital Management in 2001, where the 41-year-old remains CEO today. The firm reportedly managed over 1 billion worth of investments by 2007. "His stake in Eden Capital and the money he potentially has taken out over the last 16 years could make him a demi-billionaire or close to a billionaire on his own merits," David Friedman, co-founder at WealthQuotient, told E! News. However, that estimation is also reliant on other factors like the market and his fees. While the company has come under fire as of late for alleged association with some scandals overseas, Matthews is also linked to a tremendous family fortune. As Friedman said, "To characterize James wealth, one must look at two core areas: family wealth and Eden Capital." Before a racing career of his own, Matthews' father David Matthews began as a coal miner and apprentice mechanic. After nearly a decade of racing, he built up a successful car dealership, Kirkby Central Group, before retiring and turning his attention to the hotel business. In 1995, he became owner of the Eden Rock in St. Barts, which has since become an A-list luxury destination, serving the likes of Beyonce and Leonardo DiCaprio. He also has the 10,000-acre Glen Affric Estate in Scotland to his name. The sprawling property also comes with a title—one James is set to inherit upon his father's death. That title-Laird of Glen Affric-has a matching moniker for Matthews' spouse, who will be Lady Glen Affric. While the title serves more for logistical description of the property owners than for everyday use, we don't think Pippa will mind when she can call 10,000 acres one of her vacation spots.]

Washington, DC
January 1, 2023
https://www.nzherald.co.nz/lifestyle/who-are-pippa-middletons-new-in-laws/CY6Y5MR7ICMBTYB5X7UUZ2Q7CY/ Who are Pippa Middleton's new in-laws? Panicking about the table plan, fretting over the final dress fitting, obsessively checking the weather... with just three weeks to go, Pippa Middleton will be getting the same pre-wedding jitters as any bride-to-be. But with two future Kings, her Duchess sister and a smattering of Lords, Earls and A-listers on the guest list, it's fair to assume Pippa, 33 - who marries boyfriend James Matthews, 41, on May 20 - will be most concerned about how everyone's going to get on. While the Middletons have their own black sheep in Gary Goldsmith - he of Ibiza party house La Maison de Bang Bang fame - the Matthews family has a few colourful characters of its own. Pippa, meet your in-laws... James' younger brother Spencer, with their mother Jane, at Wimbledon. Photo / Getty Images The groom's glamorous mother, 69-year-old Jane Matthews, grew up in Harare, the capital of Zimbabwe, where she enjoyed a privileged childhood. Her father, Robert 'Spenny' Parker, was a sports-mad architect and something of a wild child who passed on his bohemian attitude to Jane and her siblings, Pamela and Paul. Sporty and popular, Jane was voted carnival queen by fellow undergrads at South Africa's prestigious Rhodes University and rode through the streets on a gold throne atop a motorised float. Aged 21, she graduated in Fine Art and won a scholarship to the Rijks Academy in Amsterdam. When her ferry stopped in England, she hopped off on a whim - and ended up staying for good. Jane settled in London and worked as a receptionist at Christian Dior while pursuing a course at the Slade School of Fine Art. It was then she met Dave, James's father, recently divorced, who had spotted an old photograph of her in a yearbook belonging to his sister-in-law, Lu, another Rhodes graduate. He got her number, turned up to meet her in a Ferrari Daytona - and that was that. They married in the early Seventies, a low-key register office affair to which Jane wore an old brown sweater and a skirt. A celebration in Zimbabwe followed, where her father turned up two hours late, riding a donkey. Their first child, James, was born in 1975, followed by Michael in 1977 and Spencer in 1988. As her husband's business ventures flourished, they upgraded from their bungalow in his home town of Rotherham to a 30-acre, 18th-century estate in rural Lincolnshire, before moving to Paris, then Monaco. In 1995, they decided to buy a dilapidated hotel on the idyllic island of St Barths. Today, Jane splits her time between London and the Caribbean, while Eden Rock - where the priciest suite costs 25,000 a night - is now a celebrity haunt, with guests including Beyonce, Brad Pitt and Leonardo DiCaprio. Super-stylish, impeccably groomed and with a penchant for pricey designers, Jane is well used to mingling with the rich and famous. So she'd have felt quite at home when she and Dave were introduced to Prince William and Kate over dinner at James and Pippa's 17 million London home. EX-RACER DAD Son of a coal miner, Dave Matthews's origins are less illustrious than his wife's sun-kissed upbringing. He and brother Bob had a modest, happy childhood in a village near Rotherham and, on leaving school, he started work as an apprentice mechanic at his father Wallace's garage. Aged 19, Dave started selling cars door-to-door and, in his spare time, indulged his love of motor racing at the local track. A skilled petrol head, he became division champion in the British Touring Car Championships in 1971. But his dream ended in August 1973 in a catastrophic accident during a race at Silverstone. His car flipped at 130mph, killing one driver, critically injuring another and temporarily stopping Dave's heart. A bystander said: "It was horrific. His car was airborne. How Matthews escaped is beyond me." The damage to Dave's left eye was so severe he never raced again. Instead, he devoted himself to business, transforming his small used-car operation into one of the region's biggest dealerships and overseeing two lucrative mergers which put him at the helm of one of the UK's top 500 companies. In 1991, as the recession began to hit, level-headed Dave cashed in his chips and left the industry to work in property development. As they explain on Eden Rock's slick website, Dave and Jane moved their family to St Barths "in pursuit of a more adventurous life". Over 20 years, Dave, now 73, restored the run-down property - once a haven for Thirties stars Greta Garbo and Howard Hughes - to its former glory, building a blissful retreat. In a recent interview, he gushingly describes it as not just a hotel "but a way of life". He also owns the 10,000-acre Glen Affric Estate in the Scottish Highlands, which opened in 2012 as a luxury hunting lodge, offering guests deer stalking, whisky tasting and helicopter rides. Transfer of the title deeds made Dave a Scottish laird. THE BLACK SHEEP Playboy Spencer's status as the Matthews family's bete noire has been well-documented - ever since he boasted of having slept with more than 1,000 women in his lurid 2013 autobiography, and confessed to a £300,000 steroid addiction which led him to quit reality series I'm A Celebrity . . . in 2015. Eton-educated Spencer found fame on E4 reality show Made In Chelsea in 2011, before which he worked as a PR manager for London clubs Movida, Amika and royal favourite Boujis. He quit his job as a stockbroker to focus on his TV career - and earlier this year won Channel 4's The Jump. Lothario Spencer - who has admitted a liaison with a South African prostitute and being involved in a six-person orgy - is a mummy's boy at heart and is often spotted around London with Jane. Of late, he's formed a firm friendship with James Middleton, Pippa's younger brother. Spencer's current squeeze, Irish model Vogue Williams, 31 - whom he has likened to 'a younger, better-looking Cindy Crawford' - is rumoured to have been banned from the wedding over fears she may upstage the bride.
Maybe the Turks are cyberattacking all three countries in the Caucasus region. (December 31, 2022)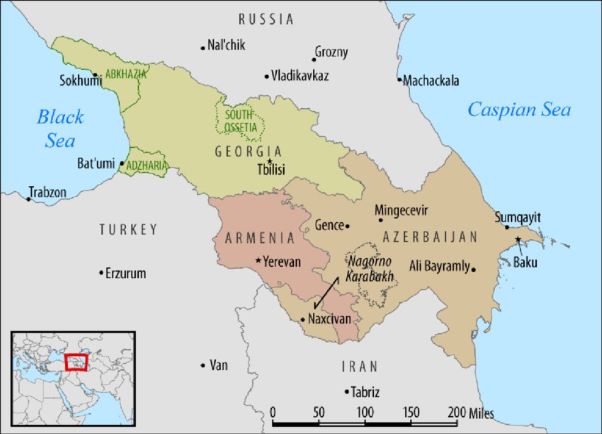 The Caucasus region is Armenia, Azerbaijan, and Georgia.
This means Yerevan, Baku, and Tbilisi.
North of the Caucasus region is Russia and to the south is Iran.
This is inherently contested territory between Russia, Turkey, and Iran.
It's likely the Turkish army cyberattacks, or whatever all three countries in the Caucasus region.
Of course the Armenian genocide of the twentieth century.
Recently there have been reports about Iranian army groups near Damascus.
Maybe the Iranians are also cyberattacking, or whatever the Caucasus region.
The Pahlavi family, they had relatives in Azerbaijan.

Russia used to span fourteen time zones.
There is a list of neighboring countries.
The Caucasus region, it's tempting for the Turks to use those ports.

About the Far Right election in Tel Aviv.
From Washington, DC, often the concern is about what goes between Tel Aviv and East Asia.
And if it's a far right government in Tel Aviv.
Maybe right wingers, or whatever, from East Asia use Israeli ports for trade.
When the Israeli parliament is right wing, maybe that means military stuff is traded to East Asia.

Washington, DC
12-31-22
This is me talking about the Caucasus region. 12-31-22
If there is right wingerism in Tel Aviv, maybe there is right wingerism in the Balkans. Maybe right wingerism explains these tensions in Kosovo. (December 31, 2022)
This is me talking about James Matthews.
"China stages big military incursion, Taiwan says" "China has staged one of its biggest incursions in the seas and skies around Taiwan, the island's government says. It said that 71 Chinese air force planes, including fighter jets and drones, had entered Taiwan's so-called air defence identification zone. The US said China's military activity was "destabilising" and undermined "regional peace and stability". Taiwan is self-ruled - but China sees it as a breakaway province with which it will eventually reunite. Tensions between the two sides have steadily increased in recent months. In August, Beijing was enraged by a visit to the island by US Speaker of the House of Representatives Nancy Pelosi, the most senior US politician to visit Taiwan in 25 years. China responded to that visit by holding what was then its biggest-ever military exercises in the seas around Taiwan, and also blocked some trade with the island. Taiwan's foreign minister Joseph Wu condemned China's action then as highly provocative. China has never said it would not use force to bring Taiwan under its control. On Monday, Taiwan's defence ministry said 43 Chinese aircraft had crossed over the so-called median line, an unofficial buffer separating the two sides inside the air defence zone. China said it had conducted "strike drills" around Taiwan on Sunday in response to what it said was provocation from the island and the US. A White House National Security Council official said the US was concerned by the latest development, adding it would "continue to assist Taiwan in maintaining a sufficient self-defence capability in line with our long-standing commitments and consistent with our one-China policy". Washington has always walked a diplomatic tightrope over the issue of Taiwan. On the one hand it adheres to the one-China policy, a cornerstone of its relationship with Beijing. Under this policy, the US acknowledges that there is only one Chinese government, and has formal ties with Beijing rather than Taiwan. But it also maintains close relations with Taiwan and sells arms to it under the Taiwan Relations Act, which states that the US must provide the island with the means to defend itself." The BBC is reporting on Taipei. (December 31, 2022)
"Azerbaijan's foreign minister said that his country does not obstruct traffic in the Lachin corridor, which connects Armenia to Karabakh.In a phone talk with his Estonian counterpart Urmas Reinsalu, Bayramov pointed out that Azerbaijan put forward a number of initiatives to restore relations with Armenia, including proposals for a peace agreement, but the process was hampered by Armenia." The Turkish news is reporting on the Caucasus region. (December 31, 2022)
["UN vote on Israel's occupation 'a victory,' say Palestinians" "The Palestinians on Saturday welcomed a vote by the United Nations General Assembly requesting that the International Court of Justice (ICJ) provide an opinion on the legal consequences of Israel's occupation of the Palestinian territories. The Hague-based ICJ, also known as the World Court, is the top U.N. court dealing with disputes between states. Its rulings are binding, though the ICJ has no power to enforce them. The vote on Friday nonetheless presents a challenge for Israel's incoming Prime Minister Benjamin Netanyahu, who took office on Thursday at the head of a hard-right government that includes parties who advocate for occupied West Bank lands to be annexed. Israel captured the West Bank, Gaza and East Jerusalem - areas the Palestinians want for a state - in a 1967 war. Peace talks broke down in 2014. "The time has come for Israel to be a state subject to law, and to be held accountable for its ongoing crimes against our people," Nabil Abu Rudeineh, spokesman for Palestinian President Mahmoud Abbas, said.] France24 is reporting on Tel Aviv. (December 31, 2022)
-Do James and Pippa legitimately get these building permits?
-Are they ever turned down if they want to build something?
-Will they take no for an answer?

This is from the British news. James Matthews bought a home near Pippa's parents' house. It is a country house. There is already an old, small pool. James is wanting to build a very large pool and a tennis court on the land. There was a lawn and a garden in these spots. They need a permit from the land ordinance people.

"EDEN CONFIDENTIAL: Pippa Middleton looks to make a splash with huge outdoor swimming pool and tennis court at 15million Berkshire country home she shares with husband James Matthews" Pippa Middleton is determined to make a splash at the country home she and her husband, James Matthews, bought for 15 million. I can disclose that the Princess of Wales's sister plans to dig up the massive walled garden where the previous owner lovingly cultivated fruit and vegetables. In its place, Pippa, 39, and investment banker Matthews, 47, want to install a huge outdoor swimming pool. At 82 ft x 19 ft, it would be more than twice the size of a typical private pool and the same size as those at her two local leisure centres in the Royal County of Berkshire. Next to their pool, the lawn will be dug up and replaced with a tennis court. While Catherine presides over manicured grass courts as patron of the All England Lawn Tennis Club, her sister intends to install one made of AstroTurf fake grass, 'to enable safe playing conditions all year round'. The kitchen garden's potting shed will be converted into changing rooms. I disclosed in July that the couple, who married in 2017 and have three young children, had bought the 32-room Georgian mansion set in 150 acres. They need planning permission because the walled garden and main house are Grade II-listed and lie in an Area of Outstanding Natural Beauty and near ancient woodland. 'Ownership of [the house] has recently changed hands and the new owner is seeking to evolve and identify a new use for the expansive walled garden site,' their planning agent said in documents submitted to the local council just before Christmas. 'This in turn will facilitate a significant investment in the heritage asset, securing its future for generations to enjoy. The owner has a growing young family and the proposals seek to provide a secure, private and enhanced area of residential space.' There is already a much smaller pool in the grounds of the house, but their agent says it 'was installed in excess of 20 years ago and is in need of significant renovation and infrastructure upgrades to bring up to modern standards'. The house, which was the subject of a painstaking multi-million-pound restoration by its previous owner, is a short drive from the home of Pippa's parents, Michael and Carole Middleton, in Bucklebury. Her brother, James, bought a farmhouse in the county for 1.45 million with his French wife, Alizee, last year."

Washington, DC
December 30, 2022
"Matthews and his brother Michael both boarded at Uppingham School, in Rutland, whereas Spencer boarded at Eton. James, however, skipped higher education to train as a securities trader at Spear, Leeds & Kellogg, now part of Goldman Sachs. In 1997 James Matthews moved to a finance house called Nordic Options Ltd, which de-merged from Spear, where he became a senior equity options trader."
Here in this photograph, do they look like trillionaires? Pippa isn't very pretty. I think James isn't handsome, really.
They don't look wealthy to me. Pippa looks plain. James didn't go to college. It's not like he has a Yale sweatshirt on. It's not really obvious that they might steal money. But, I think they behave as Prussians. James dresses like a Prussian man and Pippa dresses like a Prussian woman. Maybe they steal, or whatever, by way of German labor unions. (December 30, 2022)
"He is the playboy in Made in Chelsia and chested all of his girlfriends in the series. He is 34 now and has a good family background. His family gave him the prestigious Eden Rock Hotel in St Barths. He is the shareholder of several estates."
This is from the news about Spencer Matthews.
I guess does he own this hotel?
Is the hotel well managed?
You wonder about his day to day routine.
I am not sure he went to graduate school.
Maybe he doesn't have an MBA.
(December 30, 2022)
"John Stompanato Jr., was a United States Marine who became a bodyguard and enforcer for gangster Mickey Cohen and the Cohen crime family. In the mid-1950s ... with actress Lana Turner."
["Aleksandar Vucic made an important decision: In the Serbian Army..." The state of heightened combat readiness in the Serbian Armed Forces was abolished by the decision of the President and Commander-in-Chief Aleksandar Vucic. The state of heightened combat readiness in the Serbian Armed Forces was abolished by the decision of the President and Commander-in-Chief Aleksandar Vucic, the Presidency confirmed to Tanjug. Combat readiness was declared on December 26 due to the situation in the north of Kosovo. Just to recall that after last night's meeting with the Crisis Staff, the President of Serbia announced that the barricades on Kosovo and Metohija will be removed today, and the first of them, on Merdare, has already been removed. "Barricades will be removed, but distrust is not removed", said Vucic last night.] The Serbian news is reporting on Kosovo. (December 30, 2022)
The Virginians are Prussian immigrants. Supposedly they take pills when they operate surveillance hardware. It's German-made radios. They want to work with Berlin to do police operations. I have heard they are inappropriate with the women civilian agents. They use the police radios to watch them sleep at night. There are unknowns about these projects because the Virginians won't read or write during their shifts.

[MOSCOW, December 30. /TASS/. Russia's Federal Security Service (FSB) has detained a Ukrainian national who has been plotting a terror attack in the North Caucasus on orders from the Ukrainian special services, the FSB told TASS on Friday. Earlier this month, "the FSB foiled an attempt by a Ukrainian Nazi supporter to commit a terror attack on orders from the Ukrainian special services," the FSB said.] The Russian news is reporting on the Caucasus region. (December 30, 2022)

"BANGKOK, December 30. /TASS/. A Myanmar court has sentenced former State Counsellor Aung San Suu Kyi to seven years on five corruption charges. According to the Myanmar Now media outlet, these are the last five charges that Aung San Suu Kyi was convicted of. The cases concern the purchase of a helicopter for disaster assistance purposes, in which Aung San Suu Kyi and ex-President Win Myint were accused earlier. Given the new verdict, Aung San Suu Kyi , 77, has been handed a total of 33 years in prison on 19 cases." The Russian news is reporting on Burma. Maybe the Chinse army does secretive stuff in Burma. (December 30, 2022)

"Council of Ministers Gives Up Right to Change Ukraine Arms List" "Bulgaria's Council of Ministers approved the draft of a supplementary agreement between the defence ministries of Bulgaria and Ukraine amending an agreement which the two ministries signed on December 5, 2022, concerning the supply of Bulgarian armament, equipment and ammunition to Ukraine at no cost for the receiving country, the Government Information Service in Sofia reported on Thursday. The supplementary agreement revokes Paragraph 3 of Article 1 of the December 5 agreement, thus eliminating the possibility for the list of Bulgarian military supplies to Ukraine to be revised by the Council of Ministers in Sofia at the request of the Ukrainian side, provided that the Bulgarian side finds it feasible and prudent. The new rule is that any further military aid to Ukraine will require ratification by the Bulgarian National Assembly. The change takes account of considerations expressed during the discussions on the bill of ratification for the December 5 agreement as regards the advisability of authorizing the Council of Ministers to alter the list in question. Kyiv has accepted the change." The Bulgarian news is reporting on Kiev. (December 30, 2022)

The surveillance teams watch women sleep at night with the police radios. They are German immigrants. Maybe they are signaling to Berlin.

"Will North Korea follow China and suddenly end zero-Covid approach? Unlikely, analysts say" "While Pyongyang often looks to its neighbour Beijing, in this instance it does not have China's medical facilities, vaccine doses, testing equipment - or enough food" "Experts say it is likely to monitor situation, ease restrictions gradually; it can get away with doing so as regime has not had to face lockdown protests" The Chinese news is reporting on Pyongyang. Maybe both Pyongyang and Beijing import the same German-made police radios. (December 29, 2022)
"VOGUE Williams' fans were left gushing over her sweet Christmas family photo in matching outfits. The Dubliner and her former Made In Chelsea star hubby Spencer Matthews were all smiles as they posed with their children - Theodore, 4, Gigi, 2, and baby Otto."
Is Charles' relative naming his kid after Otto von Bismarck?
When Spencer Matthews votes, he thinks to himself that because Vogue's sister...
It seems like Spencer isn't a good voter, because he takes into account Vogue's sister too much when he votes.
This is me talking about Spencer Matthews. 12-29-22
The surveillance teams are overweight and they take pills. They won't leave their office. They are up night and day watching the police radios. They sometimes say they'll pay the women agents but then they don't. They talk about how they need dental work on the loudspeaker. Sometimes they suggest that the women agents don't know how to swim.
They take pills, watch women agents sleep, and they don't pay the women.
Bobby Brown drank and cheated on Whitney.
["Vucic: The barricades will be removed, but..." After the meeting with the Crisis Staff from the barricades, Serbian President Aleksandar Vucic addressed the public around midnight. "We had a conversation that was anything but easy," he said. "We gave people the papers, and there is nothing bad about it... We had difficult conversations, but we were very honest with each other. As I understood it, this was the conclusion of the Headquarters from the barricades. People told me that they did not want to go against their country," said Vucic. "I begged them, I left them alone to make a decision and then they handed me what they were putting together at the barricades," he added. "Serbs do not believe in institutions, we only believe in the state of Serbia and that is why we demand a clear word from you personally that we have support for what follows. If the terror continues, we will close the north of Kosovo forever to the institutions of Pristina, we ask for a guarantee that you will never recognize independence of Kosovo," he said. "If they start arresting Serbs because of the barricades, whatever you do after that, I stand behind you," he said. "Barricades will be removed, but mistrust has not been removed," said Vucic. Earlier in the evening, Vucic spoke with Serbs from Kosovo and Metohija who expressed the problems they face every day due to the terror of Pristina.] The Serbian news is reporting on Kosovo. (December 29, 2022)
["FSB busts Ukrainian spy transmitting info on Russian troops" It is reported that the spy passed on the information to an officer of the Ukrainian Security Service (SBU) via the WhatsApp messenger for the Kiev regime's military to calibrate artillery, rocket and bomb strikes on Russian troop positions MOSCOW, December 29. /TASS/. Russia's Federal Security Service (FSB) has apprehended a Ukrainian intelligence agent in the Kherson Region for transmitting data on Russian troops for artillery strikes, the FSB press office reported on Thursday. "An agent of the Ukrainian intelligence services has been apprehended on the territory of the Kherson Region for gathering information on the Russian Armed Forces. He was tasked with collecting and forwarding information on the location, numerical strength and units of the Russian Armed Forces, the routes of their movement and the types of equipment and armaments employed in the special military operation with links to terrain maps and geographical coordinates," the press office said in a statement. The spy passed on the information to an officer of the Ukrainian Security Service (SBU) via the WhatsApp messenger for the Kiev regime's military to calibrate artillery, rocket and bomb strikes on Russian troop positions, the FSB said. The FSB's branch in the Republic of Crimea and Sevastopol has opened a criminal case against the 54-year-old Ukrainian citizen under article 276 of Russia's Criminal Code ('Espionage'). The suspect has been taken into custody, the press office said.] The Russian news is reporting on the SBU. (December 29, 2022)
"BEIRUT, December 29. /TASS/. The meeting between the defense ministers of Syria and Turkey that took place in Moscow on Wednesday will pave the way for more communication, Lebanese analyst Nidal Sabi told TASS." The Russian news is reporting on Damascus. (December 29, 2022)
The surveillance teams are Prussian immigrants. They end up watching the women civilian agents sleep at night with the police radios. The surveillance teams take pills all night. Maybe they're mentally ill.
"Children from Military Conflict Areas in Ukraine Arrive at Border near Ruse" "Around eighty children from areas of military conflict in Ukraine arrived by bus at noon on Wednesday at the Danube Bridge border checkpoint near Ruse. They are from socially vulnerable categories and need psychological rehabilitation. The kids will be accommodated in the military rest and recreation complex in the village of Ribaritsa, Lovech region, Mariana Tosheva, chair of the State Agency for Refugees, said at the border crossing." The Bulgarian news is reporting on Kiev. (December 29, 2022)
["Serbs in Northern Kosovo remove the Barricades" "Serbs in northern Kosovo who have been blocking roads for the past 19 days to protest the detention of a former policeman will begin removing the barricades this morning, Serbian President Aleksandar Vucic said last night, as quoted by Reuters and BTA. "This is a long process. It will take some time," he said after a meeting with the Serbian population in northern Kosovo. Former law enforcement officer Dejan Pantic, whose detention sparked protests among Kosovo's Serb minority, was placed under house arrest yesterday at the request of the prosecutor's office. A day ago, Kosovo asked NATO peacekeepers stationed there to remove the barricades and hinted that Pristina's forces would do so if KFOR forces did not respond. About 4,000 NATO peacekeepers have been stationed in Kosovo since the 1999 war that ended with Belgrade losing control of the territory. Tensions between Kosovo and Serbia have reached a peak in the past month. Western attempts to reach a negotiated settlement have failed because Serbia refuses to recognize Kosovo's statehood. KFOR and the European Union called on Pristina and Belgrade to show restraint and avoid provocations.] The Bulgarian news is reporting on Kosovo. (December 29, 2022)
"Mitsubishi F-2 fighters of Japan Air Self-Defense Force at Sagami Bay, off Yokosuka in November 2022." The Chinese news is reporting on warplanes. Maybe the Germans help Tokyo to build warplanes. (December 28, 2022)
The Virginians have to have a job with a security clearance.
The Virginians sit in the surveillance team offices and they refuse to read or write.
That's what I like. That's what I want. #Amsterdam
"Kosovo: NATO peacekeepers investigate shooting" "...after Serbia sent its army chief to the border area in response." "The peacekeepers known as KFOR..." The Washington Post is reporting on Kosovo. (December 28, 2022)
This is me talking about Kosovo. 12-28-22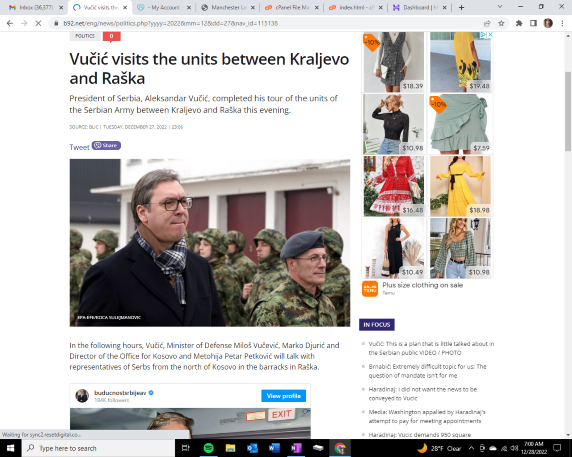 "Vucic visits the units between Kraljevo and Raska" "President of Serbia, Aleksandar Vucic, completed his tour of the units of the Serbian Army between Kraljevo and Raska this evening." The Serbian news is reporting on President Vucic. (December 28, 2022)
[MOSCOW, December 27. /TASS/. The situation in Syria and issues of political settlement in that country were the focus of Russian Foreign Minister Sergey Lavrov's telephone call with his Syrian counterpart, Faisal Mekdad, the Russian foreign ministry said on Tuesday. "The ministers discussed the development of the situation in and around Syria with a focus on the efforts to promote a comprehensive political settlement in that country. High praise was given to the results of the 19th Astana-format international meeting on Syria, which was held in Kazakhstan on November 22-23," the ministry said.] The Russian news is reporting on Damascus. (December 28, 2022)
Wayne agrees to coach the team.
The he doesn't.
He says he cannot coach the team because of Coleen and the kids.
Wayne, really got Coleen pregnant a lot. But Coleen is kind of not smart, and so she needs a lot of his help with the every day about the kids. #DCU
[Russia's Ambassador to Sofia Eleonora Mitrofanova has been summoned to a meeting at the Foreign Ministry on the first working day after the holidays, the Foreign Ministry's press office told BTA on Tuesday in connection with the case of Bulgarian investigative journalist Hristo Grozev declared wanted by the Ministry of Internal Affairs of the Russian Federation. The meeting will discuss the ban on the study of the Bulgarian language in the occupied regions of Ukraine by the Russian Federation, the removal of portraits of Bulgarian historical figures, as well as the inclusion of Hristo Grozev on a federal wanted list, the Foreign Ministry said. Grozev was declared wanted on Monday, a statement from Russia's Interior Ministry said he was wanted for violating "an article of the Criminal Code of the Russian Federation."] The Bulgarian news is reporting on the Russian foreign ministry. (December 28, 2022)
This is from the South China Morning Post. Maybe the Germans help build these submarines that are used in Asia. (December 27, 2022)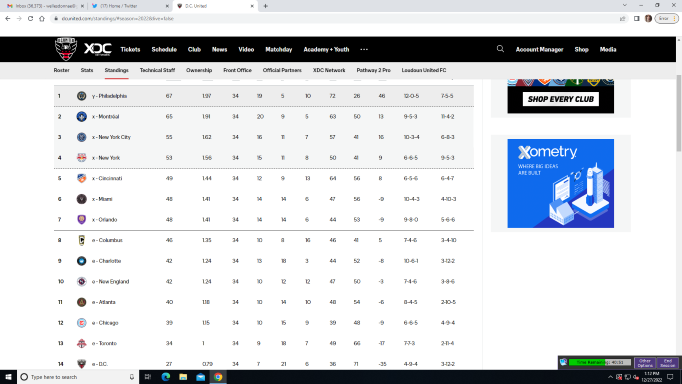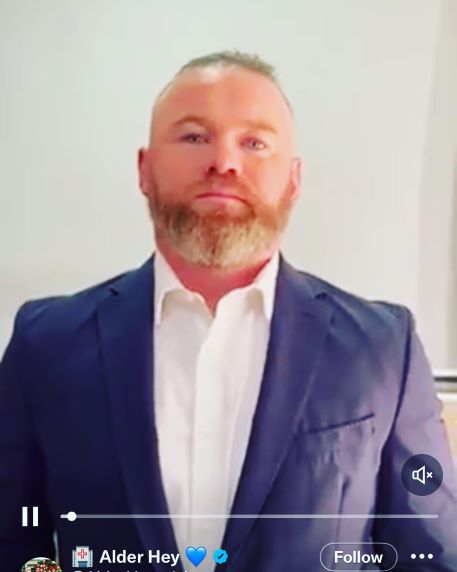 "Serbian President Vucic discusses with Patriarch Porfirije situation in Kosovo, Metohija" "The situation in Kosovo and Metohija was still tense, with Serbians in the north of the country remaining at the barricades for the 18th day in a row" "BELGRADE, December 27. /TASS/. Serbian President Aleksandar Vucic discussed with Patriarch Porfirije of Serbia the situation in Kosovo and Metohija, the Tanjug news agency reported on Tuesday. The meeting reportedly took place on Monday night after Pristina banned the patriarch from entering the region before Christmas. It was held at the residence of His Holiness. Several Serbian media outlets reported that Vucic had asked Patriarch Porfirije to give his blessing to defend Kosovo and Metohija just like Prince Lazar did before the Battle of Kosovo in 1389. The situation in Kosovo and Metohija was still tense, with Serbians in the north of the country remaining at the barricades for the 18th day in a row. The situation in Kosovo escalated sharply on December 6, when special forces of the unrecognized entity, accompanied by patrols of the European Union Rule of Law Mission in Kosovo (EULEX), started to occupy the premises of election commissions in northern Kosovo and Metohija. The Serbian population fought back against the Kosovars, who withdrew across the Ibar River. On December 8, about 350 Kosovo police officers entered the Serb-inhabited north of the province in armored vehicles and blockaded the northern part of Mitrovica. On December 10, the Kosovo police in Mitrovica arrested former Serb policeman Dejan Pantic on spurious charges. In retaliation, the Serbian population held mass protests and blocked several roads with barricades." The Russian news is reporting on President Vucic. (December 27, 2022)
"South Korea has raised Warplanes after an Attack by North Korean Drones" "South Korea has raised fighter jets and attack helicopters and fired warning shots after North Korean drones invaded its airspace today, Reuters reported, citing the South's armed forces. South Korea has determined that the drones came from North Korea, crossing the so-called military demarcation line between the two countries. They were spotted in the skies over the western South Korean city of Gimpo at around 10:25 a.m. local time, the military said. A KA-1 light attack aircraft crashed shortly after taking off from its base to counter the drones, a South Korean defense ministry official said. The two pilots managed to leave the plane before it crashed and were taken to hospital. South Korea's transport ministry said flights from Incheon and Gimpo airports were temporarily suspended at the request of the military. Flights were suspended for about an hour and airports are now operating again, a ministry official said." The Bulgarian news is reporting on drones. (December 27, 2022)
It's known as the One China perspective.
Maybe obviously Taiwan is a part of China because it's a small island near the Chinese mainland.
Maybe obviously it isn't because it sits on a different seismic plate.
There are historically waves of migrants that move from mainland China to Taiwan.
For example, the Mings and the Republicans were exiled there.

Indonesia has a difficult language about maps and stuff.
The North Koreans really fired off a lot of missiles in 2022.
This is me talking about Taiwan. 12-26-22
I don't want to agree.
I refuse to agree.
#Canberra
"Indonesia: 58 Rohingya migrants land after weeks at sea" "Taiwan: China conducts 'strike drills' around island" "Iran: Currency nears record low as unrest goes on" "North Korea: Missiles add to tension over arms allegation" The Washington Post is reporting on East Asia. Notice both the PLA and the North Koreans are doing military stuff. Maybe the Germans are sending radio signals to both Beijing and Pyongyang. Maybe the Germans sent both cities the hardware they're using. (December 26, 2022)
I'm alright to disagree. In Texas, Mexico is to the south. Oklahoma and Louisiana are French territories. Usually we disagree with our neighbors.
I'm talking about the British and the empire. I'm alright to disagree about Canberra.
"Serbs at the barricades on the 14th day; Resolution 1244 is functional in Kosovo" "Serbs are on the fourteenth day at the barricades on the main road routes in the north of Kosovo, firmly determined to stay there until their demands are met." The Serbian news is reporting on Kosovo. (December 26, 2022)
"BELGRADE, December 25. /TASS/. The authorities of the non-recognized republic of Kosovo have banned Patriarch of Serbia Porfirije from visiting Kosovo and Metohija on Christmas, the press service of the Serbian Orthodox Church said on Sunday." The Russian news is reporting on Kosovo. (December 26, 2022)
["Taiwan registers 71 PRC aircraft, 7 ships approaching the island in 24 hours" "The Taiwanese military engaged ships and dispatched an air patrol for monitoring, and deployed missile air defense systems" "TASS, December 26. The Taiwanese Defense Ministry registered 7 People's Liberation Army ships and 71 aircraft in the past 24 hours, with 47 aircraft approaching the island, the Ministry said in a daily summary published Monday." "By 06:00 [local time] today, a total of 71 aircraft and 7 PLA ships were registered around Taiwan," the statement says. A total of 47 PLA planes crossed the so-called median line in the Taiwan Strait and entered the Taiwanese air defense identification zone. The Taiwanese military engaged ships and dispatched an air patrol for monitoring, and deployed missile air defense systems.] The Russian news is reporting on Taipei. Maybe these are German-made warplanes.
It's possible the Germans send over both warplanes and anti-aircraft weapons.
(December 26, 2022)
[Bishop Gerasim read the Christmas Message by Patriarch Neophyte from the pulpit. "Let us desire, seek, and treasure the peace the Lord brought to earth by His birth as man, and let us not forget that, though at odds with our Lord and Creator from the very beginning of our existence, 'while we were God's enemies, we were reconciled to him through the death of his Son' (Rm 5:10)," Patriarch Neophyte said in his message. "Today, when our world continues to be torn apart by internecine strife and controversy, when goodwill among men is increasingly giving way to enmity and intolerance of the other, when military conflicts as a means of settling our disputes are not only not diminishing but are assuming ever more threatening proportions and are ruining millions of human destinies, we have again the only true hope, and that is our faith and our trust in God's goodness and God's all-forgiving love. That love which led God Himself to take on human nature, to enter our world and live among us as man; which led Him to the Cross and the crucifixion, to suffering and death, and even to the abyss of hell, in order thus to accomplish our redemption and salvation," the Patriarch stressed and extended his Nativity greetings.] This is the Bulgarian Christmas message. (December 26, 2022)
I guess, the extent to which Cleopatra resembled Alexander. It seems like she wasn't like him. Maybe she was.

Cleopatra was the last of the Ptolemaic dynasty. Ptolemy had been one of Alexander's generals.
This is one description of who the dynasty was named after: "Ptolemy, one of the seven somatophylakes (bodyguard companions), a general and possible half-brother of Alexander the Great, was appointed satrap of Egypt after Alexander's death in 323 BC."
And so it is the dynasty between Alexander and Caesar. And Cleopatra is the last of the dynasty. Supposedly she spoke several languages. Maybe she wasn't Greek like Alexander.
I am watching 'Rome' (2005). In real life, Cleopatra was the last ruler of her dynasty. It was the Ptolemaic dynasty. There is a scene where the ruler of Egypt was an incompetent child. Maybe at the end they let children work in government. (December 25, 2022)
This is me talking about Christmas in Washington, DC. 12-25-22
[Kremlin accuses US of using Ukraine as battleground to weaken Russia Russia on Thursday accused Kyiv and Washington of turning a deaf ear to its concerns and charged the United States was using Ukraine as a battleground to weaken Russia. It came as President Vladimir Putin insisted Russia was aiming for a speedy end to the fighting. "Our goal is... to end this conflict. We are striving for this," he told reporters. "We will seek to make sure that it all ends, and the sooner, the better." "All conflicts end, some way or another, with talks... The faster our adversaries (in Kyiv) understand that, the better it will be," Putin said. Moscow's military chief has said Russian forces are now concentrated on wresting control of the eastern Donetsk region where the battered city of Bakhmut has become an epicenter of fighting. fficials in Moscow have repeatedly said in recent months that they have not ruled out talks with Ukraine. They blamed the closure of diplomatic channels on President Volodymyr Zelenskyy, who has said he will not negotiate while Putin is in power. The Ukrainian leader has returned from a historic trip to Washington, where he told Congress his country was "alive and kicking" and supporting it was an investment in global security.]
This one. The Virginians are German immigrants. It seems illegal if they spend too much money on Ukraine because you wonder about labor strikes. Did everyone go to college? Is anyone drinking too much? There should be real concern about the Virginians wasting money on sending too much stuff to Ukraine. (December 24, 2022)
This is from the BBC. It seems like German radio technology allows for strange domestic policies like this one.
Maybe the Germans sent radios to New Delhi and that's why they have the technology so they can enforce weird epidemic measures.

"India steps up Covid surveillance after China surge" "India's health ministry is on alert following a surge of Covid cases in neighboring China. The government has instructed states to ensure genome sequencing of all positive cases in the country. It has also asked state governments to step up efforts to curb any possible spread during the Christmas and New Year festivities. India witnessed two deadly waves of Covid in 2020 and 2021, but has seen low infection levels this year."

Washington, DC
December 24, 2022
"Taiwan scrambles jets to warn away Chinese air force incursion" "TAIPEI: Taiwan scrambled combat jets to warn away 39 Chinese aircraft that entered its southeastern air defence zone, the island's defence ministry said on Thursday (Dec 22). Taiwan has complained of repeated missions by the Chinese air force over the last two years, often in southern areas of its air defence identification zone, or ADIZ. Thursday's incursion included 21 fighters and four H-6 bombers, as well as early warning, antisubmarine and aerial refuelling aircraft, Taiwan's defence ministry said in a report detailing Chinese activities in its ADIZ over the last 24 hours. Many of the aircraft flew over a waterway known as the Bashi Channel to an area off the island's southeastern coast, according to a map provided by the ministry. Three Chinese navy ships were also detected near Taiwan, the ministry said. Taiwan sent unspecified combat aircraft to warn away the Chinese planes, while missile systems monitored their flight, the ministry said, using standard wording for its response. Separate Taiwan government notices have said the defence ministry's research and development arm, the National Chung-Shan Institute of Science and Technology, is holding a missile firing drill this week on the island's southeastern coast. China, which claims Taiwan as its own, has stepped up pressure in recent years on the self-governed island to accept Beijing's rule. Taiwan's government rejects the Chinese claims and says it wants peace but will defend itself if attacked."

'Myanmar junta foreign minister meets some ASEAN counterparts at 'informal' Thai meeting' 'BANGKOK: Three Southeast Asian foreign ministers and a regional envoy tasked with solving the Myanmar crisis met with the junta's top diplomat at an "informal" meeting in Thailand on Thursday (Dec 22), the Thai government said. The meeting came shortly after the United Nations Security Council adopted its first resolution on Myanmar, demanding "an immediate end to all forms of violence". The Association of Southeast Asian Nations (ASEAN) has led diplomatic efforts to resolve the turmoil that has gripped Myanmar since the military seized power last year. There has, however, been little progress on a "five-point consensus" agreed with the junta in April 2021, which calls for an immediate end to violence and dialogue between the military and the anti-coup movement. There was "candid and constructive" discussion between the foreign ministers of Myanmar, Thailand, Laos, Vietnam and Cambodia, Thai foreign ministry spokesperson Kanchana Patarachoke said. "This included the opportunity to hear from Myanmar and to exchange views on finding the exit strategy and pathways towards a return to normalcy in Myanmar," she said. The meeting touched on facilitating humanitarian assistance, Kanchana said, as well as "exploring other approaches that could support the implementation of the Five-Point Consensus".'

'North Korea sold arms to Russia's Wagner group: United States' 'WASHINGTON: North Korea has delivered arms to Russia's private military group Wagner, the White House said Thursday (Dec 22), calling the group a "rival" for power to the defence and other ministries in the Kremlin. The US will boost sanctions on the Wagner group following North Korea's sale to the group of infantry rockets and missiles last month, in violation of UN Security Council resolutions, said White House national security spokesman John Kirby. "Wagner is searching around the world for arms suppliers to support its military operations in Ukraine," Kirby told reporters. "We can confirm that North Korea has completed an initial arms delivery to Wagner, which paid for that equipment," he said. Kirby said the Wagner group, which is independent of the Russian defense establishment and is leading a bloody siege of Bakhmut, Ukraine, is spending more than US$100 million each month in its Ukraine operations. "Wagner is emerging as a rival power center to the Russian military and other Russian ministries," Kirby said. "SIGN OF DESPERATION" In a statement, British Foreign Secretary James Cleverly said the UK concurs with the American assessment that North Korea delivered arms to Russia for the Wagner group in violation of UN resolutions. "The fact that President Putin is turning to North Korea for help is a sign of Russia's desperation and isolation," Cleverly said. "We will work with our partners to ensure that North Korea pays a high price for supporting Russia's illegal war in Ukraine." The Wagner group is controlled by Yevgeny Prigozhin, a businessman once called "Putin's chef" for his work catering dinners for Vladimir Putin before and after he became the Russian president.

'Hong Kong court rejects bid to terminate sedition trial of Stand News' HONG KONG: A Hong Kong Court on Thursday (Dec 22) rejected an application to terminate a sedition trial against now-defunct online media outlet Stand News, a case that could see two former top editors jailed if convicted. Former editors Chung Pui-kuen, 53, and Patrick Lam, 35, and the outlet's parent company, Best Pencil (Hong Kong), have been charged with conspiracy to publish seditious material related to news articles and commentaries between July 2020 and December last year. They have pleaded not guilty and are free on bail. Sedition is punishable by a maximum two years jail. Defence lawyers Audrey Eu and David Ma applied to terminate the proceedings arguing the National Security Department had improperly handled evidence related to scores of additional articles prosecutors have cited as seditious since the trial began. But District Court Judge Kwok Wai-kin said the defence could not prove that the prosecution had failed to disclose relevant material in a way that would compromise the fairness of the trial, or would "abuse the court procedures in future hearings". Stand News was forced to shut and took down all their online content after police raided its office and arrested seven former editorial staff and board members in December 2021. Hong Kong's government has said press freedom is enshrined in the city's mini-constitution, the Basic Law.

- Maybe these are German-made Chinese warplanes that are flying in the Taiwanese ADIZ.
- The Chinese infantry and the Germans might do secretive military stuff in Burma and that's why there is a need for a UNSC resolution.
- These might be German-made infantry rockets and missiles that passed from North Korea to the Wagner group.
- The Hong Kong PD might use German-made police radios and that's why they jail people for sedition.

Washington, DC
December 22, 2022
"Investigation Into Death of Bulgarian Border Police Officer Is At Advanced Stage, Turkish Court Is Yet to Rule" "The investigation into the death of the Bulgarian border policeman Petar Bachvarov, who was shot at the Bulgarian-Turkish border, is in an advanced stage and a court ruling in Turkey is pending, Interior Ministry Secretary General Petar Todorov told journalists. He received the information in his meetings late last week with the Turkish authorities. Most likely, the sentence in the case will be served on Turkish territory, Todorov assumed. The Border Police officer, Sergeant Petar Bachvarov, was killed on November 7 while patrolling the border with Turkiye, near the village of Golyam Dervent. Two days later, the Turkish authorities arrested two brothers, one of whom confessed to shooting at Bachvarov from Turkish territory through a chink in the border fence. Turkiye will build a monument to Bachvarov, it emerged during a visit by Bulgarian National Assembly Chair Vezhdi Rashidov earlier this week. Todorov and part of the Interior Ministry's leadership attended a ceremony in front of the Monument to Police Officers Killed in the Line of Duty, where flowers were laid on the occasion of the professional holiday of the Border Police." The Bulgarian news is reporting on the border with Turkey. (December 22, 2022)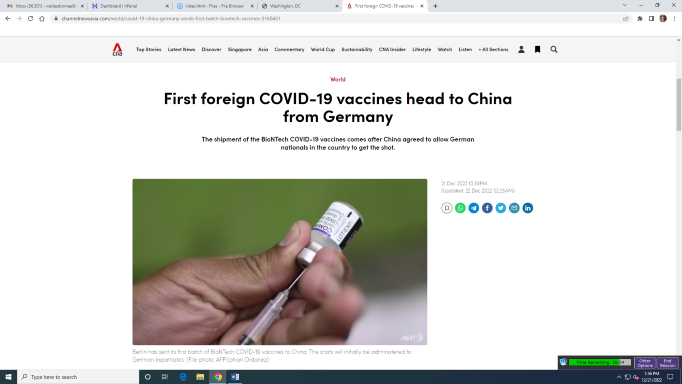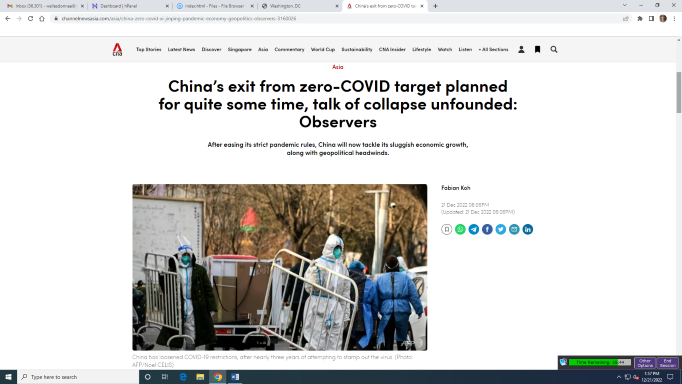 This is me talking about James Matthews. 12-21-22