About Me
From Washington, DC!
This website is about Eastern Prussia. Western Prussia is in Germany and Eastern Prussia is in Poland near the Gulf of Danzig. Gdansk, Poland is near Lubeck, Germany. Here is my website about my daily routine here in #DC, Archive, Archive 2, Archive 3, Archive 4, Archive 5, Russian literature page, Archive 6, Archive 7, Archive 8, Archive 9, The British page, Archive 10, Southeast Asia page
District of Columbia
"Russian diplomat wants Germany's clarifications on Berlin's status in Ukraine conflict" "Earlier, Germany's Foreign Ministry said providing assistance to Kiev did not make Berlin party to the conflict in Ukraine"
This is from the Russian news.
Maybe the Germans are right wingers.
The Germans could have bases in Ukraine.
Maybe they are firing weapons into Russia from Ukraine.
(January 27, 2023)
"WARSAW, January 27. /TASS/. Western countries should give Ukraine all the weapons it needs regardless of their range, Polish Deputy Foreign Minister Pawel Jablonski said on Friday."
Maybe there are right wingers in the Polish army.
The Germans might work closely with the Polish army.
(January 27, 2023)
"Interior Minister Participates in Meeting of Justice and Home Affairs Council in Stockholm"
There have been reports about right wingers in Sweden.
Maybe there are right wingers at the German ports on the Baltic Sea.
(January 27, 2023)
"EU Commissioner Rejected the Idea of Financing a Fence along the Bulgarian-Turkish Border" "European Union interior ministers discussed on Thursday ways to curb illegal immigration and return more migrants amid a surge in arrivals following lows during the pandemic, Reuters reported. The agency notes that controversial ideas about border fences and centers for asylum seekers outside Europe have been revived. European Commissioner for Internal Affairs Ylva Johansson has rejected the request of Austrian Chancellor Karl Nehammer for financing the additional construction of the fence along the Bulgarian-Turkish border."
This is from the Bulgarian news.
It's about the border between Turkey and Bulgaria.
It seems like the Turks aren't enforcing their side of the border, but they have their army in Syria and maybe the Caucasus region.
Maybe they use German-made items for the border fence.
It could be German labor unions who work at the border.
(January 27, 2023)
If I had to say one place in the world that's a mystery, it's Burma. Because the Chinese infantry patrols the border, but then when do they cross the border?
"Myanmar opium cultivation has surged 33 per cent since coup, UN report says"
This is from the Chinese news.
Maybe the PLA has secret operations in Burma.
It seems like the Germans send weaponry to Burma.
Sometimes the PLA patrols the border with Burma.
It's not clear if and when they step across the border.
(January 26, 2023)
"Japan's Meteorological Agency said four locations experienced their lowest-ever temperatures, with 46 of 47 prefectures reporting sub-zero temperatures Wednesday"
Maybe the Germans have space weapons.
It seems like maybe space weapons can affect weather.
Maybe the Germans and the Chinese are using space weapons against Tokyo.
(January 26, 2023)
This is me talking about the British army. 1-26-23
"Serbia is conditioned" "Within the EU, there are no talks about terminating negotiations with Serbia, said the rapporteur of the European Parliament (EP) for Serbia, Vladimir Bilcik." This one is about the EU. It seems like the Germans want to use the ports in Albania, Bosnia, and Croatia. (January 26, 2023)
What does that mean that this French guy said that about Zelensky?
What does that mean the Russians are auding these oil and gas companies?
It means that the Germans maintain bases or trade unions in Ukraine.
And that the Germans take too much energy for their military.
"Ministry of Energy on agreement with Gazprom: 'Sovereignty is not threatened'"
This is from the Tashkent news. It's more about maybe the Germans are using too much energy for their army. Maybe somehow the Germans use computers and they can steal or whatever gas and oil for their military.
(January 26, 2023)
"MOSCOW, January 26. /TASS/. The Ukrainian military made unsuccessful attempts to employ combat aircraft to halt the Russian troop advance in Ugledar, adviser to the acting head of the Donetsk People's Republic (DPR) Yan Gagin said in a live broadcast on the Rossiya-1 television channel on Thursday." The Russian news is reporting on warplanes.
Maybe these are German-made warplanes.
It's not well known about how the Germans are assisting the Ukrainian air force.
(January 26, 2023)
Zelensky. He is like Navalny in that it's weird he has a wife. Right?
They are these political Slavic guys.
They both seem to be friends with the French or the Germans or something.
People say stuff about them.
Zelensky is so strange looking. He wears those t-shirts all of the time.
When it was the Australian Open 2023, you refused to let us just watch the tournament. We spent the whole week writing about ASEAN.
You also don't know what the Schengen agreement is.
You also don't follow funny stuff people say about Zelensky.
Do you know what the Schengen agreement is?
Have you heard similar comments about Zelensky, like this Frenchman is saying?
Are you aware that the Russians say Ukraine isn't behaving as a responsible modern nation-state in terms of providing public services, etc?
"MOSCOW, January 26. /TASS/. Florian Philippot, leader of France's The Patriots political party and former European Parliament member, has called Ukrainian President Vladimir Zelensky a 'madman' after he asked long-range missiles and warplanes from the West."
This one is from the Russian news.
Notice French people are commenting about Zelensky.
It does seem like he asks for a lot of weapons.
The extent to which Ukraine today behaves as a nation-state.
(January 26, 2023)
"UPDATED National Assembly Chair in Rome: Bulgaria Has Met All Conditions for Joining Schengen" "During his working visit to Rome, National Assembly Chair Vezhdi Rashidov met with the President of the Senate of the Italian Republic, Ignazio La Russa, Parliament reported on Wednesday. At the meeting, Rashidov stressed that Bulgaria has met all the conditions for its accession to Schengen and is grateful for Italy's support. Rashidov emphasized that Bulgaria joining the Schengen area would lead to an overall increased security in the EU."
This one is about the EU.
Maybe the Germans want people to join the Schengen agreement.
It seems to be about group trade and German exports.
Maybe it's a communist or right winger group.
(January 26, 2023)
"US State Department avoids commenting on India's ban of documentary critical of Modi"
This is from the Chinese news.
Maybe it means the Germans send New Delhi police radios.
It seems like the Germans use the ports in Sri Lanka.
Also, the zero COVID domestic policies in China and North Korea.
These are strange government policies that might be possible only by using German radio technology.
It speaks to German radio technology in Asia and the Germans using ports in the Indian Ocean.
(January 25, 2023)
The British don't want to talk about the empire.
They are Scotsmen and they think it's boring.
The Americans want to talk about the British empire.
It is infuriating about you all and not wanting to talk about the British empire.
This is about modern British and American army relations. The British, it's like the men are all married and they have kids. Even the MI5 and MI6 leadership, they're open about parenting as a big part of their week.
[Air raid alerts across Ukraine, MiGs from Belarus took off; "New wave of aggression" The 335th day of the special military operation that Russia is conducting in Ukraine is underway.] This is from the Serbian news.
Maybe the Germans have warplanes that are active in the Ukrainian theater.
Maybe the German air force has right wingers.
(January 25, 2023)
"VILNIUS, January 25. /TASS/. Estonia is not planning to shut the Russian embassy in Tallinn, and its diplomatic mission in Moscow will also continue its work, Estonian Foreign Minister Urmas Reinsalu said on Wednesday."
This one is about the Baltic Sea.
Maybe the German navy has right wingers.
Maybe the Germans have bases in the Baltic States.
Estonia, Latvia, and Lithuania are the Baltic States.
(January 25, 2023)
"BERLIN, January 25. /TASS/. The supply of Leopard 2 tanks to Ukraine will have a negative impact on the defense capability of Germany, the head of the Union of Bundeswehr military personnel, Andre Wuestner, said on the ZDF TV channel on Wednesday."
This one is about tanks and Germany.
Maybe the Germans have right wingers in their army.
Maybe the Bundestag knows there are right wingers around.
We're watching to see how people respond to these tanks.
Right?
This one isn't actually an event.
We are slowly, knowing how people are responding to these tanks.
Does that make sense?
This is one example of how people are responding to these German tanks in Ukraine.
(January 25, 2023)
"Russian parliament to investigate LUKoil Burgas" This is from the Bulgarian news. Maybe the Germans are taking too much energy for their military. (January 25, 2023)
"The Bulgarian Navy destroyed a floating mine discovered in the Black Sea on January 24, the Defence Ministry said Tuesday. The report of a floating object resembling a sea mine was received at the Navy headquarters at 5:05 pm on January 23 from the Maritime Rescue Coordination Centre. The object was sighted 14.8 nautical miles east of Cape Kochan, by a Ukrainian-flagged motor vessel. The Navy's Hydrographic Service issued a navigational mine threat alert to notify ships sailing in Bulgarian maritime spaces."
This one is about a sea mine.
Maybe the Germans build sea mines and give them to Kiev.
(January 25, 2023)
"North Korea has ordered a Five-Day Lockdown in Pyongyang" "Authorities in North Korea have ordered a five-day lockdown in the capital Pyongyang due to an increase in cases of an unspecified respiratory illness, Reuters reported, citing a North Korean government statement. It did not mention anything about COVID-19, but said that residents of the capital were required to stay indoors until Sunday and that they should take their temperature several times a day, according to South Korean news portal NK News, which monitors news from the DPRK. Yesterday, South Korean media reported that Pyongyang residents had stocked up on goods in anticipation of tougher measures. It is not clear whether new lockdowns have been imposed in other areas of the country."
This is the Bulgarian news.
It is about North Korea.
Maybe the Germans send radio signals to Pyongyang about weapons tests.
Maybe the Germans send them weaponry.
It's possible both Beijing and Pyongyang use the same police radios.
These are strange domestic policies about the zero-COVID stuff.
Maybe German radio technology makes it possible to have these strange local government everything.
It seems like the zero COVID policies are German-like radio efforts.
(January 25, 2023)
At Texas, you read a LOT. The exams are multiple choice and short answer. And that's how they give out the right grades. They know who read and listened and learned.
The British intelligence people, they are into typing like Ewan McGregor in Black Hawk Down. But they don't kind of read and understand, like they really know a lot about what they are typing.
It's an effort of reading and understanding in silence, and then later if asked, typing.
It's a luxury they work in these offices and have these machines they type on. But they are too lazy to also read and understand a lot about what they're writing.
"ROSU special forces shot at the Serbs, opened fire on the Serbian vehicle" "Members of the special police unit of the so-called Kosovo, ROSU, opened fire today at the checkpoint on the Bistrica Bridge on the KM-Leposavic main road."
This is the Serbian news.
Maybe the Kosovars allow the Turks and Germans to use their bases.
That could explain these reports about army stuff there.
It could be German labor unions that train the Kosovo police.
(January 24, 2023)
"MOSCOW, January 24. /TASS/. Germany's defense company Rheinmetall said on Tuesday it may send as many as 139 Leopard tanks to Ukraine."
This is the Russian news.
Maybe the Germans are seeing right wingers in the army.
That could explain all of these reports about German tanks.
(January 24, 2023)
"Sofia acquaints the EU about the deteriorating situation of Bulgarians in North Macedonia"
This is the Bulgarian news.
Again, it seems like the Germans are wanting to use these ports in the Balkans.
Maybe that explains this tension in North Macedonia.
It speaks to general unrest in Albania, Bosnia, and Croatia about right wingers.
(January 24, 2023)
[The Tuesday meeting of the Parliamentary Committee for of the Security Services, the Application and use of the Special Intelligence Means and the Data Access under the Electronic Communications Act failed due to lack of quorum. The MPs had to hear State Agency for National Security (SANS) chairman Plamen Tonchev, National Service for Protection (NSP) head Emil Tonev, and the deputy Justice Minister on the case with the security of former Prime Minister Kiril Petkov.]
This is the Bulgarian news.
Maybe they use German-made police radios.
There are complaints about the border with Turkey.
The Turks aren't enforcing their side of the border, maybe.
Maybe the Turks use German-made police radios also.
(January 24, 2023)
"Serbia has received an ultimatum from leading Western countries to normalize relations with Kosovo, said Serbian President Aleksandar Vucic. In an address broadcast on national television, Serbia's president, Aleksandar Vucic, said he had been presented with a proposal to resolve tensions with Kosovo." The Bulgarian news is reporting on Kosovo.
Maybe the EU is wanting Germany to trade through ports in the Balkans.
It could be right wingers using the ports.
Is that why they are pressuring Belgrade about Kosovo?
It's not fair for them to choose this topic, so they can use those ports.
(January 24, 2023)
"Is Japan's Yoshihide Suga planning a comeback as PM Fumio Kishida's approval rating sinks?"
This is from the Chinese news.
It's about the Japanese Diet.
Maybe there are right wingers in the Japanese Diet.
It's possible the Japanese military or the military academies are right wingers.
Maybe the Germans are sending them weaponry.
Maybe the Germans are using computers to manipulate the parliament.
(January 23, 2023)
It's like Simon Baker.
Nobody would say Kate is thin.
Nobody would say William is smart.
Okay?
The British intelligence people have these Scottish and Irish English guys. And they kind of, they don't like the Americans. I complain about everyone having so many kids. And then it's weird because their friends all have twenty kids. I don't have any kids. I think men with kids, maybe they shouldn't be in the army?
"Vucic: The only thing I can say is that I did my best to protect Serbia VIDEO" "Special envoys of five countries arrived in Belgrade to meet with the President of Serbia, Aleksandar Vucic." The Serbian news is reporting on President Vucic. There are talks about Kosovo. It seems like the Germans want to trade through ports in the Balkans. Maybe Kosovo lets the Germans use their bases. (January 23, 2023)
"TEHERAN, January 23. /TASS/. Relations between Russia and Iran are developing dynamically on the basis of decisions taken by their presidents and the national parliaments now need to convert them into laws, State Duma Speaker Vyacheslav Volodin said at a meeting with the Speaker of Iran's Islamic Consultative Assembly Mohammad Bagher Ghalibaf in Tehran on Monday."
This one is about Tehran.
There might be military research facilities in the Syrian desert.
There are reports of Iranian soldiers in Syria.
Also, the Turks send soldiers into Syria.
(January 23, 2023)
"STOCKHOLM, January 23. /TASS/. The Finnish Defense Ministry is set to make a decision soon about the purchase of Israeli air defense systems, the Helsingin Sanomat newspaper reported on Sunday." This is from the Russian news. Maybe the ports in Tel Aviv are used by right wingers. There are reports right now about right wingers in Sweden. (January 23, 2023)
"Skopje demands renaming of the Bulgarian clubs in North Macedonia" "North Macedonia's Foreign Minister Bujar Osmani, in an interview with bTV, said that the Bulgarian cultural clubs in North Macedonia should change their names according to the law adopted by Skopje censoring the names of cultural institutions. According to Osmani, names from the "fascist period" of history should not be used."
This one is about the Balkans.
Notice the mention of fascism.
Maybe the Germans are wanting to trade through ports in the Balkans.
(January 23, 2023)
Coach Rooney likes it with his wife.
Captain Harry likes it with his wife.
"Vazrazhdane Party Asks President, PM to Include Trade Unions in Resilience Plan Negotiations" "A press conference of Vazrazhdane was held in BTA Stara Zagora on Sunday. It was attended by Iskra Mihaylova, MP, and Daniel Prodanov, regional coordinator of the party. They announced that Vazrazhdane is asking President Rumen Radev and caretaker Prime Minister Galab Donev to include the trade unions CITUB and Podkrepa in the group that will negotiate with the European Commission potential revisions of Bulgaria's Recovery and Resilience Plan to preserve coal-fired power plants."
The Bulgarian news is reporting on trade unions.
Maybe there are German labor unions in Bulgaria.
There have been issues raised about the border with Turkey.
Maybe there are German labor unions that manage projects like that.
They might use German-made hardware.
(January 23, 2023)
"Day 334 of the Invasion of Ukraine: Germany will Not Stop Poland from Sending Leopard Tanks" "The President of Ukraine, Volodymyr Zelensky, said that a new offensive by the Russian Federation could be launched in any direction. In an interview with Germany's ARD television, he noted that there is now a big gap between Ukraine's and Russia's worldviews, as Putin thinks about where to attack and Ukrainians where to defend. Meanwhile, Poland has requested to create an alliance of countries willing to send Leopard battle tanks to Kyiv." (January 23, 2023)

This is from the Bulgarian news.
It's about tanks.
Warsaw might have right wingers.
Maybe the Germans use bases in Poland.
The Germans could trade through Polish ports.
Notice the mention of Germany's ARD division.
Maybe they are right wingers.

There exists between the Americans and the British about command structure. The Americans are different about orders within the army. Different people give and receive orders within the two armies.
"Doesn't he have a wife and little kids?"
I was born in 1983. Austin, Texas is my hometown. When I was little, the Dallas Cowboys won the Super Bowl three times. 1992, 1993, 1995. The quarterback had gone to Oklahoma University. I took it as a given that the Dallas Cowboys always win the Super Bowl. Troy Aikman was the quarterback.
They haven't won since then.
The Cowboys keep hiring these quarterbacks from other parts of the country. And they don't come anywhere close to winning.
Dak Prescott is the current quarterback. He went to Mississippi State. That's like swamp and they speak creole. You wonder about everyone's diet over there. They might speak some kind of dialect of French swamp lingo.
The playoffs are this minute. The Cowboys are playing out in San Francisco. It's the third quarter. No touchdowns yet. It's 9-9 in the third quarter.
(January 22, 2023)
"Sri Lanka says China willing to back debt restructuring plan" "Sri Lanka is 'on track' to meet IMF requirements, will reach out to lender to affirm whether assurances are enough to set in motion the bailout programme"
Alright.
Sri Lanka.
This is a small island in the Indian Ocean.
They seem to have a lot of military hardware.
Maybe the Germans send them weapons.
They are a unique case that they seem like huge and like they have military training.
Maybe the Germans use the ports in Sri Lanka.
It's possible the Germans assist the government in Sri Lanka about trade.
They could use computers to make the economy there look healthy.
(January 22, 2023)
"Indonesian President Jokowi's approval rating at all-time high after Covid-19 curbs eased: poll"
This is from the Chinese news.
Jakarta and Bali are cities in Indonesia.
There are reports about the German navy near Indonesia.
We have photos of the ships.
Indonesia is an energy exporter.
The concern is if the Germans use too much energy for their navy.
Maybe they are bringing weapons to North Korea, for example.
Also police radios to Taiwan, Macau, and Hong Kong for example.
This might be an example of fake news.
It could be a German cyberattack that put this story up about the Indonesian president.
(January 22, 2023)
"PM Lee Hsien Loong confident Singapore can avert recession in Year of the Rabbit despite global uncertainties" "The prime minister said 'we should be able to avoid this recession, but we will still have to look at China and how they resume activities'" "Lee also called on Singapore to make the most of its advantages to overcome economic challenges"
This one is about Singapore and the economy. Maybe the German navy uses the ports in Singapore. It's possible the Germans use cyberattacks or whatever to benefit the Singapore economy. It's financial weird about the German navy and using those ports. Maybe Singapore serves as a German tech hub. (January 21, 2023)
"US, Philippines vow to address 'flashpoints' in boost to security ties" "Manila hosted dialogue with its top defence ally as part of efforts to restore a seven-decade partnership that was unsettled by Rodrigo Duterte" "Bound by a 1951 mutual defence treaty, the two countries agreed to hold talks in mid-2023 that would allow their governments to 'plan ahead'"
This one is about military hardware and exports. Also, energy. There have been reports about energy trading in Manila. Maybe the German navy uses too much energy to send weaponry and police radios to Manila. Maybe there are right wingers in Manila. (January 21, 2023)
"Alvin Chau: Macau gambling kingpin jailed for 18 years"
This one is about the police in Hong Kong and Macau.
Maybe they use German-made police radios.
(January 21, 2023
[Turkiye eliminates 11 YPG/PKK terrorists after rocket attack The Turkish military eliminated 11 YPG/PKK terrorists in retaliation for rockets fired into the Turkiye-Syria border area, the Defense Ministry said Friday. "PKK/YPG terrorists carried out a multi-barrel rocket attack from Tal Rifaat to the area of our Oncupinar Border Post. While there was no damage/loss in our units, the terrorist targets were hit strongly within the scope of self-defense," the ministry said in a written statement. Any attack by the terrorists will not remain unanswered, it reiterated.]
The Turkish news is reporting on the PKK.
Essentially they are saying they will continue with their counterterrorism stuff maybe even in Syria.
The Turkish army has been crossing the border into Syria.
(January 21, 2023)
This one is about the German economy.
There have been reports about inflation and energy problems.
Maybe the Germans are printing notes or something.
There is some maneuvering or something about the German economy.
It's from the German news.
"REVEALED: How property prices in Germany are sinking dramatically" "According to the latest survey from property portal ImmoScout24, German cities saw a major drop in house prices at the end of last year. Could the downward spiral continue in 2023?" (January 21, 2023)
This one is from France24.
It's about the Caucasus region.
There is a humanitarian crisis and protesters.
Maybe the Turkish army is cyberattacking all three countries in the Caucasus region.
Russia is to the north.
Georgia, Azerbaijan, and Armenia are in the Caucasus region.
["Thousands of Armenians trapped in Nagorno-Karabakh face humanitarian crisis" The Lachin corridor, the lifeline road connecting the self-proclaimed republic of Nagorno-Karabakh with Armenia, has been blocked by Azerbaijiani protesters since December 12, trapping its 120,000 Armenian residents in an increasingly precarious situation. FRANCE 24's Armenia correspondent Taline Oundjian reports. For the past 40 days, Azerbaijani protesters wielding placards and flags have blocked the Lachin corridor, a 32-kilometre mountainous road that connects Armenia with the disputed region of Nagorno-Karabakh in the South Caucasus. Day and night, Azerbaijiani protesters demonstrate against the exploitation of natural resources in the region, blocking access to Nagorno-Karabakh and cutting off food, medicine and supplies for its 120,000 Armenian residents. The tiny, mountainous enclave of Nagorno-Karabakh became a self-proclaimed and independent republic during the collapse of the Soviet Union in 1991. It is internationally recognised as part of Azerbaijan but its population is predominantly Armenian. The blockade risks scuppering the fragile peace process between the two countries, which have fought two wars in the past three decades. Armenia accuses Azerbaijan of being behind the protests, saying the demonstrators are government agitators and that they are sparking an unprecedented humanitarian crisis. But Baku has denied the accusations, saying that Russian peacekeepers closed the road, and that the protesters are concerned about illegal Armenian mining in the area.] (January 21, 2023)
This one is about right wingers in Scandinavia. Lubeck, Germany was an East German port. Maybe there are right wingers who trade through Lubeck. Maybe the German navy has right wingers. It's from France24.
[Turkey cancels Swedish defence minister's visit over protest permit Turkey said on Saturday that it had called off a visit by Sweden's defence minister over a planned anti-Turkey protest in Stockholm. "At this point, Swedish Defence Minister Pal Jonson's visit to Turkey on January 27 has lost its significance and meaning, so we cancelled the visit," Turkish Defence Minister Hulusi Akar said. The Swedish minister visit was aimed at overcoming Ankara's objections to Sweden's bid to join the NATO military alliance. Turkey has been angered by permission obtained by a right-wing extremist to demonstrate later on Saturday in front of the Turkish embassy in the Swedish capital. The Danish-Swedish politician, Rasmus Paludan, whose anti-Islamist actions sparked riots across Sweden last year, has expressed his intention to "burn the Koran", Islam's holy book, during his protest on Saturday. Turkey had on Friday summoned Sweden's ambassador to "condemn this provocative action which is clearly a hate crime -- in strongest terms," a diplomatic source said. This is the second time in more than a week that Sweden's ambassador to Turkey was summoned. Last week, he was called to answer for a video posted by a Kurdish group in Stockholm that depicted President Recep Tayyip Erdogan swinging by his legs from a rope. Sweden, along with neighbouring Finland, needs Turkey's consent to join NATO. Both countries dropped decades of military non-alignment last year when they applied to join the Western defence alliance in response to Russia's invasion of Ukraine. Ankara says any progress depends on Swedish steps to extradite people it accuses of terrorism or of having played a part in the 2016 coup attempt against Erdogan. Turkey argues that Sweden has not done enough to crack down on Kurdish groups that Ankara views as "terrorist."] (January 21, 2023)
Smart to dumb to dumb
The British intelligence people's relay isn't great. They have Irish and Scottish English guys. But it's new for them about reading a lot and reports. And then the other group is married with a bunch of kids.
I can read your languages. The Czech PD and the Warsaw PD. You guys are right wingers and you trade through ports in the Balkans. #DC
"Media: Vucic will be given an ultimatum" "According to the media, the representatives of the big five, coming to Belgrade today will deliver an ultimatum to the President of Serbia, Aleksandar Vucic."
It's possible the EU is putting a lot of pressure on Belgrade about Kosovo. Maybe the Germans want to trade through ports in the Balkans. (January 20, 2023)
I also speak Russian.
This is about the German intelligence people. Maybe they are right wingers. It's the Russian news reporting on the Stasi. "BERLIN, January 20. /TASS/. The Foreign Intelligence Service of the Federal Republic of Germany (BND) submitted a report to Bundestag delegates this week which indicates that the losses of the Ukrainian army in the vicinity of Artyomovsk (Bakhmut) are in the triple digits, Der Spiegel reported on Friday."
We don't take West Germany very seriously, it's the East Germans who speak Russian.
"Probably, still east Germany."
"Наверное, еще восточная Германия."
(January 20, 2023)
"BELGRADE, January 20. /TASS/. The conflict in Kosovo and Metohija cannot be resolved by freezing it, Serbian President Aleksandar Vucic said on Friday."
This is just a nice story about President Vucic. It's in the Russian news. (Give the Russians a hard time, maybe they don't follow events in Serbia as closely as we do.) (January 20, 2023)
Kind of there were dudes, and they descended on Gerard Butler's plane in the Philippines. I guess they were dudes and they had trucks and machine guns.
The Germans are responsible for lawlessness at the ports in the Balkans.
This means maybe it is the Germans because it's like such big deal about this guy and it's a remote part of the world.
"Hristiyan Pendikov, who was attacked in Ohrid, transported to Sofia onboard government plane" (January 20, 2023)
The genre of 'crazy sh$t about the Turks'.
It seems like the Turks are not enforcing their side of the border with Bulgaria. They send their army into Syria and the Caucasus region instead. #DC #Ankara "President Radev, Austrian Chancellor Nehammer to Get Acquainted with Security Measures at EU's External Border with Turkiye"
"The State Sent a Plane to transport the Bulgarian Beaten in North Macedonia for treatment in Bulgaria"
This one is about the Balkans. It might be general misconduct or lawlessness at the ports in the Balkans. Bosnia, Albania, and Croatia have strategic ports. Maybe the Germans trade there. (January 20, 2023)
"Xiaomi dethroned in India in fourth quarter by Samsung, Vivo after five years as top smartphone brand" "Xiaomi shipments in India tumbled 40 per cent year on year in the fourth quarter after intensifying government scrutiny and a raid on its offices" "The Chinese smartphone maker remained the top brand for all of 2022 despite having the steepest decline in shipments at 26 per cent"
This one has to do with smart phones. Maybe the Germans assist the Chinese to build police radios. It speaks to domestic infrastructure and police radios. Do the Germans export that kind of stuff to Beijing or New Delhi? (January 20, 2023)
These two articles are both from today. One is about tanks and the other warplanes. It seems like the Germans assist the PLA to build both tanks and warplanes. (January 20, 2023)
"India foreign minister visits Sri Lanka with stronger ties, China in focus" "India has told global lender IMF that it strongly supports Sri Lanka's debt restructuring plan, with Colombo owing around US$1 billion to its nearest neighbour" "Sri Lanka requires the backing of China and India for agreement on the loan that's essential to help it emerge from its worst financial crisis in seven decades" Sri Lanka is in the Indian Ocean. It seems like the German navy sends weaponry to Sri Lanka. Maybe they send police radios to Sri Lanka. There are reports about the German navy near Jakarta.
(January 19, 2023)
'House Party' (2023) is about two men and they have a party in LeBron James' house. They destroy the house. He ends up calling the police and the men go to jail.
The surveillance teams are German immigrants. Maybe their relatives were in the Confederate army. They kind of ruin the police buildings and the police radios. They laugh at things that are violent. Maybe it's their way of fighting with right wingers in Germany. They think it's funny to aim radios at people. They think it's funny to waste money. They take pills and they're up all night.
(January 19, 2023)
"Serbian President Aleksandar Vucic is in Davos, where he is participating in the 53rd annual meeting of the World Economic Forum (WEF)."
This one is about largescale trade.
Maybe the Germans trade through ports in the Balkans.
(January 19, 2023)
"DONETSK, January 19. /TASS/. A captured militant of the Azov nationalist battalion (outlawed in Russia), Rinat Aliev, told TASS that NATO instructors had participated in the military training of Ukraine's armed forces long before the Donbass conflict escalated."
This one is from the Russian news.
Maybe it means there are right wingers within NATO.
The Germans have too much say about NATO.
(January 19, 2023)
"Timing of appointment of Russia's envoy to EU depends on readiness of Brussels - diplomat" "On September 26, 2021, President Vladimir Putin has relieved Vladimir Chizhov of his duties as Russian permanent representative to the EU"
This one is about trade.
Maybe the Germans send weaponry when they're supposed to be sending other items.
Like the Ukraine grain deal.
It's about largescale foreign trade and weapons exports from Germany.
(January 19, 2023)
"Yordan Tsonev: The third cabinet-forming mandate is not doomed to failure if the parties engage in dialogue"
This one is about the Bulgarian parliament.
Maybe the Germans can use cyberattacks to manipulate the Bulgarian parliament.
(January 19, 2023)
"Sofia Expresses Condolences after Ukraine Helicopter Crash" "Bulgarian Foreign Minister Nikolay Milkov offered condolences to his Ukrainian counterpart Dmytro Kuleba on Wednesday after the three main figures in Ukraine's Internal Affairs Ministry were killed in a helicopter crash beside a nursery in an eastern suburb of the capital Kyiv, Milkov's ministry reported."
This one is about Ukraine.
A helicopter crashed.
Maybe the Germans cyberattacked the helicopter and that's why it crashed.
(January 19, 2023)
Germany is a member of NATO.
Maybe they shouldn't be.
Sometimes they don't pay their NATO dues.
The German army seems really large now.
Maybe there are right wingers in Germany and NATO.
Maybe Germany shouldn't have leadership positions within NATO.
[Day 330 of the Invasion of Ukraine: Germany is unwilling to Send Tanks for now Here are the highlights of events related to the war in Ukraine over the past 24 hours: "There are no accidents during war": Zelensky on the helicopter crash that decapitated the Ukrainian Ministry of Interior "There are no accidents in war." This is how Ukrainian President Volodymyr Zelensky commented on the helicopter crash near Kyiv, in which the leadership of the Ministry of Internal Affairs of the country was killed. Among the dead are Minister Denys Monastyrsky, First Deputy Minister Evgeni Enin and State Secretary Yuriy Lubkovich.] (January 19, 2023)
[The China-Myanmar border is the international border between the territory of the People's Republic of China and Myanmar (formerly Burma). The border is 2,129 km (1,323 mi) in length and run from the tripoint with India in the north to the tripoint with Laos in the south.]

It's a really big deal about this border between China and Burma. In the newspaper, there are reports that Chinese infantrymen. This means the PLA with uniforms that say PLA. Walk along that border.
-Do they cross the border and go into Burma?
-Maybe there are ships waiting at the ports in southern Burma?
-It is a mystery about all of that, the PLA patrols and the navy.
-The suspicion is that the Germans send weapons and the PLA crosses down to the ports.
The PLA sometimes patrols the border with Burma.
It seems like the PLA does military operations in Burma.
Maybe the Germans send weaponry to Burma.
Brunei
Cambodia
Indonesia
Laos
Malaysia
Myanmar
Philippines
Singapore
Thailand
Vietnam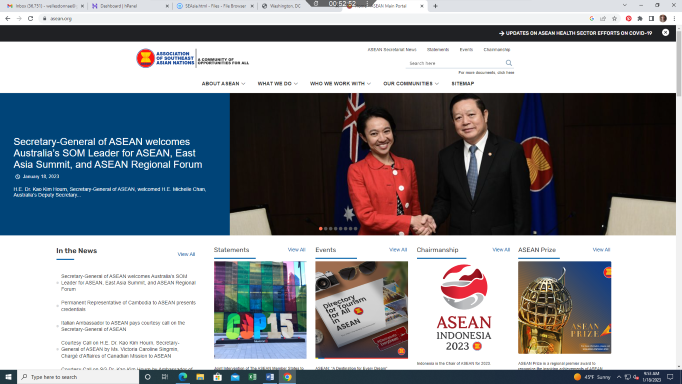 Remember when Rick Perry forgot the third thing in the debate?
I can always remember about eight or nine members of ASEAN, but there are ten members.
It's called the Association of Southeast Asian Nations.
Like the University of Georgia is Bulldog Nation or Texas is Longhorn Nation.
ASEAN is the Association of Southeast Asian Nations.
ASEAN used to be called SEATO.
SEATO is the Southeast Asian Trade Agreement.
They are the same, one replaced the other.
Game Rublev!
I am not stupid. They are radically anti-American at times. They really hurt my feelings. They are your aunts and cousins over there.
The British always side against the Americans and with the Australians in every dispute. They only side with Canberra, they never side with Washington, DC. I tell them the Australians are closer relatives.
"MOSCOW, January 18. /TASS/. The Western countries are trying to create blocs against Russia and China in the Asia-Pacific Region (APR), Russian Foreign Minister Sergey Lavrov said at a press conference on the results of Russian diplomacy in 2022 on Wednesday."
This one is about the German navy.
Maybe the Germans do too much with their navy in the Pacific.
(January 18, 2023)
"BEIJING, January 18. /TASS/. NATO is trying to inflate the so-called Russia threat to justify its existence, China's Global Times newspaper said in an editorial on Wednesday."
This one is about NATO.
Maybe the Germans do too much within NATO.
Maybe it's right wingers in NATO.
The German military seems to be really large now.
(January 18, 2023)
["Syrian Citizen Detained for Offering EUR 10,000 Bribe to Police Officers" A Syrian citizen was detained in Sofia for offering to bribe police officers, the Ministry of the Interior informed BTA on Wednesday. On Tuesday night, around 1:30 am in Sofia centre, while trying to avoid a police check, the man planted EUR 10,000 into the car of the law enforcement authorities. He was detained immediately for 24 hours. The man was field tested for drugs and tested positive. The alcohol test was negative." ]
This one again is about the border between Bulgaria and Turkey.
Maybe the Turks aren't enforcing their side of the border.
(January 18, 2023)
[A Syrian Man who tried to Bribe Traffic Police Officers with nearly 10,000 Euros was Arrested in Bulgaria A 23-year-old Syrian man was detained after he attempted to bribe traffic police officers in Sofia with nearly 10,000 euros. The arrest was made around one o'clock this morning on "Maria Luiza" boulevard in Sofia. After an argument between the young man who was driving a car and people who were driving in another car, a traffic police team came to the scene. When the police tried to carry out an inspection, the Syrian citizen threw two bundles of five thousand euros into the patrol car. He was then detained. The man refused an alcohol and drug test. He was detained together with the people from the other car. The case is being clarified.]
This one.
It is about the police in Bulgaria and a Syrian immigrant.
The border with Turkey isn't being policed.
The complaint is that the Turks aren't enforcing their side of the border.
(January 18, 2023)
I'm writing about Canberra.
I have never been to Australia.
I would never go to Australia.
I have never wanted to go to Australia.
It has to do with the nature of Boston and New England within the empire.
There is a sense that the Americans and Australians have common military goals.
We do.
Both of us came from England.
But, the Australians seem to not understand Boston and its role in the empire.
When I meet people from Australia here in Washington, DC.
Occasionally I will meet someone I think is really likeable.
They do not see in me, like someone who is important within the empire.
I can ask them to dinner, they won't go.
I can ask them to hang out at all, they don't want to.
Yeah but I'm the station chief.
My grandpa studied at Oxford.
January 18, 2023
[President Ferdinand "Bongbong" Marcos Jr.'s recent visit to China underscores his intent to have a constructive relationship with China, and a balanced and diversified Philippine foreign policy. But as Sino-US relations deteriorate and United States President Joseph Biden veers towards strategic clarity to defend Taiwan amid heightened cross-Strait tensions, the risk of getting entangled in a Sino-US conflict over Taiwan has become a major policy issue for Manila.]

This one is about Manila and Beijing.
What do we think?
I am suspicious now about the government in Manila and their trade with China
Maybe the government in Manila are weirdly communists now
It might be similar issues in Taipei and Manila about Germany
Maybe the Germans trade the same weapons or whatever to both Manila and Taipei
Maybe the Filipino government is like the Taiwanese government somehow

(January 17, 2023)
[One of the major tasks of the DND and the Armed Forces of the Philippines (AFP) is to see to it that "even if there is some type of grumbling, their prevailing attitude is to normalize things as soon as possible," Gonzales said in a roundtable interview organized by The Manila Times on Monday. He said the President's decision to appoint Galvez and Ano averted a possible security crisis. A growing restlessness has spread particularly among former high-ranking military officials because members of some Philippine Military Academy (PMA) batches have been overlooked for promotion, Gonzales said.]
This is from the Filipino news.
Notice there is a military department within the government in Manila called the AFP
They have security issues
They have generals and officers
There is a military academy called the PMA
Issues come up about promotion

What does that mean?

It seems to be European about the military there because of the military academies and the bureaucracy. They likely import a lot of military items from Berlin and Paris.
(January 17, 2023)
OK. 'Plane' is a movie about the Philippines. It's kind of like Black Hawk Down because of how many weapons all of the men have. They have machine guns and trucks. Gerard Butler plays a commercial pilot named Brodie Torrance. He sees this knife, and to him it means one of the passengers on the plane has special forces training.
This is the problem as I see it.
Here in Washington, DC.
Everyone wants these jobs where they have tattoos and weird symbols on pocket knives. The Virginians are Prussian immigrants. They live in a swamp and speak creole.
What seems to be in demand are people who read a lot and type and read the news.
It's like nobody in the city wants to read the newspaper everyday and keep track of events.
They all want to carry special ops pocket knives and get special ops tattoos.
To see how impressed Gerard was with that pocket knife.
I wish everyone would go to bed early and read the newspaper and stay fit. I could do without weird symbols on everyone's pocket knife. Normally you cannot even have a knife with you, it's illegal.

Notes on 'Plane' (2023)
Washington, DC
January 17, 2023
Kate has this famous quote about if she'll have a fourth baby.
"William would be wowried."
As though, obviously Kate likes to have lots of babies but they need to stop at three.

I think they aren't great at working with women because they like to talk to men. Maybe schools in England aren't great at educating women. For example, Wellesley is a women's school in New England.
Kate went to St. Andrews.
Talking about the British army
(January 17, 2023)
"Game Rublev!"
Rublev is wearing black, blue, and red. He won the first round against the Austrian Dominic Thiem.
Novak is wearing the colors of Serbia, red, white, and blue. Additionally, I believe that his shirt has a pattern that resembles the deep ocean. And he is wearing white socks, and blue shoes.
Round 1. Australian Open. January 17, 2023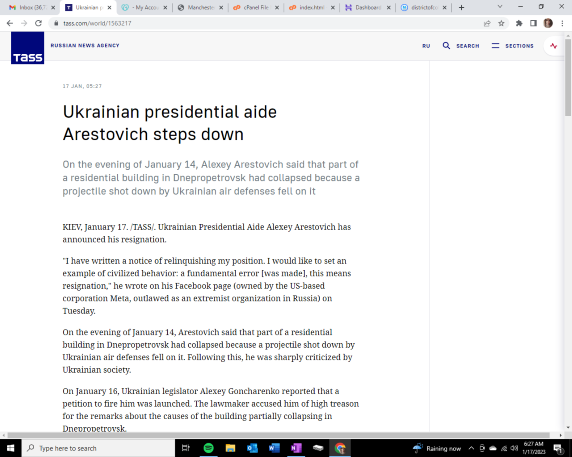 Oh Jeez. I have to get the vaccine now. Uggh.
["It's confirmed: Derecognition of Kosovo is definite" "President of Serbia, Aleksandar Vucic, today received the Minister of Foreign Affairs, Regional Integration and Diaspora of the Republic of Togo, Robert Dussey."] The Serbian news is reporting on Kosovo. It seems like there are airbases in Kosovo that manage regional trade. (January 17, 2023)
[Ukrainian presidential aide Arestovich steps down On the evening of January 14, Alexey Arestovich said that part of a residential building in Dnepropetrovsk had collapsed because a projectile shot down by Ukrainian air defenses fell on it KIEV, January 17. /TASS/. Ukrainian Presidential Aide Alexey Arestovich has announced his resignation. "I have written a notice of relinquishing my position. I would like to set an example of civilized behavior: a fundamental error [was made], this means resignation," he wrote on his Facebook page (owned by the US-based corporation Meta, outlawed as an extremist organization in Russia) on Tuesday. On the evening of January 14, Arestovich said that part of a residential building in Dnepropetrovsk had collapsed because a projectile shot down by Ukrainian air defenses fell on it. Following this, he was sharply criticized by Ukrainian society.] The Russian news is reporting on Kiev. I guess even the Ukrainians are saying the Ukrainian army is partially responsible for damage to infrastructure. (January 17, 2023)
Sir, I will remind you.
Weren't they mean to the Serbian PM when she called?
Last year they didn't even let Novak play at all in the Australian Open. It's unethical to watch some of this stuff. I didn't watch it after they said Novak couldn't play.
Last year at the Wimbledon tournament. Novak won. But Kate was there with George and it was like England has a child king. Because didn't George oversee the tournament or something? Coleen Rooney was there in her bathing suit.
I'm saying these aren't consistent with American values about these tennis tournaments.
"Marijuana Smuggling Prevented at Kapitan Andreevo Border Crossing" "Two Bulgarian nationals have been charged with attempting to smuggle 4.820 kg of marijuana from Bulgaria into Turkey, the Haskovo District Prosecution Office said on Tuesday. The men, identified as Z.D., 35, and H.A., 46, carried the drug in 16 vacuum-sealed bags that were hidden in the spare tyre of their Ford Galaxy motor car. The marijuana was found during a customs inspection of the vehicle at the Kapitan Andreevo Checkpoint on Bulgaria's border with Turkey on January 15. The suspects are held in custody for 72 hours, and the car has been impounded. Pre-trial proceedings have been instituted in the case." This one. There is a border between Turkey and Bulgaria. I guess the Turks haven't been enforcing their side of the border. Now it's Bulgarian people who are being arrested. They are supposed to more enforce immigration coming from the south.
(January 17, 2023)
"One of Ukrainian President Volodymyr Zelensky's top advisers has asked to be fired after a statement that sparked widespread outrage, Ukrainian media reported this morning. Commenting on a Russian missile strike on an apartment block in the city of Dnipro on January 14, 2022, which killed dozens of civilians, Oleksii Arestovych said the missile hit the building after being hit by a Ukrainian anti-aircraft missile."
This one. Ukraine is near Russia. Kiev is the capital of Ukraine.
Zelensky is the President of Ukraine. He has an advisor.
I guess Zelensky's staff are saying that the Ukrainians themselves are partially responsible for damage to infrastructure. Somehow this one had to do with a Ukrainian anti-aircraft missile.
(January 17, 2023)
I think it means that they are firing at our ships. I guess if they war dance then that's not firing. I believe it's the same as incoming. #DC

[South China Sea: PLA strike group holds live-fire drills after US warships enter region Flotilla led by Chinese-made Shandong aircraft carrier performs 'confrontational exercises' as US Navy carries out training and anti-submarine activities Defence experts say Beijing forced to be vigilant as Lunar New Year approaches because military tensions tend to escalate during festival periods A Chinese aircraft carrier strike group has conducted intensive live-fire drills in the South China Sea since the US Navy sent its USS Nimitz strike group to the area last week. The flotilla is led by the Shandong, China's first domestically built aircraft carrier, and includes a Type 055 stealth guided-missile destroyer and three guided-missile destroyers. The strike group began a series of confrontational drills in the South China Sea last week, the PLA Navy said on its WeChat account on Sunday. Defence experts say that with Lunar New Year approaching, the People's Liberation Army (PLA) is on high alert because the US and China have intensified military confrontations in the region during major festivals. Loaded with dozens of J-15 fighter jets, the Shandong carrier took part in live-fire confrontational exercises, night take-off and landing, emergency response, joint operations between different vessels, damage control and other drills, the Chinese navy said. The drills came as the US Navy's 7th fleet announced on Friday that the USS Nimitz Carrier Strike Group had conducted its first routine South China Sea operations of the year, including maritime strike training, flight operations and anti-submarine activities. Zhou Chenming, a researcher at the Beijing-based Yuan Wang military science and technology think tank, said the PLA was forced to be vigilant because in recent years the US military had deployed more aircraft and warships to China's southeastern coast during the Lunar New Year period. The most recent close-in reconnaissance flight was conducted by a US Boeing RC-135 spy plane near the eastern Chinese cities of Shanghai and Qingdao on January 7, he said. "It's very hard for the PLA to predict the US military's motivations for such provocative moves, as the two countries have yet to resolve their differences over the maritime order," Zhou said. Around three weeks ago, the American and Chinese militaries blamed each other after a close call between two PLA J-11 fighter jets and a US spy plane over the South China Sea. Zhou said the US was able to "arbitrarily" perform freedom of navigation exercises and flights in the area because it refused to sign the UN Convention on the Law of the Sea, which recognises the waters as part of China's exclusive economic zone. The PLA feared the incursions by US planes and ships could lead to uncertainties and conflicts, he said. While the PLA routinely deploys warships such as destroyers and frigates to watch American carrier strike groups in the region, it was unusual for China to send a carrier-led flotilla, Zhou said. "The Shandong aircraft carrier has routine training tasks this year, but it seems like the PLA Navy decided to send the carrier and its accompanying vessels ahead of its scheduled time to respond to the USS Nimitz's visit to the region." Collin Koh, a research fellow with the maritime security programme at Singapore's Institute of Defence and Strategic Studies, said the increased encounters and engagement between the world's two military powers could be seen as an attempt to avoid escalation. "The US continues its military reconnaissance flights, and in response the Chinese ramp up PLA training, and then this results in the US further keeping close tabs on what the PLA is up to," Koh said. Koh said the close encounters might not help the two militaries improve their understanding, but at least it would help them to form "a rather predictable pattern of tit-for-tat behaviour" in their military engagements. "I don't see how the PLA stepping up training will dissuade the US to cease such missions anyway, since such events would be of huge interest to the Americans' own peacetime preparation for future military conflict," he said. He said it was unlikely that the powers would roll back their activities as that would "signal weakness to each other". However, both sides are trying to prevent their confrontations from escalating into conflicts, which is consistent with the consensus reached during meetings between Chinese President Xi Jinping and his American counterpart Joe Biden, according to Koh. "The crux of the matter is how to engage in such patterns of activities without unduly escalating. I believe this is what Biden is talking about when he mentioned 'common sense guardrails', which would refer to crisis management and stability."]

This is from the South China Morning Post today.
The issue is what the PLA Navy can do when American ships are nearby.
I think it endangers our ships and our sailors for them to do these live fire exercises.

Donna Welles
Washington, DC
January 16, 2023
This is me talking about Prince William. 1-16-23
"Novak on his injury: I am more cautious and save energy for the opening week" "Novak Dokovic in front of the press in Melbourne before the start of the Australian Open." The Serbian champion is ranked number one in the world! Number one. (January 16, 2023)
"SEVASTOPOL, January 16. /TASS/. A fourth drone in 24 hours has been downed approaching Sevastopol, Governor Mikhail Razvozhaev wrote on his Telegram channel on Monday." The Russian news is reporting on drones. (January 16, 2023)
"ANKARA, January 15. /TASS/. Turkish President Recep Tayyip Erdogan has confirmed plans of free supplies of Russian agricultural products to poor countries in Africa."
The Russian news is reporting on the Ukrainian grain deal.
It's a false sense that the region relies on Ukrainian grain.
Maybe the Ukrainians need their grain.
(January 16, 2023)
The BSP is going to make us wear the masks again!
"Foreign Minister Milkov Meets with Hungarian Counterpart" The Bulgarian news is reporting on Budapest. Maybe the Germans have airbases in Budapest. (January 16, 2023)
[In an interview with Nova TV, when asked if [Russian President Vladimir] Putin was an aggressor, the socialist replied: "It depends on who you ask. Certainly, the fact that he entered the territory is a kind of invasion despite the provocations. I think it will become clear during the negotiations whether he is an aggressor". Asked if he was against the fact that Putin entered Ukraine, the Bulgarian politician replied that he could not comment on the decisions of an entire country. And he added that "whether there were provocations or not, only the Russian intelligence knows."]
It seems like right wingers from Germany and Poland maintain bases in Ukraine. They conduct military tests there. Maybe they fire weapons into Russia from Ukraine.
(January 16, 2023)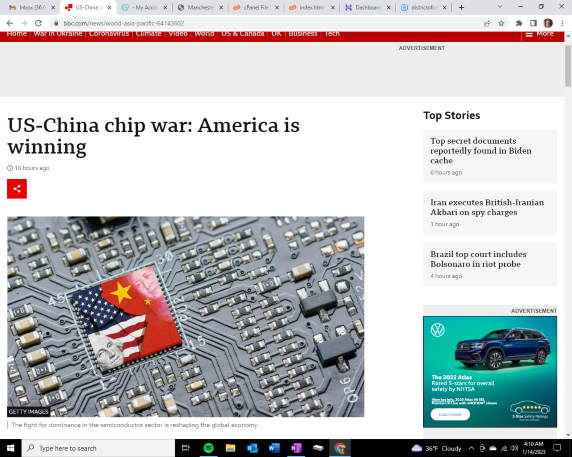 ["Biden to ask US Congress to approve F-16 sale to Turkiye" U.S. President Joe Biden's administration is planning to ask Congress to approve a $20 billion sale of F-16 fighter jets to Turkiye, a report said Friday. The sale "is larger than expected" and includes 40 F-16 fighters and modernization kits for 79 of the warplanes already in Ankara's possession, the Wall Street Journal newspaper reported, citing anonymous officials familiar with the matter. Ankara requested the F-16s and modernization kits in October 2021 in what was previously estimated to cost $6 billion.] The Turkish news is reporting on warplanes. The Turkish army has been crossing the border into Syria. Maybe also the Caucasus region. (January 14, 2023)
["US House Republicans investigate Biden documents, ask if Hunter had access" "Republicans in the U.S. House of Representatives launched an investigation on Friday into the Justice Department's handling of improperly stored classified documents possessed by President Joe Biden, and questioned whether his son, Hunter, had access to any. In a Jan. 13 letter to Attorney General Merrick Garland, top Republicans on the House Judiciary Committee said the Justice Department's appointment of Robert Hur as special counsel for the case this week raised "fundamental oversight questions." They demanded all relevant documents and communications between the department, the FBI, the White House and Biden's attorneys. The letter came a day after Biden's legal team acknowledged it had found classified documents relating to his time as vice president in the Obama administration at his Delaware home, including some in his garage. Aides previously found another batch of classified documents at his residence, and at a Washington think tank he was associated with. Earlier on Friday, House Oversight Committee Chairman James Comer wrote to the White House asking whether Hunter Biden had access to classified documents found at the president's private residence. "It is unclear when the department first came to learn about the existence of these documents, and whether it actively concealed this information from the public on the eve of the 2022 elections," House Judiciary Chairman Jim Jordan and fellow panel Republican Mike Johnson told Garland in their letter. "We expect your complete cooperation with our inquiry," they wrote, setting a Jan. 27 deadline for compliance. White House and Justice Department officials were not immediately available for comment. The two Republican probes present a distraction for the Democratic president, who has criticized his Republican predecessor Donald Trump's handling of classified material, and could cast a shadow over Biden as both he and Trump gear up for a possible 2024 election rematch. It also provides fodder for House Republicans, who have pledged to focus their new majority on a number of investigations into the Biden administration. In addition to examining Biden's handling of classified documents, Republicans are preparing to probe Hunter Biden's past business dealings in Ukraine. In Comer's letter to the White House, the House Oversight Committee chairman said the home where the documents were found was listed as Hunter Biden's address on his driver's license as recently as 2018. "The Committee is concerned President Biden stored classified documents at the same location his son resided while engaging in international business deals with adversaries of the United States," the letter read. Republicans have sought to compare the investigation of Biden's handling of classified documents to the ongoing probe into how Trump handled classified documents after his presidency. But their cases are not the same, legal experts say. The White House said Biden's attorneys found a small number of classified documents and turned them over after discovery. Trump resisted doing so until an August FBI search turned up about 100 classified documents, raising questions about whether Trump or his staff obstructed the investigation.]
The documents maybe are about business deals that Hunter Biden conducted in Ukraine.
France24 is reporting on the White House.
(January 14, 2023)
"MOSCOW, January 12. /TASS/. A meeting between the foreign ministers of Russia, Syria and Turkey is being hammered out, but the date has not yet been set, Russian Foreign Ministry Spokeswoman Maria Zakharova said at a briefing on Thursday." The Russian news is reporting on Damascus. The Turkish army has been crossing the border into Syria. (January 12, 2023)
"Since January 4, the signals of the GPS navigation system, which are used by citizens and the military, have been jammed along the Bulgarian Black Sea coast, the maps of the GPS jam system indicate, writes 24 Chasa daily. At least 10% of users have no signal or receive incorrect data. GPS navigation is silenced from the Romanian port of Constanta along the entire Bulgarian coast and in the territorial waters of Turkey in the Black Sea. The data was collected from pilots of civilian aircraft who reported a lost connection." The Bulgarian news is reporting on the Black Sea. Maybe the Turks are cyberattacking these positions from Ankara. (January 12, 2023)
"Comprehensive Investigation into Border Sanitary Control Begins at Kapitan Andreevo" "The Interior Ministry is beginning to investigate the way in which a private company has run the disinfection service for vehicles entering Bulgaria from Turkiye via the Kapitan Andreevo border checkpoint. Part of the investigation will focus on suspicions that some cash registers at the site have not been linked to the system of the National Revenue Agency, caretaker Interior Minister Ivan Demerdzhiev told journalists at Kapitan Andreevo on Thursday. Demerdzhiev was visiting the border checkpoint in a show of determination to wipe out sanitary control malpractices at the site, popularly known as "the golden puddle" as it has allowed persons of dubious reputation to make easy money. After a 10-year contract, expiring on March 12, the private owner is expected to transfer the operation to the state. Demerdzhiev's visit came two days after Agriculture Minister Yavor Gechev inspected the laboratories at Kapitan Andreevo. Demerdzhiev said he was visiting the checkpoint for several reasons, one of which was to establish state control over the border, a task assigned by President Rumen Radev to two earlier caretaker governments in 2021." The Bulgarian news is reporting on the border with Turkey. (January 12, 2023)
["Police Operation against Cryptocurrency Company NEXO in Bulgaria's Capital (UPDATED)" "An international operation against a large-scale scheme for financial crimes, money laundering and violations of international sanctions against Russia is taking place in Sofia at the moment. According to BNT, it is the company NEXO. The ownership of the company is related to a former member of parliament and the son of a former social minister from the NDSV political party. The suspicions are that the Bulgarians behind the large company acted according to the scheme of Ruja Ignatova and the OneCoin pyramid led by her. The Bulgarian woman known as the "Queen of Cryptocurrencies" is in the top 10 most wanted persons by the FBI. Europol and Interpol are also on her trail. Prosecutors, investigators from the National Investigation and SANS employees, together with foreign agents, have begun searches of the Bulgarian offices of the company that trades cryptocurrencies worldwide. The company's operations were carried out from the Bulgarian capital, and depositors were invited to invest in bitcoins and other types of cryptocurrencies, with promises of high returns. The interest rates that investors would receive were many times higher than those of classic banking institutions and various brokerage houses. There are reports that the owners of the company, who are Bulgarians, have appropriated part of the assets amounting to several billion dollars. The investigation into the activities of the crypto company in Bulgaria began a few months ago, after foreign services detected suspicious transactions, which were reported to be aimed at circumventing the sanctions imposed by the European Union, Great Britain and the United States against Russian banks, as well as companies and citizens of the Russian Federation."] The Bulgarian news is reporting on the police. (January 12, 2023)
Vogue gave birth a third time.
And then they went out to a winter vacation to exchange presents for Christmas.
Vogue gave Spencer a bathing suit.
And then he ran out in the snow wearing only the bathing suit.
Maybe it ruined the bathing suit.
It seems like he cannot simply sit with Vogue, he has to be either laughing at her or getting her pregnant again or something. She is three years older and a few inches taller.
(January 11, 2023)
"After exchanging vows at St George's Chapel the Duke and Duchess enjoyed a lunchtime reception at Windsor Castle hosted by the late Queen Elizabeth II. At the sit-down meal, which saw guests dine on pea and mint risotto and ten-hour slow-roasted Windsor pork belly, the newlyweds had chosen to incorporate an American tradition and asked couples to sit together. However, William and Kate's table was the only one that failed to follow suit, as Harry claims that his brother and sister-in-law changed the place cards at the last minute in order to ensure spouses were seated separately - which the Prince and Princess denied."
This is talking about how William and Kate go out together. I think they're Prussians because they couples date. William is husband and Kate is wife, when they go out. (January 11, 2023)
["Vogue Williams attempted to bar husband Spencer Matthews from her My Therapist Ghosted Me podcast tour after he hesitated on coming to the opening night of the new leg next month. The model, 37, who married former Made In Chelsea star Spencer, 34, in 2018, is opening her show with her comedian co-host Joanne McNally, 39, at the Gaiety Theatre in Dublin, Ireland on February 16."] This is talking about how Spencer married a woman three years older and then they had three kids.
Vogue was born in 1985. I think their third child was born in 2022. That means she was 37 when she had the third baby. That seems really old to give birth to a third child. Maybe Spencer is a Prussian and they are German labor union guys.
[Spencer Matthews and Vogue Williams christen son Otto https://www.dailymail.co.uk > article-11460597 > Spen...Nov 23, 2022 - Otto is the youngest of Spencer and Vogue's three children; they are also proud parents to son Theodore, four, and daughter Gigi, two] (January 11, 2023)
The Virginians are Prussians. They live in a swamp and they speak creole. The surveillance teams seem to be trade union people. They didn't go to law school, business school, or engineering school. They don't really know how to operate the radios they use.
They are in the office day and night. They take pills.
But they don't really know what to do with the radios. They end up kind of watching nothing for hours at a time. (January 11, 2023)
"A few weeks later, Bosnia and Herzegovina received the status of a candidate country for EU membership. Such a development is not difficult to explain, the Guardian adds." The Serbian news is reporting on Sarajevo. It seems like the Germans are wanting to trade through Bosnian ports. (January 11, 2023)
"BAKU, January 11. /TASS/. The government of Armenia should take responsibility and sign a peace treaty with Azerbaijan, Azerbaijani President Ilkham Aliyev told the local media on Tuesday." The Russian news is reporting on Baku. Maybe the Turkish army is crossing the border into the Caucasus region. (January 11, 2023)
"Bulgarians in Slovakia: our heart beats to the rhythm of Bulgaria" The Bulgarian news is reporting on Bratislava. Maybe the Germans use airbases in Czech. (January 11, 2023)
"Agriculture Minister: State Company to Handle Disinfection of Vehicles Entering from Turkiye" "A state company will be responsible for the disinfection of vehicles entering from Turkiye through the Kapitan Andreevo border control check point. The private company carrying out this activity received notice of termination of the contract, which expires on March 12, 2023, the caretaker Minister of Agriculture Yavor Gechev told reporters on Tuesday, after he performed a routine inspection of the laboratories at the border. The Minister emphasized that it was also the will of the President that the state should take ownership of the so-called golden puddle - a pool of disinfectant solution through which motor vehicles pass. A company will be established, which will be managed by at least five Bulgarian institutions, among which the Ministry of Transport, the National Revenue Agency, and the General Directorate National Police. The golden puddle operates when there is an epidemic situation and a threat of diseases, the Minister pointed out. The fees will remain the same - BGN 5 per car, BGN 25 per truck. All revenues will go into the budget." The Bulgarian news is reporting on the border with Turkey. Maybe the Turkish army is crossing into both Syria and the Caucasus region. It seems like they are not enforcing their side of the border with Bulgaria.
(January 11, 2023)
This is me talking about Ukraine. 1-10-23
"Croatian dilemma: Why People are Fleeing the Country?" "While Croatia is faced with new price increases after the introduction of the Euro and higher inflation, a dormant question arose." The Serbian news is reporting on Zagreb.
Maybe the Germans are using Croatian ports for their navy.
(January 10, 2023)
"West supplies Ukraine with expired weapons, says country's envoy to London" "At the same time, Ukrainian envoy to the United Kingdom Vadim Pristayko noted that recently there have been positive developments in the supply of Western weapons to Ukraine" "NEW YORK, January 10. /TASS/. Western countries supply Ukraine with weapons that have already expired, Ukrainian envoy to the United Kingdom Vadim Pristayko told the Newsweek magazine in an interview." The Russian news is reporting on Kiev. The Virginians are German immigrants. Maybe they are on a labor strike. (January 10, 2023)
"YEREVAN, January 10. /TASS/. Armenia is still waiting for a response from Azerbaijan regarding proposals on the peace agreement, Armenian Prime Minister Nikol Pashinyan said on Tuesday." The Russian news is reporting on Baku. Maybe the Turks are cyberattacking the Caucasus region. The Turkish army has been crossing the border into Syria. (January 10, 2023)
[If it keeps up military aid to Kyiv, Sofia stands "a realistic chance" of acquiring substitute capabilities, National Assembly Defence Committee Chair Hristo Gadjev said in an interview for www.mediapool.bg Monday. Apart from Bulgaria's military aid for Ukraine, he also takes questions about the condition of the Bulgarian Air Force, Armed Forces modernization, and the response to Russia placing investigative journalist Christo Grozev on a wanted list. Aid for Ukraine Asked whether the military assistance that Bulgaria has sent to Ukraine is what this country can spare and what Kyiv expected, Gadjev said that the Defence Ministry probably did not provide everything possible because Parliament's resolution envisages a reserve to be tapped if the allies agree to supply this country with substitute capabilities. In his words, the allies have offered Bulgaria to acquire substitute capabilities and new capabilities, which opens up "realistic opportunities" for replacing the obsolete Soviet materiel by up-to-date and NATO-compatible equipment. "Certainly, these opportunities are contingent on our further support for Ukraine," the MP explained. The interviewee noted that an amendment to the agreement between the Ukrainian and the Bulgarian defence ministries, which has been laid before Parliament and which requires any new consignments of military assistance to be approved by the legislature, will definitely result in a delay and will also give a platform to MPs backing the Russian position and propaganda. "Such actions will also tire the Bulgarian public of the subject and will erode support for the victim in the conflict," said Gadjev. Military Aviation He doubts whether an option which is the most expensive one and which the Defence Ministry prefers - to acquire "substitute" jet fighters after the MiG-29 are grounded - will work. He notes that the "substitute" aircraft will arrive in 2025, i.e. at the same time as the first F-16s. This means that in 2025 the Bulgarian Air Force will have to repair, maintain and man with pilots and ground crews four different platforms: MiG-29, Su-25, F-16, and the new type of "substitute" fighter. This will drain the Ministry's budget and will seriously jeopardize the modernization and even the upkeep of the Armed Forces, he warned. Another option worth exploring is to use the aircraft repair facilities in Western Ukraine, which could handle the engines and other components. Ukraine has staged presentations at the National Assembly and at the Defence Ministry, demonstrating that it is ready and capable of maintaining MiG-29 fighters even in wartime. In parallel with that, the caretaker cabinet is negotiating with Poland on the acquisition of six aircraft engines. An agreement has already been signed on the first two engines, Gadjev said. Modernization He argues that "there are many question marks" about an ambitious programme for the Armed Forces modernization which the caretaker cabinet has tabled in Parliament and which will be considered before the end of January. "When military materiel is purchased, the full capability should be acquired, including command, control, communications and ammunition. Otherwise, money and time will be wasted," Gadjev argued. He believes that, drawing on the lessons learnt from Russia's war in Ukraine, a far greater emphasis should be placed on the special operation forces. "The 3D radars are critical and must not be delayed any longer because they are essential for the full-capacity operation of the new aircraft," the interviewee said. In his opinion, both observation and combat drones should be acquired. Grozev Wanted by Russia Replying to a question, the Defence Committee Chair said that "ultimately, all Bulgarian institutions and the political class reacted appropriately" to Russia placing Bulgarian investigative journalist Christo Grozev on a wanted list. Asked about the Bulgarian response to the conduct of Russian Ambassador in Sofia Eleonora Mitrofanova, Gadjev said: "I hope that she will keep up the good manners, just as all other ambassadors accredited to Bulgaria." Concerning the calls for Mitrofanova's recall, the MP pointed out: "Those who call for Mitrofanova's expulsion from Bulgaria should be aware that this may lead to a practical severance of diplomatic relations with the Russian Federation. So far only Lithuania has expelled the Russian Ambassador and, reciprocally, the Lithuanian Ambassador was expelled by Moscow. Let us think a little bit more beyond emotions."] The Bulgarian news is reporting on Kiev. (January 10, 2023)
"Amid the global unrest over the civil unrest triggered by Mahsa Amini's death, the Iranian judiciary on Monday handed down three more death sentences, reported France24." The Bulgarian news is reporting on Tehran.
Maybe the Iranians use German-made police radios.
(January 10, 2023)
"How political and economic pressure led to Beijing's abrupt U-turn on zero-Covid" "Xi acknowledged frustrations about pandemic-control policies at meeting in December" "Sources say leading cadres in major economic powerhouses reported dire situations" The Chinese news is reporting on domestic policy. Maybe the Chinese import German-made police radios so they can enforce these strange ordinances. (January 9, 2023)
LXXXII. As he took his seat, the conspirators gathered about him as if to pay their respects, and straightway Tillius Cimber, who had assumed the lead, came nearer as though to ask something; and when Caesar with a gesture put him off to another time, Cimber caught his toga by both shoulders; then as Caesar cried, "Why, this is violence !" one of the Cascas stabbed him from one side just below the throat.a Caesar caught Casca's arm and ran it through with his stylus,b but as he tried to leap to his feet, he was stopped by another wound. When he saw that he was beset on every side by drawn daggers, he muffled his head in his robe, and at the same time drew down its lap to his feet with his left hand, in order to fall more decently, with the lower part of his body also covered. And in this wise he was stabbed with three and twenty wounds, uttering not a word, but merely a groan at the first stroke, though some have written that when Marcus Brutus rushed at him, he said in Greek, "You too, my child?" All the conspirators made off, and he lay there lifeless for some time, until finally three common slaves put him on a litter and carried him home, with one arm hanging down. And of so many wounds none turned out to be mortal, in the opinion of the physician Antistius, except the second one in the breast. The conspirators had intended after slaying him to drag his body to the Tiber, confiscate his property, and revoke his decrees; but they forebore through fear of Marcus Antonius the consul, and Lepidus, the master of horse.

This is from the Twelve Caesars by Suetonius
Donna Welles
Washington, DC
January 9, 2023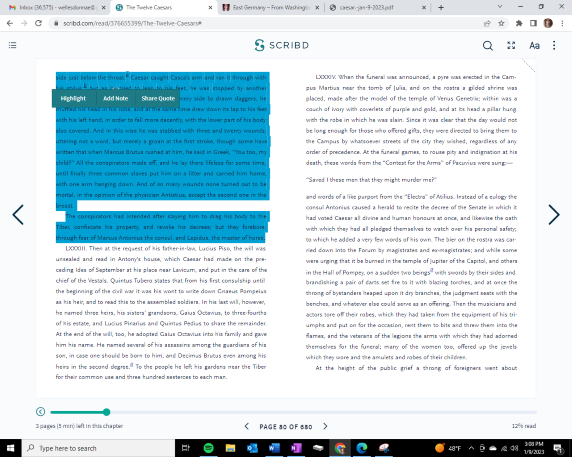 [Kyrgios was due to take part in the Adelaide tournament, which serves as a "warm-up" for the AO, but the 27-year-old pulled out with an ankle injury. While it seemed that the Australian would enter the domestic Grand Slam without competitive matches, the last few days were filled with rumors that he would play a training match with Djokovic. This was confirmed by the Serbian star, stating that his offer for the match with Kyrgios was accepted - but under one condition. "We are talking with the Australian Open to do something in a week before the start of the tournament. Yes, I had a chat with Nick, I would really like to play with him, and he accepted, but he wants shorter sets. We will see if it will work," Djokovic revealed.] The Serbian news is reporting on Canberra. (January 9, 2023)
["Foreign aid to Ukraine a money laundering scheme, head of Chechnya says" "Ramzan Kadyrov noted that there is no need to worry about hostilities currently happening on Russian territory" MOSCOW, January 8. /TASS/. The Western aid to Ukraine is a working money laundering scheme, Head of Chechnya Ramzan Kadyrov said on his Telegram channel Sunday. "I see that some are worried about the foreign aid to Ukraine. Do not worry! This is a working money laundering scheme. Western and Ukrainian officials will embezzle these funds, and no more than 15% of the entire aid will reach the trenches," he said. Kadyrov also noted that there is no need to worry about hostilities currently happening on Russian territory. "These are our regions, which opted to join our state for the sake of protection of their people from Satanist actions of Ukrainian and NATO nationalists," he underscored. On January 6, the US announced a new aid package to Ukraine worth over $3 billion. According to the White House, the aid will be provided directly from the Pentagon reserves, and will include Bradley armored vehicles, self-propelled howitzers, MRAP (Mine-Resistant Ambush-Protected) vehicles, air defense missiles and other weapons and ammunition.] The Russian news is reporting on Grozny. (January 9, 2023)
"Half of Finland opposes establishment of NATO base on Nordic country's soil - TV" "It is noted that 49% of Finns support Finland's active participation in the US-led bloc's international activity and joint military operations under its auspices" The Russian news is reporting on Helsinki.
Lubeck, Germany is a port.
Maybe the Germans are using East German and Polish ports to trade weaponry.
This NATO base in Finland might be in real terms a German navy base.
(January 9, 2023)
["Energy Minister: Agreement with Turkiye's Botas Historic for Bulgaria, Great Breakthrough for EU" Interviewed on Bulgarian National Television on Sunday, Energy Minister Rossen Hristov said the agreement signed with Turkiye's Botas energy company is historic for Bulgaria and a great breakthrough for the EU because it provides for natural gas supplies through the Turkish terminals to Bulgaria and Europe. "We have the European Commission's full support," he said.] The Bulgarian news is reporting on Ankara.
Maybe the Turkish army is using too much energy.
They have been crossing the border into Syria.
The Turkish army maybe has been crossing into the Caucasus region.
(January 9, 2023)
[In a Chinese Province, 90% of the Population is Infected with COVID-19 Almost 90% of the residents of China's third most populous province are infected with COVID-19, AFP reported, citing a senior Chinese official. It comes a day after China lifted travel restrictions requiring mandatory quarantine after returning from abroad and reports of heightened demand for tickets and congestion at borders. The director of the Henan Central Provincial Health Commission, said at a press conference that "as of January 6, 2023, the infection rate of COVID-19 in the province, which is located in the central part of eastern China, is 89%." With a population of 99.4 million, the numbers suggest that around 88.5 million people in Henan may have been infected. Visits to fever clinics peaked on Dec. 19, the director said, "and then showed a continuous downward trend." China has been grappling with a surge in cases since its decision last month to scrap its zero-Covid policy, which called for mass testing and the closure of large communities when even single cases of infection are detected. After its three-year implementation, it caused mass protests in major cities, and in early December, the authorities canceled it. After the spread of the epidemic in China and due to the lack of sufficient data on its development, the EU decided to introduce mandatory testing of passengers arriving from China and strengthened controls at airports. Most European countries already apply the restrictions. For now, Bulgaria does not follow the EU's coordinated approach, as the Ministry of Health has only issued recommendations that operators can apply at their discretion.] The Bulgarian news is reporting on Beijing. (January 9, 2023)
There are lists of Russians and Uzbek nationals in Washington, DC. They work here, and they bring their wives and little kids with them.

Javlon's wife's cunny made three babies.
Alex's wife's cunny made two babies.
Dimitri's wife's cunny made one baby.
Evgeni's wife's cunny made two babies.
"China-Japan relations: past the point of no return amid Tokyo's military build-up?" "China sees Japan's huge defence spending plans as 'hostile' while Tokyo views Beijing recent 'coercive' actions as 'existential threats', analysts say They caution 'a reciprocal quid pro quo' on Taiwan may be required for the two sides to maintain their 'mutually beneficial yet awkward relationship'" The Chinese news is reporting on Tokyo.
Maybe the Germans are sending weapons to East Asia.
Maybe this means heavy weapons, police radios, military academy stuff, and radio signals.
(January 8, 2023)
-Karakalpakstan is a region in Uzbekistan.
-They have their own language.
-Dauletmurat Tazhimuratov is the name of an activist.
-He has been charged with trying to seize power through violence.
-"Investigations into the days of disturbances that tore through the Karakalpak capital of Nukus and nearby towns on July 1-2"
-"According to official information, at least 21 people, including four law enforcement officials, were killed during clashes that the authorities say caused around $300,000 worth of damage to businesses and government buildings."
This is me talking about Uzbekistan. 1-8-23
This is me talking about Tehran. 1-7-23
["China Covid: WHO warns about under-representing Covid deaths" "The World Health Organization has warned that China is under-representing the true impact of Covid in the country - in particular deaths. The removal of most restrictions last month has led to a surge in cases. But China has stopped publishing daily cases data, and has announced only 22 Covid deaths since December, using its own strict criteria. "We believe that definition [of a Covid death] is too narrow," WHO emergencies director Dr Michael Ryan said.] The BBC is reporting on Beijing. (January 7, 2023)
Alex and Anastasia Ovechkin are married with two kids.
Dimitri and Varvara Orlov have one kid.
The Embassy of Uzbekistan is near DuPont Circle.
I think that building isn't always well managed.
"Turkiye, Armenia launch direct cargo trade amid normalization" "Turkiye and Armenia launched direct air cargo trade as of the first day of 2023, amid normalization efforts between the two countries, diplomatic sources said Friday. According to the sources, the decision was disclosed to Turkish exporters' associations by the Turkish Trade Ministry." The Turkish news is reporting on Yerevan.
Maybe the Turks are cyberattacking the Caucasus region.
The Ottoman empire used to use ports in the Caucasus region.
The Turkish army has been crossing the border into Syria.
Maybe the Turkish army crosses into Georgia, Armenia, and Azerbaijan.
(January 7, 2023)
France24 is reporting on Tehran.
Notice the mention of the Iranian Revolutionary Guard.
Maybe they have German-made weaponry.
["Iran executes two more men detained amid nationwide protests" "Iran said it executed two men Saturday convicted of allegedly killing a paramilitary volunteer during a demonstration, the latest executions aimed at halting the nationwide protests now challenging the country's theocracy. Iran's judiciary identified those executed as Mohammad Karami and Mohammad Hosseini, making it four men known to have been executed since the demonstrations began in September over the death of Mahsa Amini. All have faced internationally criticized, rapid, closed-door trials. The judiciary's Mizan news agency said the men had been convicted of killing Ruhollah Ajamian, a member of the Iranian Revolutionary Guard's volunteer Basij Force, in the city of Karaj outside of Tehran on Nov. 3. The Basij have deployed in major cities, attacking and detaining protesters, who in many cases have fought back. Heavily edited footage aired on state television showed Karami speaking before a Revolutionary Court about the attack, which also showed a reenactment of the attack according to prosecutors' claims. Iran's Revolutionary Courts handed down the two other death sentences already carried out. The tribunals don't allow those on trial to pick their own lawyers or even see the evidence against them. Amnesty International has said the trials "bore no resemblance to a meaningful judicial proceeding." State TV also aired footage of Karami and Hosseini talking about the attack, though the broadcaster for years has aired what activists describe as coerced confessions. The men were convicted of the killing, as well as "corruption on Earth," a Quranic term and charge that has been levied against others in the decades since the 1979 Islamic Revolution and carries the death penalty. Activists say at least 16 people have been sentenced to death in closed-door hearings over charges linked to the protests. Death sentences in Iran are typically carried out by hanging. At least 517 protesters have been killed and over 19,200 people have been arrested, according to Human Rights Activists in Iran, a group that has closely monitored the unrest. Iranian authorities have not provided an official count of those killed or detained. The protests began in mid-September, when 22-year-old Amini died after being arrested by Iran's morality police for allegedly violating the Islamic Republic's strict dress code. Women have played a leading role in the protests, with many publicly stripping off the compulsory Islamic headscarf, known as the hijab. The protests mark one of the biggest challenges to Iran's theocracy since the 1979 Islamic Revolution. Security forces have used live ammunition, bird shot, tear gas and batons to disperse protesters, according to rights groups.] (January 7, 2023)
#DC Maybe the German navy or the Chinese navy is taking a lot of energy from #Manila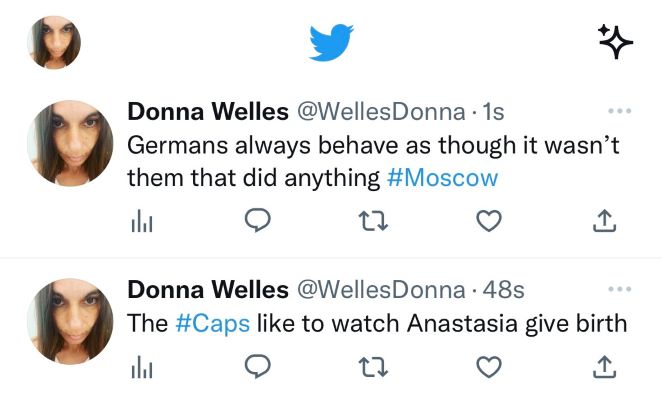 Ovi and Anastasia are from Russia. He put his dick in her until they pulled two babies out. Now they bring the little kids to the practices and games.
The embassy of Uzbekistan is near DuPont Circle. They're from Tashkent, they're not from Russia. Right?
My dad was born in New York City in 1956. In Austin, at night he would walk down the middle of the streets when we were walking in our neighborhood. Now I know because in New York City the sidewalks would have garbage, etc.
Near my apartment in Washington, DC there is a hiking trail. I can either walk down that or I can walk on the sidewalk. I always walk down the sidewalk. In Texas, it does happen that runners or hikers they get assaulted or whatever on the trails. I just think it's safer for me to walk on the sidewalk than the hike and bike trail. (January 6, 2023)
-State Agency for National Security (SANS)
-Russian citizens who are on a sanctions list
-Do they have real estate properties in Bulgaria?
-"Informal paramilitary structures on Bulgarian territory"
-What are the intentions of these structures?
-"Inspection of properties in Bulgaria of Russian citizens included in various sanctions lists"

List of Russian citizens, Do they own properties in Bulgaria, On these properties, are there paramilitary structures, Exactly how are these structures being used?, Vladimir Rusev. "Rusev himself is in a military uniform with a tag with his name and blood type, under it is an eagle badge with the Russian flag, and the video is against a geographical map. "
This is me talking about the SANS. 1-6-23
"Djokovic negotiates with Kyrgios - but there is one condition Novak Djokovic confirmed that he is negotiating with Nick Kyrgios about joint training before the start of the Australian Open." The Serbian news is reporting on Canberra. (January 6, 2023)
"UNITED NATIONS, January 6. /TASS/. Russia expects the new Israeli Cabinet will not embark on the escalation course but will show the political will and forgo radical steps, Permanent Representative to the UN Vasily Nebenzya said at the UN Security Council's meeting." The Russian news is reporting on Tel Aviv. (January 6, 2023)
"ANKARA, January 6. /TASS/. Turkish authorities do not rule out the escalation of the Ukrainian crisis in the coming months, so they will make intensive efforts to resolve it through negotiations, Ibrahim Kalin, a chief adviser and spokesman for the Turkish president, said on Twitter on Friday." The Russian news is reporting on Ankara. (January 6, 2023)
"SANS probes whether sanctioned Russians have acquired property in Bulgaria" "The Sofia City Prosecutor's Office mandated the State Agency for National Security (SANS) to verify whether citizens and legal entities from the Russian Federation, included in sanctions lists of the European Union, the United States and the United Kingdom, have acquired a number of real estate properties in Bulgaria, as stated in media publications. Informal paramilitary structures on Bulgarian territory, which are reportedly trying to push interests that could harm national security, will also be subject to verification. At the end of 2022, Sofia City Prosecutor's Office and SANS launched investigation over a report that the Military Union - Bulgarian People's Militia "Shipka" was committing crimes against the Republic of Bulgaria." The Bulgarian news is reporting on the security service. (January 6, 2023)
"Interior Minister: Ukrainian Refugees' Protection Status in Bulgaria Will Be Extended" "The protection that Bulgaria provides to Ukrainian refugees will be extended, said the caretaker Minister of Interior Ivan Demerdzhiev during Friday's Question Time in Parliament. He pointed out that three working groups and a task force had been set up to monitor the latest EU trends and that Bulgaria would comply with the best practices and standards." The Bulgarian news is reporting on Ukrainian refugees. (January 6, 2023)
["Bulgaria's Security Service will check whether Sanctioned Russians have Properties in the Country" The Prosecutor's Office entrusted the State Agency "National Security" with an inspection of properties in Bulgaria of Russian citizens included in various sanctions lists of the European Union, the United States and Great Britain. SANS will also have to check whether there are paramilitary structures working in Bulgaria, for which there are reports of trying to advance interests against Bulgaria's national security, the state prosecution announced. After the inspection in question, the materials will be reported to the Sofia City Prosecutor's Office to assess whether sufficient data has been collected to initiate pre-trial proceedings. The Sofia Prosecution also indicates that the investigation continues for a possible crime under Chapter One of the Special Part of the Criminal Code - a crime against the republic, in the activities of the Military Union - Bulgarian People's Militia "Shipka". It was launched on December 12 after a tip-off that the militia's activities were anti-state. On the Facebook page of the paramilitary union in question, a video was uploaded with a man named Vladimir Rusev, who called on the militia's supporters to prepare for important events of an international scale, suspending Facebook and advising them to download Telegram on their phones to stay informed in time for an approaching apocalypse. Rusev himself is in a military uniform with a tag with his name and blood type, under it is an eagle badge with the Russian flag, and the video is against a geographical map. A few days later, the prosecutor general Ivan Geshev announced that the prosecutor's office will not allow "malicious Russian influence in Bulgaria, which harms not only our interest, but also that of our Euro-Atlantic partners."] The Bulgarian news is reporting on the security service. (January 6, 2023)
British English: When they hear them talk, they'll join in by saying they need dental work.

American English: The Virginians are Prussians and they speak creole. They are up all night, they take pills, and they don't read or write during their surveillance shifts. The Virginians misuse surveillance hardware. They do it because they are right wingers and they want to work closely with the Germans.

Washington, DC
January 5, 2023
"Will North Korea follow China and suddenly end zero-Covid approach? Unlikely, analysts say" This one is about radios. Maybe both Beijing and Pyongyang use the same German-made police radios. It seems like German radio technology that is used for these strange domestic policies. (January 5, 2023)
"KING CHARLES III (THEN PRINCE OF WALES) TAKES PART IN THE KUONI WORLD CLASS CHARITY POLO MATCH AT HURTWOOD PARK POLO CLUB"

This is a photo of King Charles playing polo. Maybe it means he is a Prussian. Prussian mythology includes men riding horses.

Washington, DC
January 5, 2023
"The couple bought their new mansion for 15million in a private, off-market sale, The Sun reports. The previous owner had performed an extensive renovation on the property, meaning up until this point Pippa and James have had to do very little renovating."

-I wonder about this sale, because it seems like a lot of money and it wasn't listed so other people could buy it.
-It probably contributes to inflation because it's not maybe the right price exactly that the house is sold for.
-This seems like questionable business practices.

Washington, DC
January 5, 2023

Saint Petersburg was founded in 1703. The men are tall and handsome. They walk around speaking Russian and looking like Vikings. They wear blue Russian navy coats on the trains. Their skin is green, even. The nightclubs are open until about 4am in the morning. At night the bridges are closed and so you kind of have to stay out really late and you can't get home until the morning.
Over here in Washington, DC...
Alex Ovechkin is from Moscow. It is so obvious on television and in every newspaper that he needs dental work. His front top teeth, a long time ago he lost that tooth and he won't either get an implant or something to make it so the other teeth grow right. And then Anastasia brings their two small kids to the hockey games. They sit up in the box seats. The games are at night and then, I guess, they have to drive all of the way back to their home in rural Virginia. It's difficult to watch the hockey games because everyone is thinking about Anastasia and Alex's two small children in those box seats.
The embassy of Uzbekistan is in a large building near DuPont Circle. It's not always clear about that building and how it is managed.

Washington, DC
January 5, 2023