About Me
From Washington, DC!
This website is about Eastern Prussia. Western Prussia is in Germany and Eastern Prussia is in Poland near the Gulf of Danzig. Gdansk, Poland is near Lubeck, Germany. Here is my website about my daily routine here in #DC, Archive, Archive 2, Archive 3, Archive 4, Archive 5, Russian literature page, Archive 6, Archive 7, Archive 8, Archive 9, The British page, Archive 10, Southeast Asia page, Archive 11, Archive 12, Ukraine page, Archive 13,
Hatton page, Archive 14, Archive 15, Archive 16, Archive 17, Archive 18, Archive 19, Archive 20, Archive 21, Library science page, Archive 22
District of Columbia
Talking about Russian army stuff in Africa. Maybe the Russians have engineering firms and the Algerians also. The Algerian army name sounds like the Chinese army name.
Different lingering signs of trade with China.
This is me talking about Algenian trade with Beijing. 12-10-23
Russians maybe were the first Europeans in San Francisco.
I think there aren't similar anecdotes about Sudan, for example.
This is me talking about Russian land claims in Africa. 12-9-23
Notice a complaint from the Turkish news about Israeli prisons. Also, a complaint about the White House. You wonder about the White House and the IDF. Do the Turks build drones and they spy on our commercial centers?

Shocking images of Israeli military detentions, humiliation spark outcry

Biden's pro-Israel policy failed US' Arab, Muslim communities

Canada, US linking drone-camera exports to Sweden NATO bid: Türkiye
Nov 5, 2015 - A cargo plane crashes near the international airport in South Sudan's capital Juba, killing at least 36 people.
Many feared dead as Russian-built cargo plane crashes in South Sudan's capital Juba
http://bbc.in/1MH5Otw
This is me talking about Russian defense firms in East Africa. 12-9-23
This one is about the Suez Canal.
This is important:
Do the Russians assist with Chinese trade because they do weird engineering stuff in East Africa? They used to do that. I guess everyone assume they stopped doing that.

Egyptian President Abdel Fattah al-Sisi looks to extend iron-fisted rule after ten years in power Abdel Fattah al-Sisi is the front-runner in Egypt's upcoming presidential election which will be held from December 10-12. Despite being marked by a widespread crackdown on dissent and a weak economic and security record, the former army chief's ten-year rule may be extended until 2030. It's an outcome that many believe is already written in stone. It has been more than ten years since Abdel Fattah al-Sisi overthrew Egypt's first democratically elected president, the Islamist Mohamed Morsi, and he is still ruling the country with an iron fist. Sisi's opponents and supporters alike are convinced that he will win this year's presidential election, set to take place from December 10-12. His victories in 2014 and 2018 saw him win over 96 percent of the vote, a track record that leaves little room for doubt on what is likely to happen this time around. Another victory would see the former army chief hold on to power until 2030. Running for a third term was made possible when Sisi himself amended the Egyptian constitution in 2019, extending the presidential term from four years to six. Rising in the ranks – all the way to the presidency Born in Cairo in November 1954, Sisi was one of fourteen children raised in a conservative household. Son of a shopkeeper, he decided to pursue a military career at an early age, climbing the social ladder in a country ruled by the army. Spending much of his life out of the public eye, Sisi achieved prominence by becoming chief of staff of the Egyptian army and minister of defence in 2012. The surprise promotion was granted by President Morsi, the first democratically elected Egyptian head of state, just over a year after former president Hosni Mubarak was ousted in the Arab Spring. At the time, Sisi was portrayed by the media as a pious Muslim compatible with the Muslim Brotherhood movement from which Morsi hailed. The reputation was largely built on Sisi's family ties with Abbas Sisi, a disciple of Hassan al-Banna, founder of the Islamist group. But Sisi's rapid rise to power within the army would not have been possible if his close ties to the Brotherhood, under scrutiny by the Mubarak regime, gave rise to the slightest doubt. Partly trained in the UK and the US, Sisi became a commander of the northern Egyptian military zone before moving up the ranks to take over as director of military intelligence and quickly established himself as the country's strongman. In the aftermath of the mass uprisings that saw millions of Egyptians demand the immediate resignation of Morsi in early July 2013, Sisi issued an ultimatum to the former president and his cabinet. Without explicitly calling for Morsi to step down, he called on Egypt's politicians to "meet the demands of the people" within 48 hours. If Morsi refused, the armed forces (who were already in charge of the post-Mubarak transition) would be forced to "announce a roadmap for the future" and put an end to the revolution that had been boiling since 2011. The Islamist president was deposed, arrested and imprisoned shortly after. But the bloody repression of protesters, many of whom supported the Muslim Brotherhood, would not be forgotten. Human Rights Watch described the widespread killing of demonstrators at the time a probable "crime against humanity". Morsi died in 2019 after collapsing in a Cairo court where he was attending a session in his trial. Regarded by his admirers as humble and skilful – and by his detractors as distrustful and suspicious – Sisi left his military uniform behind for the suit and tie of de facto presidency. For Egyptians opposed to the political Islam embodied by the Muslim Brotherhood, Sisi had saved the country from its grip. Repression left, right and centre Since Sisi's sweeping victory in the May 2014 presidential election, opponents as well as local and international NGOs have accused the leader of wanting to return to an autocratic regime. They say that since he came into power, "repression has been reaching unprecedented levels". In a report published on October 2, six international and local human rights organisations called out the "widespread and systematic use of torture" by Egyptian authorities that amount to what they consider "a crime against humanity under customary international law". Running parallel to his repressive political stranglehold, Sisi also launched a series of gargantuan projects aimed at extolling the greatness of Egypt and flattering the nationalist sentiments of his compatriots. Among these ambitious undertakings was the modernisation of the country's roads and electricity infrastructure, as well as the construction of a new administrative capital located in the desert about 50km from Cairo. Ironically nicknamed "Sisi City", construction was due to be completed in 2020 but is still in its first phase. In August 2015, the president unveiled a plan for a giant expansion of the Suez Canal – another flagship project intended to symbolise a "new Egypt". Costing some €7.9 billion, the project was completed on time in less than a year. The new Suez Canal brought in netted record revenues of around €8.6 billion between 2022 and 2023, leading Sisi to promise prosperity and security for all Egyptians. But in a country plagued by an unprecedented economic crisis and at risk of defaulting on its foreign debt, that is not an easy promise to keep. Egypt relies heavily on revenues from Ukrainian and Russian tourists, so when the war broke out in February 2022, its economy was hit hard. The number of yearly tourists from both countries plummeted from 35 to 40 percent, according to local figures. Egypt is also the world's leading importer of wheat. When prices soared as a result of the war, the country's economy bore the brunt. In the ten years Sisi has been in power, Egypt and its 105 million inhabitants – largely reliant on a steady drip of Saudi Arabian aid – have been plagued by poverty. A key ally for the West Despite his shortcomings, Sisi is still seen as a guarantor of stability and security in the region by many international leaders. Turning a blind eye to his human rights abuses, the West sees him as a key ally in what they consider an otherwise chaotic Middle East. This is even more the case since Hamas's bloody attacks on Israel on October 7 and Israel's ensuing invasion of the Gaza Strip. During the week-long ceasefire in Gaza from November 24-30, hostages held by Hamas were directed south of the enclave to Egypt. The Rafah crossing on the border between the Gaza Strip and Egypt is also where humanitarian aid is transported into the Palestinian territory. Back in 2014, the pragmatic Sisi kept a low profile when the West protested his power grab. The US and Europe didn't congratulate him after his election victory, though they did stress the need to get back to respecting human rights as soon as possible. In response, Sisi sided with Russian President Vladimir Putin. In November 2014, a month after the US froze military and financial aid to Egypt, the Kremlin announced it would deliver air defence systems to the country and said talks to deliver military aircraft were under way. A shrewd strategist, Sisi knows that the West cannot turn its back on the most populated Arab country for too long. Egypt is both a strategic intermediary in the Israeli-Palestinian conflict and a key ally in the fight against terrorism. The fight against Islamic militants has moved the cursor for how world leaders see Sisi, especially in the case of the US. After years of strained ties under the Obama administration, former US President Donald Trump congratulated the Egyptian leader in 2016. "I just want to let everybody know in case there was any doubt that we are very much behind President Sisi. He's done a fantastic job in a very difficult situation. We are very much behind Egypt and the people of Egypt," Trump said during Sisi's first official visit to the US in April 2017. When Sisi visited France in October of 2017, French President Emmanuel Macron claimed he did not want to "lecture" his Egyptian counterpart on human rights. Between 2010 and 2019, Egypt imported €7.7 billion in French weapons, according the parliament. Securing the Sinai, another empty promise Like his military predecessors, Sisi is obsessed with acquiring modern weaponry and securing his borders. This is increasingly the case as his neighbours – Libya, Sudan, Israel and the Gaza Strip – are all affected by ongoing conflict. For years, Egypt has been battling a jihadist insurgency in its Sinai region, a peninsula located in the northeast of the country. According to the opposition, this ongoing threat to Egypt's internal security is being instrumentalised by authorities to restrict civil liberties. In 2018, Sisi launched a vast "anti-terrorist" operation in the areas where Islamist radicals are rife – some of whom have pledged allegiance to the Islamic State group – but so far in vain. The Sinai is still a security headache for Sisi, who stands behind yet another empty promise.
(December 9, 2023)
Francis Dearnley went to Cambridge. My friend Bobby went to the University of London. They are my age. This happens locally. People want to work for NATO. My grandpa worked for Time Inc. Tom Brady was an NFL athlete. I can never really get into the UN stuff. I also don't want to work for NATO.
This is me talking about British English. 12-8-23
Why are they like that?
How did they get like that?
You wish they were different than they are.
This is me talking about Ken McCallum. 12-8-23
Last month Tel Aviv announced its intention to conduct covert ops in foreign countries. Notice the Turks are telling them not to in Turkey.
Does Ken oversee the British sanctions teams mentioned here about Tashkent?

Bulgaria's Defense Committee Greenlights Transfer of Anti-Aircraft Missiles to Ukraine

Bulgaria Poised to Emerge as Energy Storage Hub: Economy Minister's Talks in South Korea

Bulgarian Coalition Drafts Bill to End Russian Oil Exemption Amid Lukoil Neftochim Impact

PM Denkov, Energy Minister to Inspect Bulgaria-Serbia Gas Interconnection Facilities

Israel says it is delivering strikes to retaliate cross-border fire from Syria, Lebanon This was reported by the IDF press service TEL AVIV, December 8. /TASS/. The Israel Defense Forces (IDF) has registered cross-border fire from Syria and Lebanon and delivered strikes in retaliation, the IDF press service said. "Following the report regarding sirens that sounded in the town of Buq'ata in northern Israel, two launches that crossed from Syria were identified. The launches fell in an open area," the IDF press service said in a statement. In addition, a number of launches that crossed from Lebanon toward the areas of Shtula, Malkia, and Zar'it in northern Israel were identified. "Furthermore, a short while ago another siren sounded in the area of Zar'it in northern Israel as a result of a launch from Lebanon," the statement says. "The IDF is striking the sources of the fire.".

Turkey's intelligence warns Israel against killing Hamas members on Turkish soil The media pointed out that it was the Turkish intelligence agency which held negotiations with Qatar, Egypt and the United States to free Israeli hostages held by Hamas in the Gaza Strip ISTANBUL, December 8. /TASS/. Turkey's National Intelligence Organization (MIT) said it would not allow Israeli counterparts at Mossad to conduct a special operation on its soil, including to kill members of the Palestinian radical movement Hamas, the pro-government Turkish newspaper Hurriyet reported. MIT has taken every precaution and used its technologies to their full potential to ensure a round-the-clock protection to Turkey against all security threats, the newspaper wrote, commenting on a remark by Turkish President Recep Tayyip Erdogan who warned Israel that any attempts to assassinate Hamas members on Turkish soil would not be left without consequences. Hurriyet recalled that it was the Turkish intelligence agency which held negotiations with Qatar, Egypt and the United States to free Israeli hostages held by Hamas in the Gaza Strip following the October 7 attack and that it enabled the release of some hostages. Turkey's official Anadolu news agency reported on December 4 that MIT had warned Israel's spy agency about major consequences of a potential operation to hunt Hamas members on Turkish soil. The warning came amid reports alleging that Israel planned to assassinate Hamas leaders outside of Palestine, including in Turkey and Qatar.

Taiwanese military reports spotting Chinese balloon in strait According the Taiwanese Ministry of National Defense, the baloon travelled for about an hour before disappearing HONG KONG, December 8. /TASS/. A Chinese balloon crossed the Taiwan Strait median line on Thursday, the Taiwanese Ministry of National Defense reported. The balloon was detected 101 nautical miles (187 km) southwest of the Taiwanese city of Keelung at a height of about 6.4 km. The Taiwanese military said it had travelled for about an hour before disappearing. In early February, US authorities said they had detected a "surveillance balloon" over the continental US. The balloon was downed on February 4 in US air space off South Carolina. The Chinese Foreign Ministry expressed regret that the abnormal situation led to the weather balloon flying into US air space.

MOSCOW, December 7. /TASS/. Russian President Vladimir Putin has invited Sultan of Oman Haitham bin Tariq Al Said to visit Russia in 2024.

MOSCOW, December 7. /TASS/. The political discord in the US and Europe over such issues as support for Ukraine will rise next year, Russian Foreign Intelligence Service Director Sergey Naryshkin said in an article.

UK Imposes Sanctions on Individuals and Entities Allegedly Supporting Russia's Defense Industry The UK government has announced the imposition of sanctions on a new group of individuals suspected of supporting the "Russian war machine." The UK government has announced the imposition of sanctions on a new group of individuals suspected of supporting the "Russian war machine." A total of 46 individuals and legal entities associated with the defense industry of the Russian Federation, including entities from Belarus, China, the UAE, Serbia, Turkey, and Uzbekistan, have been included in the sanctions lists. Among the sanctioned entities, the Uzbek company Mvizion has been accused of acting as an intermediary for supplying parts for military equipment to Russia.

A stone-age army: "If they attack us - we will defend ourselves with stones" Desperation in European capitals when it comes to military industrial production is only growing…
(December 8, 2023)
Wayne is a criminal.
The construction sites are criminals.
Weird British policemen audit the EPL and construction firms. They play rugby and they're tired of the nuisance of the sites.
They themselves don't play soccer or work in construction. I've heard it's because they drink beer and so they're impotent. It's these weird police directives.
Like Ken McCallum's brother.
Talking about the British and the Virginians. Ken McCallum has GCHQ learning to read Farsi. I watched a video of him speaking at the University of Glasgow. That's where he went. I think he doesn't speak a foreign language. He has a degree in math. That seems unwise to me. Can GCHQ learn German or French? It was so awkward because Ken kept talking about his own relatives in the audience. As though Ken's brother is implementing these directives.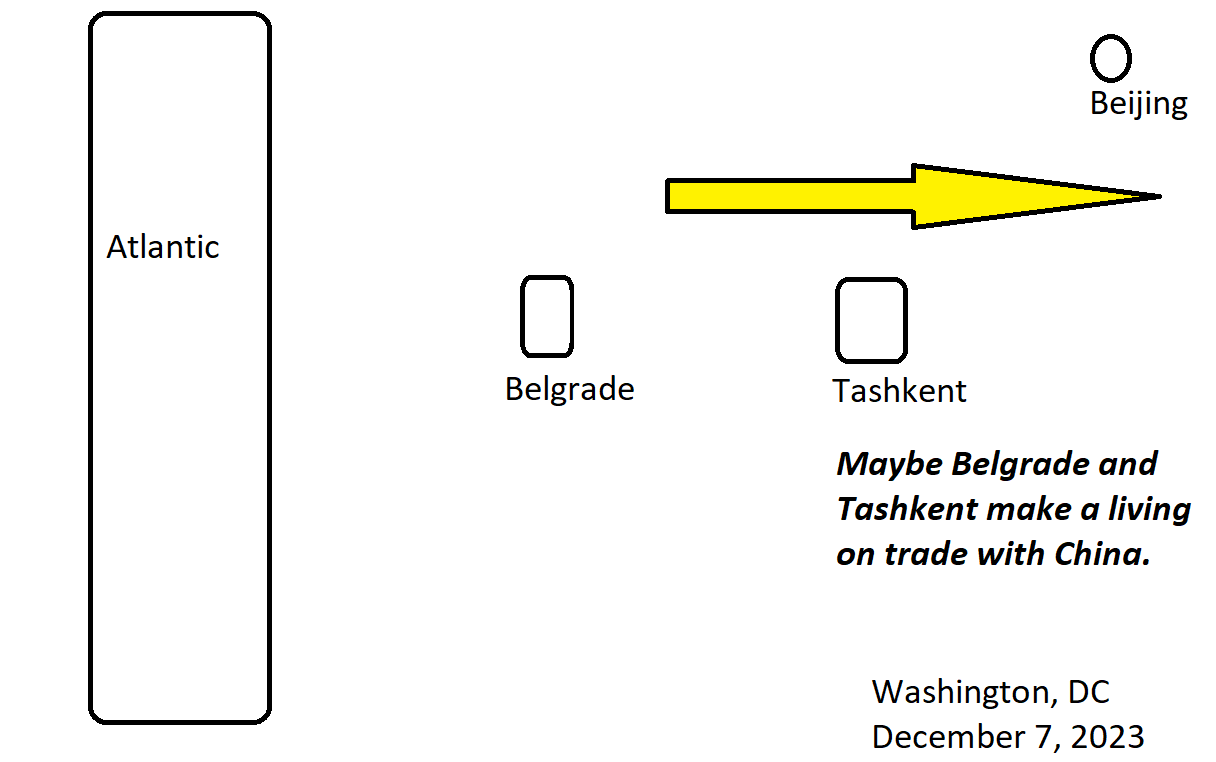 This is me talking about the Serbian economy. 12-7-23
Belgrade and Tashkent seem to be examples of bad trade with China. Notice the Bulgarians are struggling with border issues.

Uzbekistan fully funds December pensions for 4.6 million people

A new KFOR battalion has arrived in Kosovo A new battalion of the Italian KFOR has arrived in Kosovo and Metohija, which will be assigned to the operational reserve forces. This was announced by KFOR last night on its X network, stating that the new battalion is part of a peacekeeping mission. "KFOR continues to fulfill its UN mandate in providing a safe and secure environment for all communities in Kosovo," the announcement said.

EU and China Seek Common Ground Amid Differences, Eye Global Stability

Bulgaria: Defense Committee Rejects President's Veto on APCs for Ukraine

President Says Politicians Should Not Lose Touch with Armed Forces

Customs Officials Seize 44,000 Cigarettes near Vidin

Truck traffic is intense at the exit of some of the border crossings with Romania, the Border Police General Directorate said on its website Thursday morning. Outgoing traffic is intense at the border crossing checkpoints Vidin, Kardam and Nikopol.

TOKYO, December 7. /TASS/. Japan will expand its anti-Russian sanctions over the situation around Ukraine before the end of 2023, expanding them to cover third-country organization that allegedly help in circumvention of restrictions, the Japanese Foreign Ministry said after the online G7 meeting, which took place on Wednesday. "As for sanctions against Russia, Prime Minister Fumio Kishida announced that, in addition to new sanctions against Russian individuals and legal entities, third-country organizations suspected of being involved in circumvention of these measures will also be declared subject to sanctions before the end of this year," the Foreign Ministry said.

TOKYO, December 6. /TASS/. The member-states of the Group of Seven (G7) will seek after further limiting the use of the international financial system by Russia, according to their statement released after the virtual meeting of G7 leaders.

TOKYO, December 6. /TASS/. The G7 will help Ukraine in its attempts to collect damages from Russia, according to the G7 leaders' statement. "In light of the urgency of disrupting Russia's attempts to destroy the Ukrainian economy and failure to abide by its international law obligations, we will explore all possible avenues to aid Ukraine in obtaining compensation from Russia, consistent with our respective legal systems and international law," the statement said. The G7 emphasized that Russia needs to end hostilities in Ukraine and pay for the damage it has allegedly caused. The statement claimed that according to the World Bank, the damage exceeds $400 billion dollars. Additionally, the G7 leaders pointed out that progress was needed to direct revenues from Russia's sovereign assets to support Ukraine.

UNITED NATIONS, December 6. /TASS/. China is calling on all sides of the conflict in Ukraine to take a pragmatic stance and intensify efforts to achieve peace, said Geng Shuang, China's deputy envoy to the UN.
(December 7, 2023)
The news is reporting on the border police in Bulgaria. Here in Washington, DC. Lots of police. OK. I'm an academic. I'm on the board sometimes of DC Phi Beta Kappa. I speak Russian.
I think it's some kind of my role here to make police jokes. But, I point out that for example Harry and his lawsuits. As I am averse to police. I've never been arrested and I have perfect credit. Wayne was arrested in Loudon Co, VA. You wish he made more police jokes. Harry gives interviews talking about drug use. You wish he made more police jokes.
That being said. My favorite, I guess, police here locally are the USCP. They get in like incidents because protestors will storm different congressional office buildings. I make Ken McCallum jokes. That he wants GCHQ to learn Farsi.
Crazy reports about the Treasury department. Are the sanctions teams sending away our money to Kiev? Aren't they supposed to be protecting our money?
[The Department of the Treasury is the national treasury and finance department of the federal government of the United States, where it serves as an executive department. The department oversees the Bureau of Engraving and Printing and the U.S. Mint.]
This is me talking about the sanctions. 12-6-23
EU Commissioner Applauds Bulgaria's Border Controls During Border Point Visit

Romania is Close to a Visa-Free Regime with the US

Heavy Fighting in Khan Younis in the Gaza Strip

Turkish Police Arrest Murderer from Skopje

It is a myth that Bulgaria has the largest grey economy in the EU

Buffer zones could be solution to Gaza crisis — Israeli ambassador to Russia "We should think of what to do so that our citizens who live near the border never face a repetition of what happened on October 7," Alexander Ben Zvi added MOSCOW, December 6. /TASS/. Creating buffer zones could be a solution to the situation around the Gaza Strip, Israeli Ambassador to Russia Alexander Ben Zvi told TASS as he urged efforts to prevent a repetition of the October 7 events. "It will depend on the results of the operation. If there is not a terror organization at all in the Gaza Strip, then such buffer zones will be less relevant," the diplomat said. "If there are any remains of terror organizations, then we will need [a buffer zone]. A buffer zone is just an option," he said as he also mentioned the demilitarization of the Palestinian enclave and international control scenarios. "We should think of what to do so that our citizens who live near the border never face a repetition of what happened on October 7," Ben Zvi emphasized. According to the Israeli envoy, it is too early to discuss how that could be done anyway. "We shall see how the operation ends," he reiterated. The fight against terrorism should continue as long as there is a terror organization in Gaza, he added.

Zelensky's adviser says Kiev will run out of funds by January — Politico "We're at the end of our rope in terms of the existing funding," the newspaper quoted the advisor, whose name was not disclosed WASHINGTON, December 6. /TASS/. The Kiev government is experiencing an acute lack of money, and its funds will run out completely after December, an adviser to Ukrainian President Vladimir Zelensky told the Politico newspaper. "We're at the end of our rope in terms of the existing funding," the newspaper quoted the advisor, whose name was not disclosed. "It's not going to go beyond December." The statement was made prior to Zelensky's planned plea for additional funding to US senators. It was scheduled to take place on Tuesday, but the Ukrainian president cancelled it "at the last minute," Senate Majority Leader Chuck Schumer said. According to the Ukrainian presidential adviser, Zelensky was to tell US senators that without additional funding, the Kiev government's troops are likely to lose swaths of its territories. " And ultimately Kiev itself could be at risk," he added. US Department of State Spokesperson Matthew Miller said on December 4 that the US administration had used 97% of the Congress-approved funds earmarked for assistance to Ukraine. On the same day, Shalanda Young, director of the Office of Management and Budget in the Biden administration, issued a letter to Congressional leadership warning that the US would run out of resources to help Ukraine by the end of the year, if the lawmakers turned down the administration's financing draft. In October, the US administration asked Congress to set aside extra budgetary funds for the 2024 fiscal year, which began in the United States on October 1, in assistance to Israel and Ukraine, as well as to contain China and Russia in the Asia Pacific region. In all, the US plans to spend around $106 billion for these purposes. Several House and Senate Republicans have spoken out against continuing financial assistance to Kiev. The Politico newspaper said on Monday that the Senate's vote on assistance to Kiev, which is due on December 6, is likely to fail due to the Republicans' position.

US to bear responsibility for Kiev's defeat if it fails to send new aid — official According to US Secretary of the Treasury Janet Yellen, the Kiev government "is just running out of money" WASHINGTON, December 6. /TASS/. The United States will bear responsibility for the Kiev government's defeat if Washington fails to approve additional aid to Ukraine, Reuters quoted US Secretary of the Treasury Janet Yellen as saying. "I've talked to members of Congress, my colleagues have. I think they understand this, that this is a dire situation and we can hold ourselves responsible for Ukraine's defeat if we don't manage to get this funding to Ukraine that's needed, and I'm including direct budget support here because that's utterly essential," she said. In her words, the Kiev government "is just running out of money." She claims that Kiev has been "spending more than every penny they're taking in, in tax revenue, on military salaries and defense." "They wouldn't have any schools or hospitals or first responders if not for the money we're sending to them to support them," she added. In October, the US administration asked Congress to set aside extra budgetary funds for the 2024 fiscal year, which began in the United States on October 1, in assistance to Israel and Ukraine, as well as to contain China and Russia in the Asia Pacific region. In all, the US plans to spend around $106 billion for these purposes. Several House and Senate Republicans have spoken out against continuing financial assistance to Kiev. The Politico newspaper said on Monday that the Senate's vote on assistance to Kiev, which is due on December 6, is likely to fail due to the Republicans' position.

MOSCOW, December 6. /TASS/. The resumption of a ceasefire between Israel and Hamas is still possible, but the military operation will continue until the movement's members give up their military efforts, Israeli Ambassador to Russia Alexander Ben Zvi has told TASS.

A spy from the Serbian Army was arrested Reserve officer of the Serbian Army Lj. G. was arrested yesterday on suspicion of providing confidential information to the Bulgarian secret service. Reserve officer of the Serbian Army and employee of the Culture Center in Bosilegrad Lj.G. was arrested yesterday on suspicion of providing confidential information to the Bulgarian secret service. According to Novosti, Lj.G. (61) gave information about our armed forces. Namely, as stated, he forwarded to the interested party data on the number of soldiers in Vranje, the situation in the units, as well as what weapons and equipment they use. He also provided them with the personnel scheme of the security authorities. Moreover, he referred to the political situation in the south of the country, Novosti points out. According to the newspaper's sources, the citizens of Bosilegrad are quite confused because they know Lj.G. as a good neighbor, a father of two daughters, who, in addition to his basic job at the Cultural Center, also has a store in this border town. The suspect is accused of having communicated secret military information to members of a foreign organization, which could cause harmful consequences for the security, defense and military interests of the country. He was brought to the Chief Public Prosecutor's Office in the Higher Public Prosecutor's Office in Vranje yesterday for questioning.
(December 6, 2023)
On your way to the top, you'll do anything. But how do you get your life back when you get there. Is my dilemma.
I'm wanting to be funny. For example, I'm a really great driver. Because I have great eyesight. And I'm able to drive and shift gears, etc. I'm smart about driving laws. I'm good at defensive driving, etc. My friends in Texas, they're fine if I drive us because we'll arrive safe and I'm just fun to be with in the car. Another extreme though is like games. Dominios and scrabble. When I play dominos. There is a TI video where he's playing dominos in Atlanta. Also, in the wire they're playing craps. I'll think I got dominos because it's multiples of five, but it wasn't.